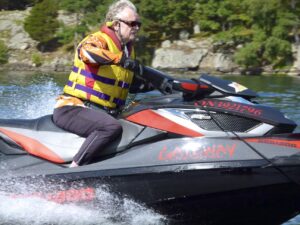 So who is The Intrepid Cottager? If you've ever wondered about Sea Doo tours, you've come to the right place!
HI, I'm Craig Nicholson. I'm an avid Sea-Doo rider and powersports journalist from Canada – and this is my PWC website.
This is where I blog regularly during the summer about my personal adventures and opinions. I've been riding Sea-Doo watercraft since the '90's. I started out as a cottager who got one for playing on my lake. But I quickly realized how much more my Sea-Doo would add to my summer if I went exploring. Now I usually ride about 100 hours each season. That usually works out to between 2,500 to 3,000 kilometres (1,500 to 1,800 miles) of sheer pleasure!
As an avid snowmobiler, I'm used to exploring new places and visiting different destinations in winter. Doing the same each summer on my Sea-Doo just came naturally. Especially when my snowmobiler wife said that she wanted to go out on the water with me. So using our Ontario cottage as a base, most of our PWC riding is now day trips and overnight tours to other waterways. Boy is it a blast!
So when you read my blog postings, remember where I'm coming from: I'm a touring Sea-Doo rider into destination cruising, not a gear head, racer or casual weekender.
And don't worry if many of my adventures take place in Ontario. No matter where you live, I'll provide practical cruising and touring advice and tips. You can use this info to expand your Sea-Doo playground in ways you may have only dreamed of until now!
Contact Me…
The best way to contact me is by email at: [email protected]
Check me out on Facebook.
I'll do my best to get back to you soon!