Changes On The Water This Summer…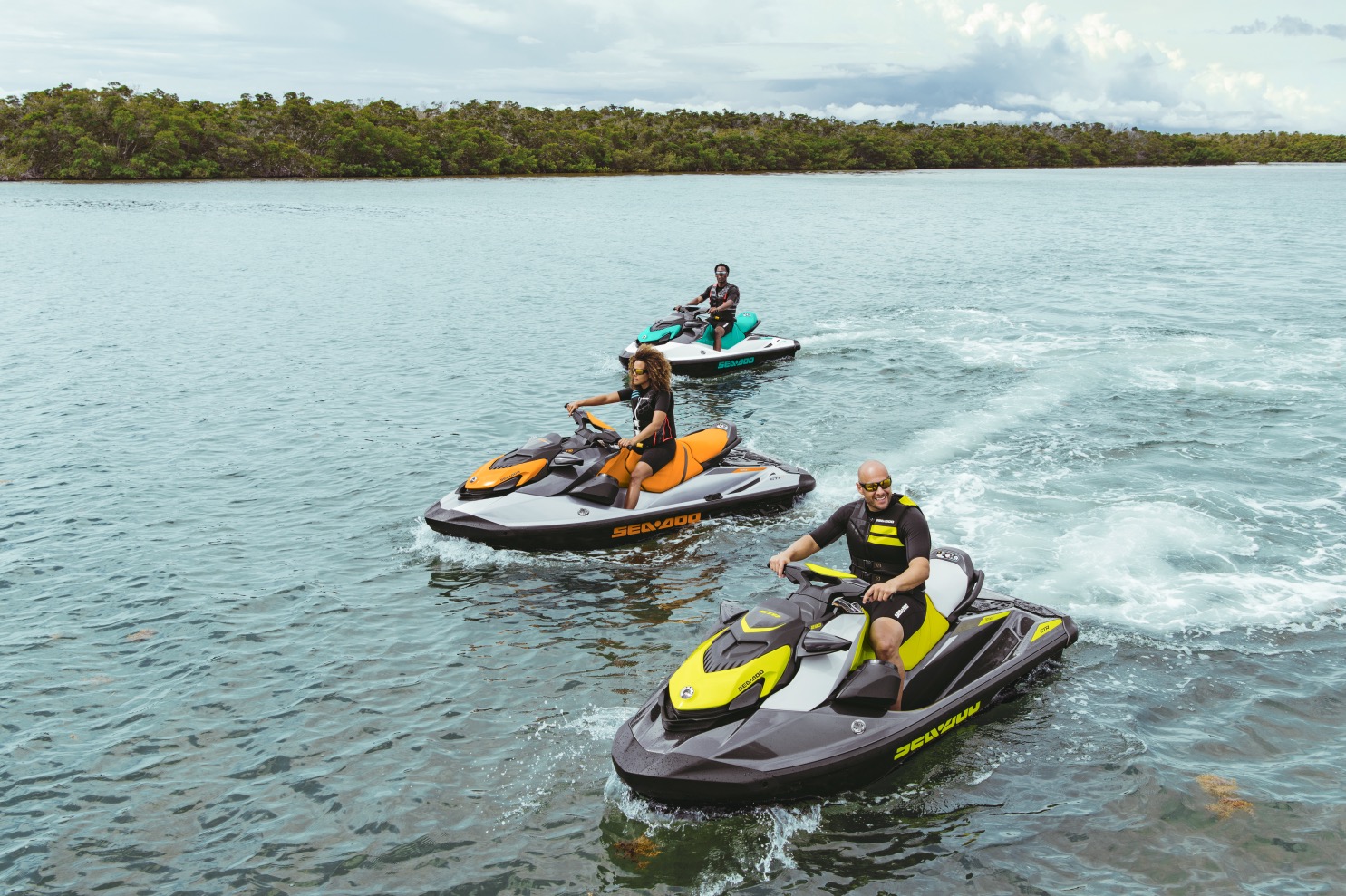 ---
---
So is there a PWC riding new normal? Now that most boat ramps have reopened, can jet ski operators expect things to be the same for their PWC adventures? Just launch and go have fun on the water!
Not exactly. Sure, there's still plenty of fun to be had. Especially if you're just riding locally or playing around on your own lake. But many aspects of our world have changed. So why wouldn't our life on the water be a bit different as well? Even with eased restrictions, our new normal on land involves more caution, better planning and new line-ups. Especially for mundane tasks like grocery shopping. Or picking something up at the hardware store.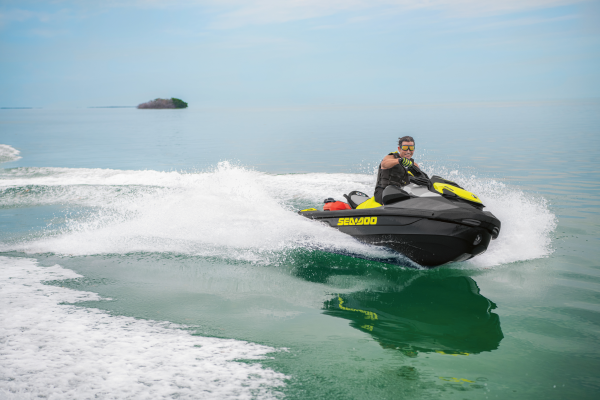 PWC Riding New Normal Differences
I think we can expect to experience some of the same on the water, especially on weekends or longer Sea Doo tours. So be prepared for line ups and longer waits for all waterfront services (see below). In addition, some precautions and limitations may still impact your ride. One is that health and marine authorities are still recommending physical distancing. Regardless of increased social gathering sizes…
Physical Distancing
For jet ski riders, this means thinking twice about carrying a passenger or a tow-sports spotter. Or who the other person is and how to do so safely. It also means being more aware of maintaining a new separation at boat launches, docks and beaches. This vigilance is to avoid too-close contact with other boaters or sun-seekers. What's more, this caution extends on to the water. Like not getting too close to other PWC riders, especially while rafting.
Locking Thru
Speaking of rafting, it's a no-no for this season in Parks Canada locks. This includes any operated by The Trent Severn Waterway or The Rideau Canal. The no-rafting ban is perhaps the physical distancing imperative most indicative of our PWC riding new normal. So, if you're a regular lock user, be prepared for its ramifications…
Longer Wait Times
These likely include longer waits to lock thru. For instance, PWC riders used to be able to raft off one another or other boats in a lock. Now every vessel, including jet skis, must find available wall space. And park end to end with a line looped around the nearest wall cable.
Unexpected Delays
So no more floating in the middle between larger boats. No more getting squeezed into an already crowded lock by willing staff. And that means missing more lock thru's, plus longer waits to get in. To say nothing of the stronger likelihood of not making that last lock thru of the day. You know, the one could leave you stranded on the wrong side. With the gates shut and unable to get back home. At least not until the next day.
So a word to the wise. If you're going on day trips that involve any locks, re-think your timing plans according to the PWC riding new normal for locking thru. And allow plenty of extra time to arrive at the final lock on your journey much earlier than you did before.
Other Lock Considerations
Similarly, physical distancing at locks will limit mooring space at the blue line for those in line for their turn. It will also make a longer process out of buying a day pass on site at a lock. And although public bathrooms are open at locks, their use won't be as easy or quick as previously. And Parks Canada recommends permission from lock personnel and face masks before getting off your personal watercraft.
PWC Riding New Normal For Fuelling Up
Another part of the PWC riding new normal should involve carrying extra fuel for longer rides and Sea Doo tours. Why? Because we simply can't count on finding as many regular gas stops available as before. Who knows? Some marinas may have closed. Others may be open, but with limited hours or fuel supplies. It may even be that marina staff prefer you to stay on your craft. Or to pump your own gas. (Even though the law says everyone must disembark while fuelling.)
And any of these changes could also lead to longer line-ups at the pumps. So better to fill up before launching and top up your LinQ system fuel caddy too. And before leaving, call ahead to any intended fuel stops for confirmation that they're open with fuel available. And don't forget your face mask while gassing up.
PWC Riding New Normal For Lunch Stops
By the way, same goes for waterfront restaurants. Your usual haunts may or may not be open. At the very least, they may be operating with far less than normal capacity or more limited menus. Plus, right now they're by reservation only. Tough to arrange on a Sea Doo tour! So maybe it's time to consider carrying more snacks and cold drinks on board. And once again, bathroom use may be limited.
PWC Riding New Normal Includes New Precautions & Re-Evaluated Plans
Because we're out for a day of escape and freedom on the water, it's very easy to forget basic precautions. But if we've learned anything about protecting from virus spread, it's to wash hands often. Wear a face mask when physical distancing may be uncertain. And be very careful about sharing jet ski gear or equipment.
Hand Washing & Face Masks
With this in mind, I've added hand sanitizer, wipes and two face masks to my jet ski day kit. That way, I can disinfect my hands after touching any foreign object. Like gas pump handles, lock cables or restroom apparatus. And my mask is available for short periods if it's crowded on shore. That way, I can avoid inhaling or exhaling any wayward virus germs. I just need to remember that if a mask gets wet, to replace it with a dry one. That way, it maintains peak effectiveness.
Reassessing Routes
At the same time, I'm also reviewing and reassessing all my usual Sea Doo touring routes before going. I'm trying to plan more carefully for availability of fuel and services. And which launches to use. Plus, how to reduce or change the times of any lock usage. Or which day trips avoid locks altogether.
Riding Groups
Given all of the above, another consideration is riding group size. Sure, it's fun to ride with a bunch of other PWC's. But in the present situation, large groups present several concerns. One is that it will take way longer to lock thru and gas up in an already potentially delayed scenario. Two is that maintaining physical distancing is more difficult. This is a factor when there are more riders present who you don't know. Or who they've been in contact with. So maybe smaller jet ski groups are better for now.
Service & Repair Backlogs
Finally, I should point out that it's not yet business as usual at many PWC dealers or marinas. Even with restrictions eased, many service departments are backed up. And more parts on back order. So take extra good care of your jet ski. Because getting it back on the water again after a breakdown could take weeks. And with the late start, we've already lost too much of our Sea Doo riding season.
My Last Word
Meanwhile, be safe out there. Enjoy your time on the water. And let's hope that Mother Nature cooperates with lots of sunny days and hot temps from here on. After all, we deserve a break, don't ya think?
If you enjoyed this post, check out my other riding tips.
The tips and advice in this article are the opinions of the author, may not work in every situation and are intended only for the convenience and interest of the reader, who has the personal responsibility to confirm the validity, accuracy and relevancy of this information prior to putting it to their own use.
Like This Post? Follow Me on Facebook!