Practical Advice for Personal Watercraft Novices…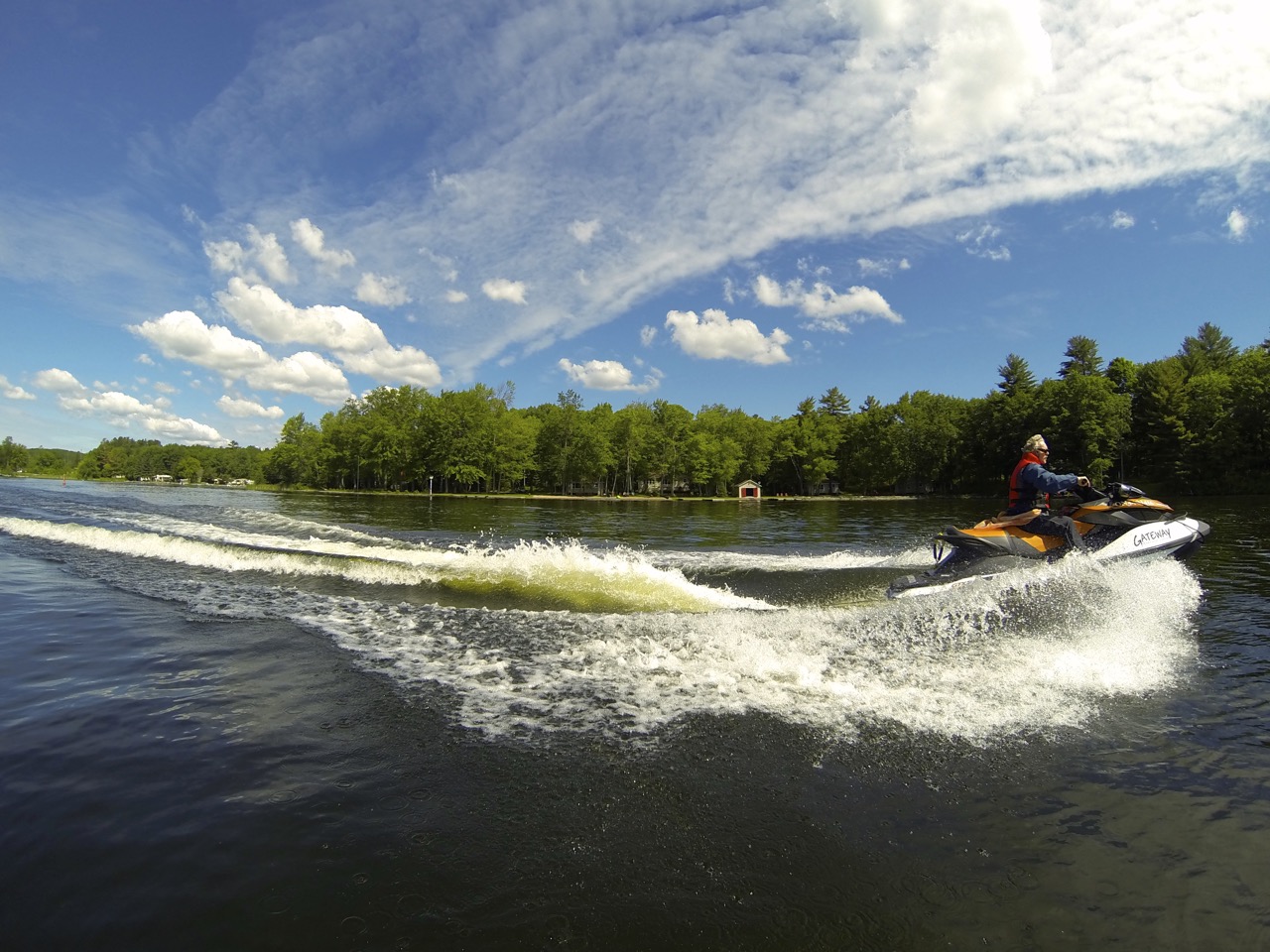 What's Contained in PWC Beginners Tips
Best PWC beginners tips on what to buy, wear & carry, plus many valuable how-to jet ski riding pointers and suggestions, with expert Sea Doo Tour advice by Craig Nicholson including…
Selecting the Right Personal Watercraft,

Best Jet Ski Shopping Advice,

Buying A Good PFD,

Choosing a PWC trailer,

Insuring Your Jet Ski,

Maintenance Tips,

What to Carry & Wear,

Trailering & Launching Pointers,

How To Dock & Fuel,

Where To Go & What to Avoid, 

Weather Advice,

and much more!
So why are these PWC beginners tips important? Because every jet ski rider starts their PWC adventures as a newbie. But there aren't many ways for a first-timer to learn about personal watercraft riding beforehand. Like how to get started. What to buy. How to ride a jet ski. What to expect. Where to go. Or what to take. So mostly, jet ski novices learn how to ride a PWC by trial & error. Or sometimes, from a more experienced friend.
But what if a one-stop resource existed for jet ski riding? One where best practices for personal watercraft were readily available for free? For both entry level PWC owners and those with more experience? Where you could find the best PWC for beginners info about how to ride a jet ski?
About The Intrepid Cottager
Fortunately, there is. That's what my Intrepid Cottager website is set up to do. It's a manual full of practical tips for PWC riding. Here, you'll find valuable advice for everyone culled from my years of experience on Sea Doo tours. Including a full menu of PWC beginners tips!
On my site, you'll discover many suggestions to help you become a more competent, comfortable and confident jet ski rider. And hopefully, to help you avoid making mistakes that can spoil your PWC riding fun. Or even threaten your safety on the water.
But nothing beats common sense and good judgement when it comes to PWC beginners tips. What's more, each personal watercraft rider is responsible for his or her own decisions and actions. So, check out my PWC for beginners suggestions. Then, choose what works best for you. Now, let's get started…
Various Terms For Personal Watercraft
First, you may be wondering what to call these amazing water vehicles. You'll notice I've already used several different terms. Generally, the boating industry refers to them generically as "personal watercraft" or "PWC's". These are the widely accepted term in Canada. Note that "personal watercraft" is both singular and plural, so more than one is not "watercrafts".
Meanwhile, the ones made by global PWC leader BRP (Bombardier Recreational Products) are called "Sea Doo Watercraft". Yamaha refers to their line up as "Waverunners". And Kawasaki goes by the now generic moniker "Jet Ski".
But I've found that many people, including most media, use various other terms for personal watercraft. That why you also hear them called a "jet ski" (lower case) or even "ski", regardless of manufacturer. On my website, I have followers from many locations. Consequently, I use all these terms interchangeably. But take your pick!
Dispelling PWC Myths
Another thing you should know. There are many misconceptions and myths about PWC riding. Like that they're noisy. Wet. Hard to control or expensive. Or that they're just toys. So if you're thinking a jet ski might be fun, read my myths and facts post first. This info might even help you persuade your significant other to get on board a ski!
Try Before You Buy
Trying one out together first could also be beneficial. And that's what my list of Ontario PWC rentals is for. Updated annually, it includes many companies or dealers with rentals. But the list can be a bit of a moving target, so some operators may be missing. Also, it isn't an endorsement of the businesses included. To locate others in Ontario or rental facilities in your own area, Google search PWC, Sea Doo or jet ski rentals.
Getting The Right Equipment
Before PWC Shopping
But before you rent or buy a Sea Doo watercraft or any other make, check out my suggestions about getting started. These PWC beginners tips should help with assessing your own experience level and needs. Hopefully, they will also give you a better idea about how to approach your first ride and purchase.
Choosing Your Personal Watercraft
After that, take a look at my article on buying a personal watercraft. This post delves deeper into your personal situation, intentions, usage and desires. Although It focuses on Sea Doo watercraft because that's what I ride, my buying advice is universal. Hopefully, my suggestions will help you find the PWC brand and model that's right for you.
For some, what's right may include a ski capable of operating comfortably with more than one person. So I've also offered some ideas to consider if you're thinking of riding with a passenger most of the time. Here, the idea is that some models are more stable and suitable for riding double. Armed with this 2-up advice, you'll have better information about what best model suits your needs.
Also, if your primary interest is going on Sea Doo tours like me, you should take a gander at my article about how to select the right jet ski for touring.
Choosing Your PFD
While you're at it, go to my article on buying a Personal Flotation Device (PFD). Because wearing one while PWC riding is mandatory in most jurisdictions! But some are better than others for riding a jet ski. Especially remembering that, unlike with boating, you're wearing a PFD 100% of the time on the water with your ski. So, comfort is a huge factor. But do you choose a PFD or a life jacket? What size and fit? What colour and why? Check this out instead of just settling for that old one hanging in the boathouse.
Choosing Your Trailer
Another consideration in your purchase process is whether or not you need a PWC trailer. Maybe not, if you're just going to ride on your cottage lake. But unless your dealer is willing to drop it off (and pick it up for service), you will need something to tow around your jet ski. Here's what I use to haul around my Sea Doo watercraft. But will you need a single or double trailer? And remember: aluminium is your best bet. That way, you can avoid the rust and corrosion from constant contact with the water at boat launches.
How To Get Insured & Ride Legal
Meanwhile, there are also two other factors to consider up front. One factor is insuring your personal watercraft. For sure, you need to know who your policy covers. Also, does it cost more for higher HP models? Plus, whether there are riding area restrictions or storage requirements. And if there are exclusions for loaning it, commercial use, boosting horsepower or racing and tow sports.
The other factor is to know what laws and regulations apply to jet ski riders in your area. What PWC operator's license do you need? Do you need to carry ID? Also, does your ski need to be registered? What on-board equipment is required? Plus, are there any speed limits or no-go zones for PWC's?
Each of these two articles are based on what happens in Ontario. But again, they should suggest the questions to ask in your own jurisdiction. Suffice it to say that getting proper PWC insurance coverage will give you greater peace of mind. As will being in compliance with your local marine laws.
How To Do Regular Maintenance
From the get-go, I strongly recommend making regular maintenance a habit. Sure your jet ski (and trailer) may work fine now. But like anything mechanical, they need on going TLC. The best thing you can do for your PWC is to ensure that it's winterized properly at season's end. This process involves drying, cleaning and lubing your ski. Also, proper and secure storage. All of which will get you ready to go hassle-free when it's time to ride again.
In addition, your personal watercraft trailer will appreciate consistent inspection using my comprehensive maintenance checklist. It's designed to avoid breakdowns. All too often, a jet ski trailer gets ignored until trouble starts. But my walk around routine and emergency preparations should keep you rolling reliably.
PWC Beginners Tips For Real World Riding
So you've acquired a personal watercraft, a PFD and maybe, a PWC trailer. Now, you're ready to ride, right? Well, not quite yet…
PWC Riding Gear Necessities
Don't be misled by all the fancy PWC marketing photos you've seen. You know, the ones showing happy people wearing nothing but a bathing suit, a PDF and a smile. In reality, that's just asking for a painful aftermath to your day on the water. So avoid unnecessary post-ride discomfort by viewing my article of riding protection tips.
Here, and in my reminder about riding essentials, you'll discover what to carry to maximize your enjoyment. After all, being exposed to all kinds of weather can lead to unintended consequences (see more below). But not if you're got everything you need to protect your skin, eyes, ears, head from the elements. And by the way, if you're an eye glasses wearer like I am, discover my tips for wearing prescription lenses on the water. And especially, for not losing them overboard!
How To Ride Safely
Meanwhile, also take a gander at my suggestions for safe riding habits. As with any other motorized recreational activity, operating a PWC involves some risks. Also, there's etiquette shared among all boaters to keep one another safe. That's why it's important for jet ski riders to know about smart behaviours. These include 360˚ situational awareness, marine signs and other tips specific to sharing the waterways. They're well worth knowing and carrying in your mind at all times. Happily, you'll find most of them here at your fingertips.
How To Prepare For A PWC Breakdown
Speaking of carrying, what about emergency tools? Fortunately, trouble shouldn't happen often with your personal watercraft. But it's always better to ride prepared. So this article talks about a few items I've found to be handy over the years. They include gear for clearing a blocked impeller, seeing underwater and towing a disabled ski. Most often, I've used them to help a companion's disabled ski get back home!
Sometimes, that's involved towing a broken down jet ski. So this is a good place to include some advice on how to do that properly, without doing any damage. Also, this is where it's probably appropriate to relate a layman's basics of jet propulsion. And how it can go wrong in your ski if you're not careful.
What PWC Mooring Gear To Carry
Finally, I'd recommend carrying the proper equipment for mooring your jet ski securely at a dock. Why? Because every PWC ride involves tying up somewhere, and docks come in all shapes and sizes. What's more, they usually aren't configured to accommodate PWC's easily. So, I've learned to carry some gear that enables me to secure and protect my Sea Doo watercraft anywhere. (More about docking later in this article.)
How To Trailer & Launch Your Jet Ski
Additionally, there are some secrets to know about towing on land. So if you bought a PWC trailer or ever borrow one to haul your ski to a different riding location, this section will be important. First, you need to know about how to trailer your PWC properly. This includes securing your trailer to your tow vehicle and your jet ski on your trailer. Plus, a few hauling tips.
Next, I've written two articles about launching your PWC at a boat ramp. One on towing and launching also includes some additional PWC trailering tips. The other provides a launching checklist to follow, thereby averting most problems unloading your personal watercraft.
But of course, once your ride's over, you need to reload your PWC back on the trailer without incident. It's essentially a reversal of the launch process, but with a few tricky twists. Like how far to back in. Checking your trailer bunks. Or how to drive a ski on to your trailer. And resecure your PWC's properly for the drive home.
How To Dock Your Jet Ski
So now you're good to go. But as with anything new, take it easy at first. Especially until you get used to your PWC's controls and how it handles on the water. Among your first challenges will be manoeuvring you ski in tight areas. To help, I've posted an article about how to dock your jet ski. This includes how to assess a dock. Also, how to approach it. Where to moor. And how to keep your PWC secure and undamaged.
How To Fuel Your Ski
Certainly, you'll need the previously mentioned skills to moor at your own dock. Plus, they come in handy to fuel up at a marina. This post addresses questions around gassing up your ski, both on land and on water. And how to avoid running out of fuel.
How To Go Through A Lock
Meanwhile, those who encounter locks on the water should check out my post about locking thru on a personal watercraft. This one covers the rules, etiquette and behaviours necessary to make going through a lock easy and comfortable for everyone. Also, this info will assist you in considering longer jet ski rides as you become more experienced and confident.
PWC Beginners Tips For Where To Ride
Which begs the question: where should you go jet ski riding? From my PWC beginners tips, you'll see that exploring new waterways is a great way to get the most from your experience. Doing so, you'll quickly realize that your personal watercraft is good for much more than playing around. That's right, it's also excellent for adventure touring. And what's more, there's plenty to discover with Sea Doo tours in Ontario. Sights, scenery and destinations that can only be experienced from the water. Like my top 10 day rides. Or most amazing attractions.
PWC Beginners Tips For Planning & Weather
So, along with all the PWC beginners tips I've provided so far, here's some additional important jet skiing advice. It's for anyone new to longer PWC rides on unfamiliar waterways, novice or not. As with any expedition, it's always wise to prepare carefully beforehand.
How To Plan & Navigate Your Sea Doo Tour
Start by reviewing my article about planning your rides. It will help you get ready in many ways that will make your jet ski outings easier and more enjoyable. Follow that up with my suggestions about how to avoid getting lost on your Sea Doo tour. After all, knowing where you are is more fun. And not that hard to do once you get the knack. Meanwhile, to keep you energized and hydrated on those longer rides, you might want to carry some goodies from my tour snacks choice list!
What To Know About Weather
Another big consideration on longer PWC rides is the weather. It can make or break your ride. Or even cancel it before you get started. That's why a major factor in planning is the weather forecast for the area you want to ride. So be sure to check out my post about weather advice for Sea Doo tours before leaving home. It will help you decide when and where to go. And how long to be on the water!
What To Do About Wind & Rain
Speaking of weather, the two biggest challenges for PWC riding are wind and rain. Neither are pleasant to ride in. But both are inevitable if you do a lot of Sea Doo touring. I try to avoid windy days and my top 5 wind tips tells you why. And what to watch out for.
Meanwhile, getting caught in a downpour on the water isn't fun either. And that's why I posted my article with tips for riding in the rain. This PWC riding gear advice will help keep you dry. And also, avoid the pain of hard drops that feel like a thousand needles piercing your bare skin!
How To Avoid Messing Up Your PWC Ride
No doubt, bad weather can majorly ruin a good jet ski ride. But let me also take this opportunity to itemize other ways that things can turn sour. Hopefully, my post about jet ski ride spoilers serves as a good overview of these factors. I suggest using it as a PWC riding gear checklist for every jet ski ride. Remember, forewarned is forearmed!
Where To Get More Info
But you're bound to have more questions about jet ski riding as you become more experienced. Often, your personal watercraft dealer can help with technical issues and mechanical inquires. Additionally, my Intrepid Cottager website includes many posts covering a wide range of PWC topics, Sea Doo tours and jet skiing tips. But another good source is other PWC riders. And that's where a Google search for PWC and jet ski forums can come in handy. Plus, almost every region has at least one PWC or jet ski Facebook group. Here, like-minded owners and riders connect to share tips, experiences and arrange rides. For example, check out my listing of Ontario PWC Facebook groups.
My Last Word
So there you have it folks. My best PWC beginners tips and jet ski riding gear advice. Undoubtedly, you will add more of your own as you gain experience and confidence. But certainly, by taking my suggestions to heart, you won't have to do as much trial and error learning. And that should help make you a better, safer, and more confident personal watercraft rider even sooner!
If you enjoyed this post, check out my other riding tips. 
The tips and advice in this article are the opinions of the author, may not work in every situation and are intended only for the convenience and interest of the reader, who has the personal responsibility to confirm the validity, accuracy and relevancy of this information prior to putting it to their own use.
Like This Post? Follow Me on Facebook!