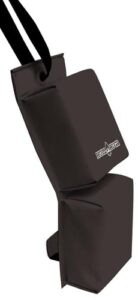 Did you know that Hull Hugr protects Sea-Doo from dock damage on a Sea Doo tour? Sea Doo, jet ski or waverunner personal watercraft don't fit most docks. Throw in a little wave and wake action, and it's easy for my pristine Sea-Doo watercraft to suffer unsightly scrapes.
Plus, dings and gouges from docks that are too high, too rough or too rickety. Up until now, my problem has been finding PWC fenders that fit, stay on and provide proper protection on Sea Doo tours. On occasion, I've even resorted to stuffing an old PFD between hull and dock.
No more, thanks to Hull Hugr PWC Fenders…
These inexpensive, block-shaped bumpers hook onto all the right places on any personal watercraft. I place one at the widest point of my jet ski and one along side near the back. The length of the web straps can be easily adjusted. This way, they are tight enough that my Hull Hugrs don't dislodge. Or float out of position once secured. Their flat profile also helps keep them in place. Alternatively, some Sea Doo riders replace the straps with bungee cords for easier tension.
Hull Hugr PWC Fenders are comprised on two blocks of closed-cell foam. They are covered in UV and puncture-resistant, marine grade vinyl. The blocks are slotted between them so that they can be folded for more compact storage. But jet ski pack rat that I am, my Sea-Doo storage space is already full, So while riding I fasten my Hull Hugrs to the rear grab handle and the ski hook with carabiners. They have stayed in place no problem through some mighty rough going.
Hull Hugr makes fenders for all kinds and sizes of recreational boats. So grab yourself a pair real soon. And meanwhile, check out my other products reviews.
The tips and advice in this article are the opinions of the author, may not work in every situation and are intended only for the convenience and interest of the reader, who has the personal responsibility to confirm the validity, accuracy and relevancy of this information prior to putting it to their own use.
Like This Post? Follow Me on Facebook!