How To Take Great Jet Ski Shots…
---
---
Have you ever wondered if there are PWC photo secrets to help you take better pictures on the water? I'm not an expert and don't have expensive cameras or multiple lenses. But I have discovered secrets that work for me and can share with you, so here goes…
I carry two cameras on my PWC adventures. My primary is a point and shoot Panasonic Lumix that fits in one hand comfortably. I also use a late model Apple iPhone for candid shots. Each has its place and usage.
Basically, this usage is defined by how to best compensate for the many and simultaneous challenges of taking personal watercraft photos. Doing so is quite different than taking photos on land, where you have greater control of the variables.
No wonder so many jet ski photos I see are either poorly framed or badly lit. Or just plain boring. This is largely because it's so much easier to take photos of stopped or slow moving personal watercraft than it is to capture skis in action. But my PWC photo secrets have helped me overcome some of the challenges most of the time.
PWC Photo Secrets – Dealing With Movement
One huge challenge is shooting from my personal watercraft. Even stopped, it's always moving gently with the motion of the water or bobbing wildly from waves or wake. At the same time, I'm trying to photograph other jet ski riders that are also moving or in action. So getting a shot that's in focus can be difficult.
Image Stabilization
But I've found that two features on my cameras help. One is image stabilization. This feature reduces blurring associated with camera shake when I take a picture. Note that image stabilization only works to compensate for mild motion at the camera. So it doesn't help with jerky motion I may cause. Or with any movement by the subject of the photo I'm taking.
That's why image stabilization works best when I remain as still as possible while shooting. This includes supporting the camera well and holding it as steady as possible. And pressing the shutter button gently, not poking it. I always shoot with the maximum available image stabilization active.
Burst Mode
The second feature I use is burst mode. In this continuous shooting mode, the camera captures multiple photos of the same moving subject in rapid succession. Burst provides me with more choices of essentially the same shot. It also increases the probability of getting at least one that's in good focus and properly framed. That's why I always shoot with burst mode active.
Using burst has other significant advantages. I only get one opportunity for a good result each time I take a photo. This is especially true with action shots where the PWC(s) I'm shooting are spread out and moving quickly. So there's no posing for a shot or ability to do re-takes.
One other tip about shooting in burst. All those extra photos can eat up the space on your memory card. So if I'm taking a lot of shots, I'll stop every once in a while to delete the obvious losers. These typically include the first and last few shots where a jet ski is only partially in frame or not in frame at all. Even in the middle of the burst choices, there are often shots with only half a PWC. Getting rid of these early reduces the risk of running out of space. Either that or carry a spare memory card.
PWC Photo Secrets – Taking Action Shots
The jet skis I'm shooting may or may not be properly framed at the instant I take one photo. But with burst mode on, this isn't an issue. I pick a spot ahead of the group to stop and set up to shoot (see photo above with Sea-Doo watercraft passing a church). Then, keeping the camera pointed in one steady position, I let the personal watercraft ride through that framed area while I click away continuously in burst. As a result, I usually come up with at least one usable shot of multiple PWCs in motion that's focused and framed. Usually when I do this, I ask the jet ski operators to tighten up their riding formation a little. This increases my chances of getting multiple PWC's in the photo.
Another technique I use to for action shots is to ride up beside PWCs riding along at a pre-arranged medium speed (see photo below). I have my SLR camera gripped in my right hand with my index finger working the zoom lever and shutter button. I steer my Sea Doo watercraft and keep the throttle steady with my left hand until I get my shots. For right-handed photographers, this technique works best while shooting jet skis on the right side.
But please note that I only do this on long, open stretches of calm water with no traffic or obstacles. In addition, I inform everyone in my group of my intention beforehand. This way, no one makes any sudden moves out of position while I'm zooming in with my camera from a safe distance. Don't try this technique without lots of practice steering one-handed on your own first. And if you can figure out how to do this using your smart phone one-handed, let me know!
Sun & Glare
Another considerable challenge is bright sunlight from above and reflected glare all around. I can't do much about water glare. But keeping the sun behind me as much as possible while shooting results in more usable photos. So will waiting to shoot until that big cloud blocking the sun moves away. And again, burst mode gives me more choices. And with either camera, I shoot in auto mode to let the camera do the work of deciding the proper settings for the available light.
Keeping Camera Dry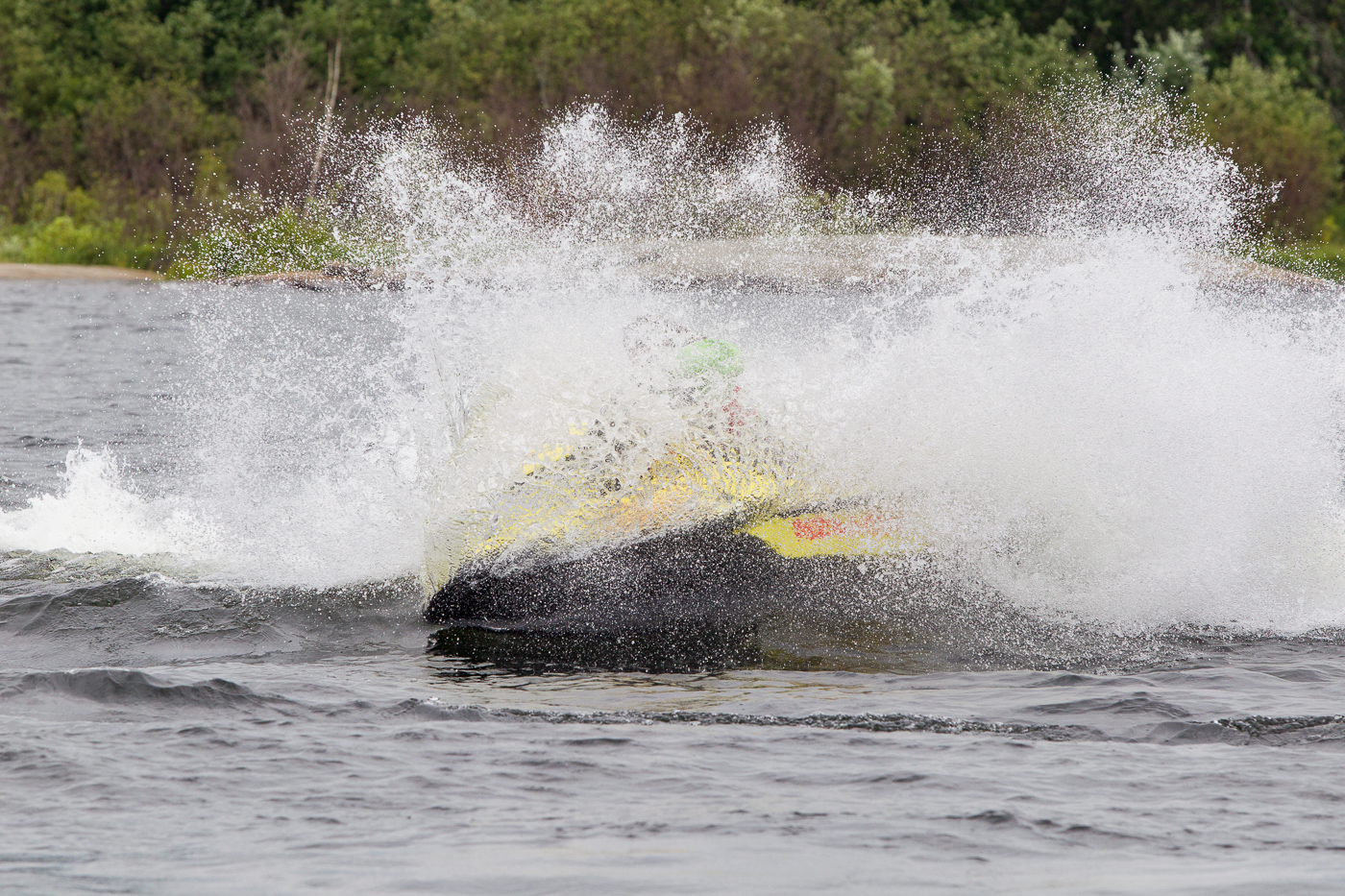 Getting my camera wet from spray can also be a challenge while shooting. So it's important to keep your camera dry. One solution is to get one that's at least water resistant if not waterproof. Regardless, whenever I'm not shooting, my cameras are tucked away in pouches that protect them from moisture.
And I always keep a soft, dry cloth handy to wipe off any light spray right away, especially from the lens. This prevents droplets on the lens from ruining an otherwise decent shot.
On the rare occasion that the camera I'm using gets even moderately drenched, I dry it off as much as possible immediately. And then I don't use it again until I can let it air dry. Obviously, the worst-case scenario is dropping a camera overboard. But that hasn't happened to me yet (knock on wood). But I'll be covering that in another article dedicated to keeping my camera dry, so stay tuned!
None of my PWC photo secrets will get you professional quality results. To achieve that, you need a top end camera. And a photographer whose expertise is taking action and powersports shots. But for capturing your best memories on the water for personal use, my PWC photo secrets work just fine!
Check out my favourite Sea-Doo rides!
If you enjoyed this post, check out my other riding tips.
The tips and advice in this article are the opinions of the author, may not work in every situation and are intended only for the convenience and interest of the reader, who has the personal responsibility to confirm the validity, accuracy and relevancy of this information prior to putting it to their own use.
Like This Post? Follow Me on Facebook!