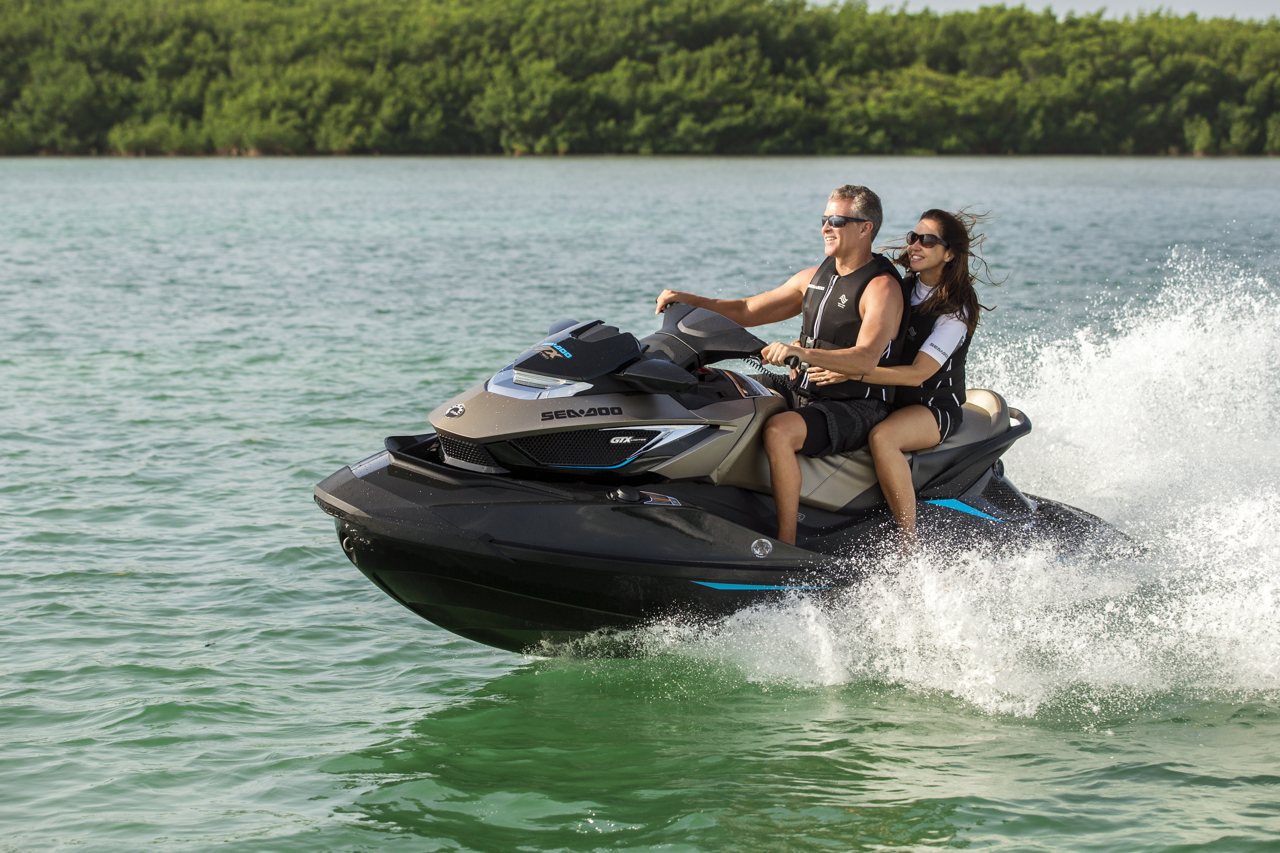 I knew summer was coming because I'd just got word that my new Sea-Doo watercraft has arrived at my dealer, Gateway Powersports & Marine in Peterborough. That season, I was riding a GTX Limited S 260, absolutely the best luxury touring PWC available, unless you want the ultimate power of the 300.
Why did I choose Sea-Doo and this particular model? I usually ride more than 3,000 kilometres each summer, so I want the ultimate in luxury, comfort and convenience to make my touring easy and relaxing. Putting on more hours in one season than most owners do in five years, reliability is also a crucial factor for me. Besides, the  GTX LIMITED S 260 has two key features I wouldn't ride without – suspension and brakes…
Sea Doo GTX Limited S 260 Brake and Suspension…
Its suspension (iS) adjusts to cushion me from the impact of rough water. On a long day's ride and over many consecutive days of riding, iS smooths my ride, reduces riding effort and leaves me less fatigued at the end of each ride. In my experience, suspension is perfect for touring and the Sea-Doo GTX LIMITED S 260 is one of the few models that has it.
Sea-Doo watercraft are also the only ones with brakes, so riding a Sea-Doo is a no brainer for me. The Intelligent Brake & Reverse (iBR) on my GTX LIMITED S 260 delivers stopping ability that no other manufacturer has – great for collision avoidance, optimum safety and peace of mind touring. After several seasons of riding with Sea-Doo brakes, I've adapted their use into my riding style, so they're now as much an unconscious habit as using the brakes in my tow vehicle. Believe me, once you've tried Sea-Doo's iBR, you won't want to ride any other brand.
iBR also delivers unrivalled manoeuvrability. By working the left hand brake/reverse lever in conjunction with the right hand accelerator lever, I can literally park the watercraft sideways – more than I can do with my tow vehicle! What's more, the GTX Limited S 260 always starts in neutral, so no more unexpected and scary forward surges on ignition. For tight spaces and docking, nothing beats the handling provided by iBR – and its control and handling is second to none thanks to its S3 hull.
For my kind of touring, I want strong power from my watercraft, but not necessarily all the high performance attributes of a pure musclecraft. The GTX LIMITED S 260 fits the bill perfectly, with just the right balance of touring amenities combined with more than enough power to carry my gear and get me through the longest distances and widest range of conditions with ease. I also appreciate its features like cruise control, eco mode, high performance VTS, tilt steering, a plush touring seat and the GTX LIMITED's Driving Centre that may have more functions than my smart phone.
Last but not least, I went for the GTX LIMITED S 260 because it looks very sharp. Frankly, the somewhat bland colours of previous GTX LIMITED's made me think of "driving my father's car", but this year's Anthracite Grey with blaze orange and chrome highlights will definitely turn heads. It sure doesn't hurt to ride with a little pizazz!
So I'm counting the days until I can get my Sea-Doo GTX LIMITED S 260 out on the water. Meanwhile, I'm planning rides and tours – and praying that Mother Nature cooperates by delivering the long, hot dry summer the forecasters are predicting!
More info about choosing a Sea Doo!
Like This Post? Follow Me on Facebook!