Self-Guided Jet Ski Ride of Ontario's Kawartha Lakes…
---
---
To go on this self guided Kawartha Lakes Sea Doo Tour from Sturgeon Lake to Stony Lake, the first thing to know is that the main lakes are interconnected. They are also part of the Trent Severn Waterway in Ontario, Canada. Sturgeon, Pigeon, Buckhorn and Chemong Lakes are virtually rock-free in their main waterways. But it's wise to keep your Sea-Doo watercraft or recreational boat on the marked routes on Lower Buckhorn, Lovesick and Stony.
This outstanding, jet ski day adventure provides easily navigable waters, adequate depths, regular marker buoys, and active local populations who flag errant rocks. Plus there are many available services and amenities for recreational boaters, These are located both at frequent marinas and also at the anchor towns of Buckhorn, Bobcaygeon and Fenelon Falls for those going on Sea Doo tour on Sea Doo, jet ski or waverunner personal watercraft.

View Kawartha Lakes Sea-Doo Tour in a larger map
Kawartha Lakes Sea Doo Tour: Jet Ski Lock Advice…

There's lots of great Sea Doo riding on the many long stretches of Kawartha waterways. But be aware that your overall ride time is limited by how long it takes to get through the four Kawartha Lakes locks. Also check what time you have to be back before the last lock closes. Locking through will take longer on busy weekends than during the week. So plan your Sea Doo ride accordingly.
The good news is that your lock time will be faster than on a regular boat. This is because there's usually space for Sea-Doo watercraft to fit between recreational boats rather than wait for the next lock through. How many lakes you attempt in one day also depends on the pace you set. Usually we try to cruise along at about 45-50 mph.
Kawartha Lakes Sea Doo Tour: Jet Ski Launch Access…
For this Sea-Doo tour, there are many good access points and I've identified only a couple of them. This article is written assuming you launch from Sturgeon Lake, which is closer to the GTA. Here, you can find many marina launches, including one at The Landings Marina, Long Beach off Highway 35. But there's also a good one at Snug Harbour on the south eastern shore of Sturgeon. If you prefer to launch farther east for your jet ski ride, I prefer the public launch beside the Burleigh Falls lock on Highway 28. This avoids having to use that huge and potentially time-consuming lock. It also puts you quickly on to Lovesick Lake and your round trip PWC adventure west to Sturgeon (basically the reverse route to the one described herein).
Kawartha Lakes Sea Doo Tour: Sturgeon Lake to Bobcaygeon, Ontario…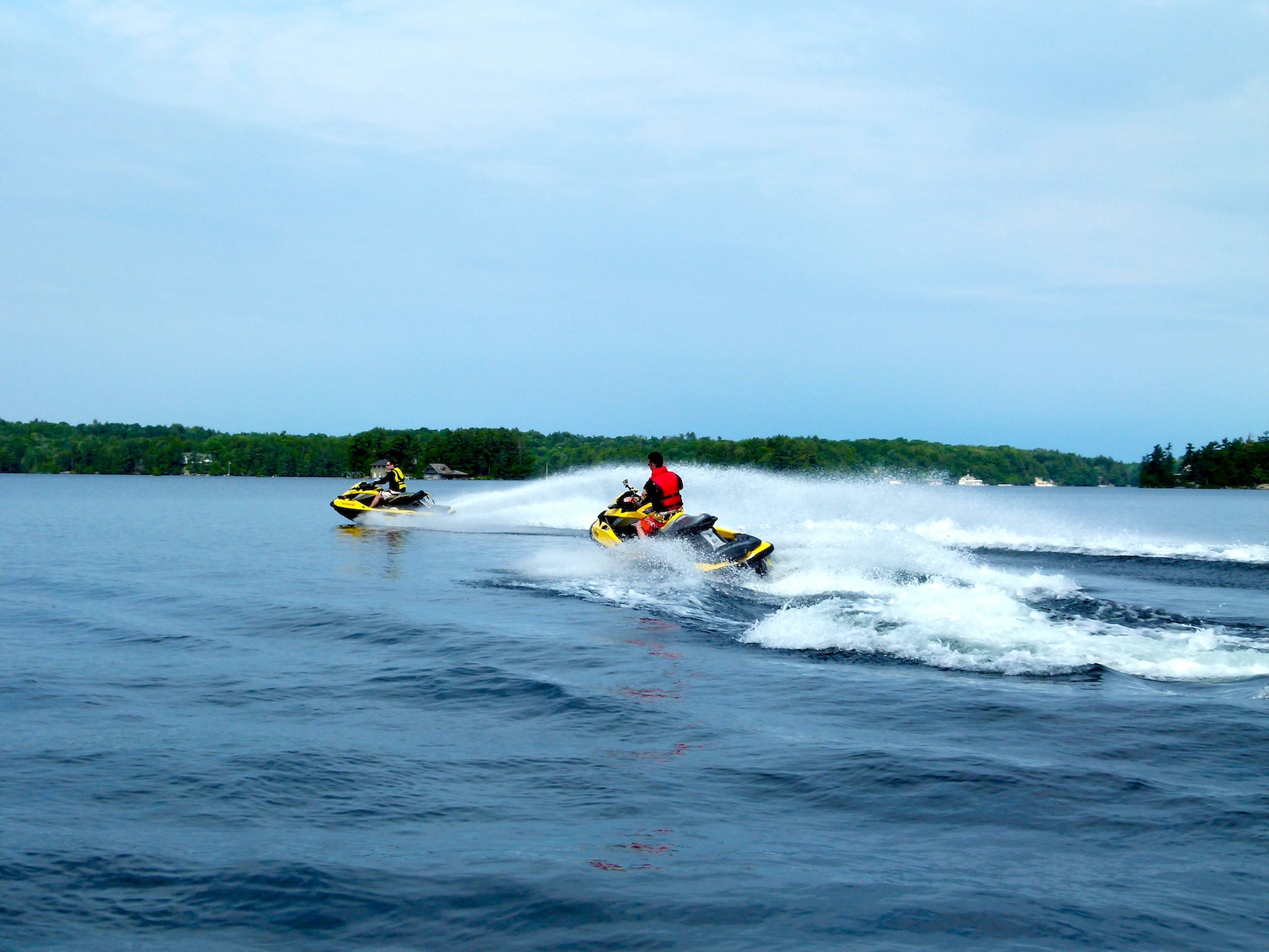 From either of the Sturgeon Lake launches, jet ski riders travel the eastward length of Sturgeon Lake. Then you go through the busiest lock on the Trent at Bobcaygeon to Pigeon Lake. This lively town can have almost a carnival atmosphere on busy summer days. There's always a mixed fleet locking through and scores of bystanders watching the spectacle. Plus people scurrying about the many shoreline stores (Visit Bigley's if you can!), marinas and restaurants. There's even a permanent hot dog stand. And check out that major mansion on the starboard side after the second bridge east of the lock!
Kawartha Lakes Sea Doo Tour: Bobcaygeon to Stony Lake, Ontario…
Once clear of Bobcaygeon's Big Bob Channel, Sea Doo riders have unobstructed access to Pigeon, Little Bald, Big Bald, Buckhorn and Chemong Lakes before the next lock at Buckhorn. From there, you can cruise Lower Buckhorn and lock through at both Lovesick and Burleigh Falls into Stony Lake. But watch out for rocks – it's named "Stony" for a good reason! With the return trip, that's more than enough riding for one day if you set a brisk pace.
Kawartha Lakes Sea Doo Tour: About PWC Navigation…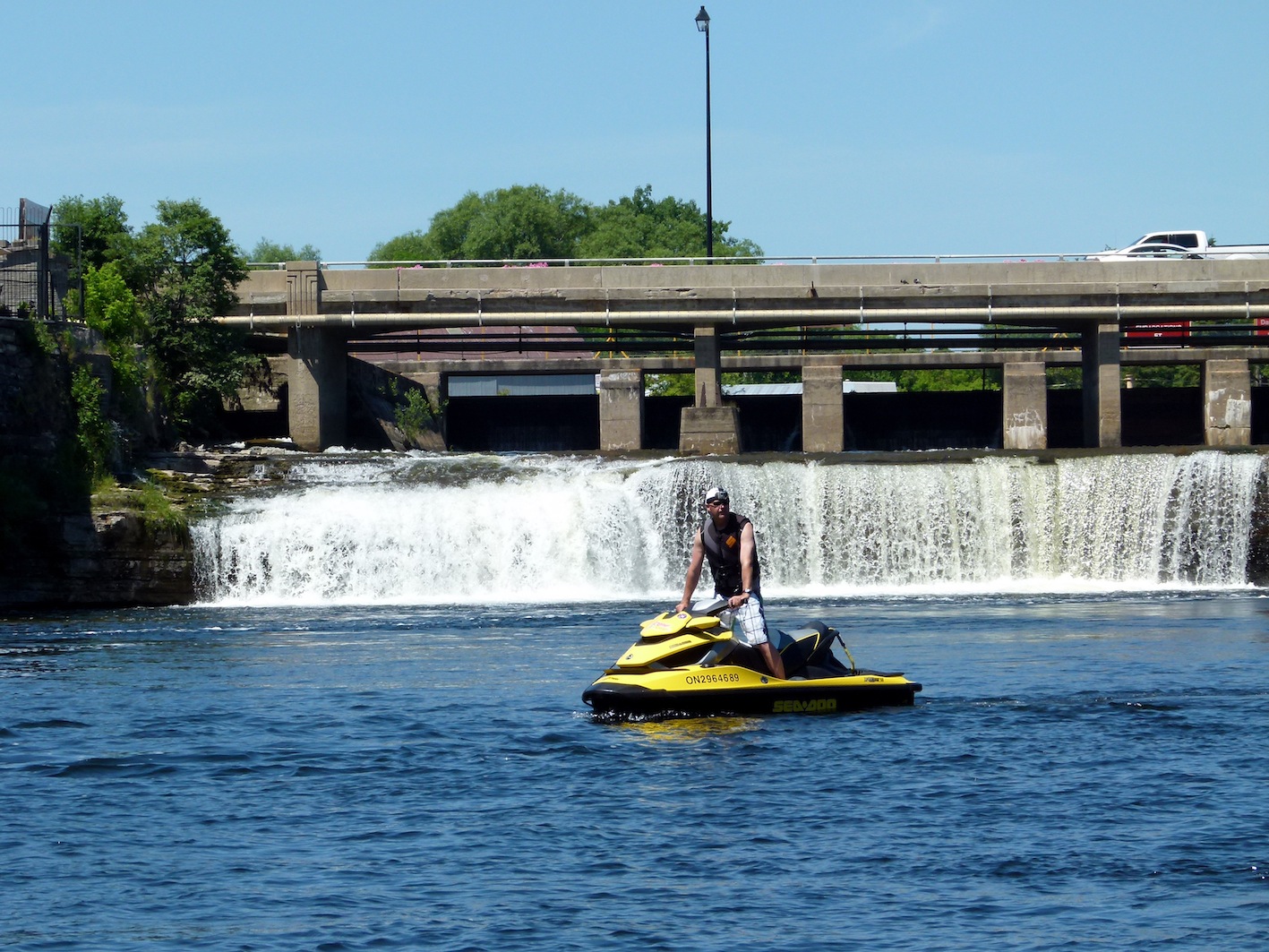 Much of the traffic on these finger lakes is rental houseboats and big cruisers doing the Trent system (watch out for their big wakes). So if you are ever in doubt about where to go, just follow the traffic. In addition, many other kinds of smaller craft sally out of the many cottages that line the shores. Generally, the main boat channel runs down the middle of Sturgeon, Pigeon and Buckhorn. Even without following the marker buoys, it's difficult to get lost. That's because there aren't many islands and both shores are always in sight.
Kawartha Lakes Sea Doo Tour: Jet Ski Side Trips…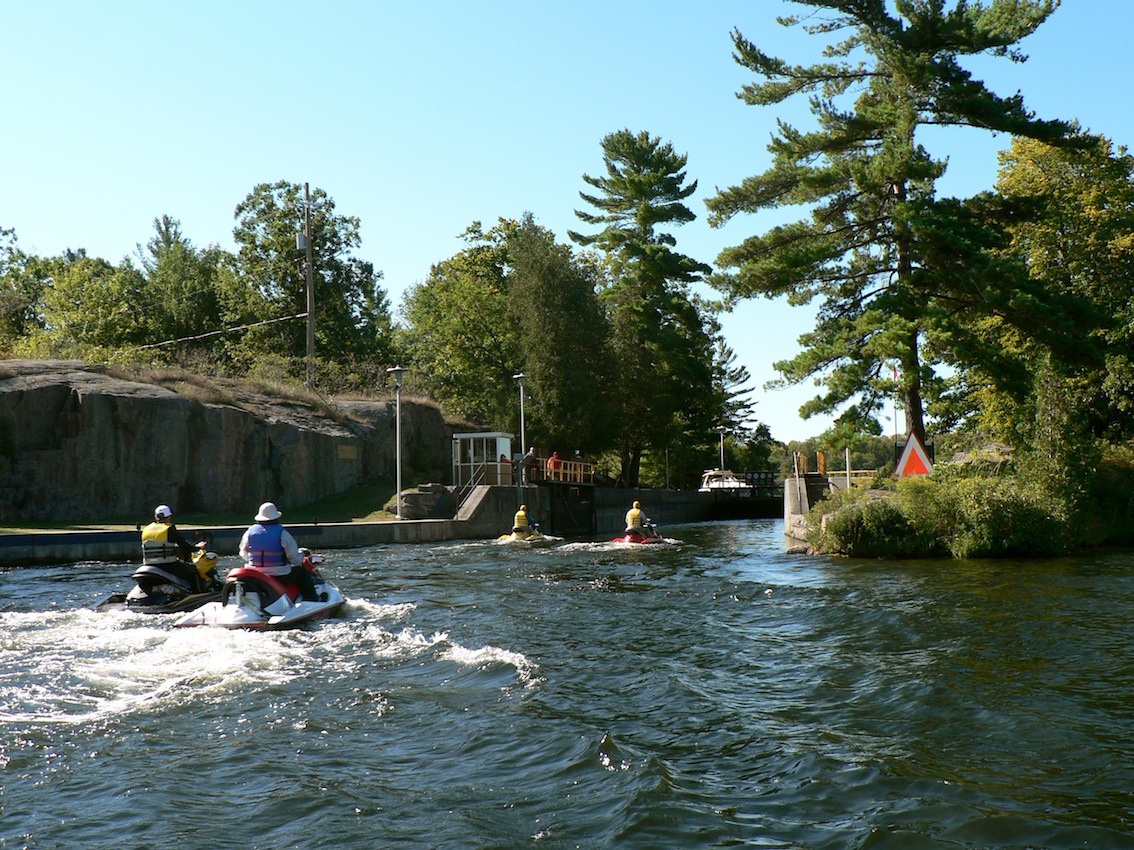 Chemong, Big Bald and Little Bald Lakes and the Scucog River are set apart from the main Trent route. You access Chemong by making a turn to starboard from your eastbound course at marker C317. Find the latter two lakes by heading due east out of Bobcaygeon to the northeast end of Pigeon Lake, instead of turning south to follow the Trent markers.
Meanwhile, the Scugog River drains out of the south end of Sturgeon Lake. Although it's weedy, if you stay between the marker buoys, you'll have no trouble jet ski riding right into downtown Lindsay (now City of Kawartha Lakes). Alternatively, you can ride to the north end of Sturgeon Lake for sightseeing, fuel and food at Fenelon Falls.
As you can see, this Kawartha Lakes Sea-Doo tour offers many options for exploration, flexible duration, sightseeing. And some mighty awesome Sea Doo riding too!
Kawartha Lakes Sea Doo Tour Fast Facts
Round Trip Distance – 75 to 175 km
Highway Access: 35 (Long Beach); 28 (Burleigh Falls)
Water body(s): Lovesick, Buckhorn, Pigeon, Sturgeon and Chemong Lakes
Launch(s): The Landings Marina, Long Beach; Snug Harbour; Public launch, Burleigh Falls beside Lock 28
Lunch: Bobcaygeon Inn; Mainstreet Landing, Buckhorn; Viamede Resort, Stony Lake
Fuel: Bobcaygeon (various); Wychwood Lodge Cottage Resort, Fenelon Falls; various marinas en route.
Locks: Bobcaygeon, Buckhorn, Lovesick, Burleigh Falls
Side Trip(s): Big Bald Lake, Scugog River to Lindsay; Chemong Lake
Sea-Doo Dealer(s): Gateway Powersports & Marine, Peterborough; HB Cycle, Lindsay.
More Info: Kawarthas Tourism
Like this ride? Check out my other Sea-Doo Rides!
Riders should reconfirm the Sea Doo tours routes and services mentioned in this article as they may have changed since publication. Any map is for reference only and any marked lines or locations are not intended as an exact or accurate depiction of positions.
Like This Post? Follow Me on Facebook!