Tools For Common Jet Ski Problems…
---
---
Why do you need PWC Emergency Tools for Sea Doo tours? Sitting behind a big cruiser, we started up our two Sea-Doo watercraft as the lock gates opened. My GTX operated normally at first. But after a couple more revs, the other jet ski seemed to go into limp home mode. That's the safety mode selected by the on board computer. It defaults into action when something's amiss to prevent engine damage.
My immediate thought was that something had got sucked through the grate into the impeller. So we'd need to stop and investigate. Unfortunately, we were on a stretch of river with rocky shores. Docks were scarce. And no place available to beach the jet ski and turn it on its side to check. We did mange to stop at a dock and duck underneath to feel for weeds blocking the grate. But it wasn't clogged. So we meandered back to our launch site at a breakneck limp home speed of 6 kph. We couldn't tow it any faster than that. Why? Because without clamping off the proper intake hose, water will get into the engine.
The moral of this story is that most personal watercraft work well most of the time for Sea Doo, jet ski and waverunner PWC adventures. Rides like my top 10 list of Ontario day rides or five best river rides. But you need to be prepared when they don't. In my experience, here's what every Sea Doo riders group, both jet ski expert and PWC beginner, should carry as essential PWC riding gear. Especially on longer Sea Doo tours.
Best PWC Emergency Tools: Hose Clamp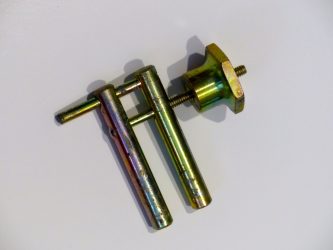 I can't speak to other brands. But with Sea Doo watercraft, you can only tow on plane (i.e. over 6 kph) if you clamp shut the intake hose. This is the one that lets water flow into the engine if it's turned off and towed. You can buy this special clamp from Sea Doo. Or use something else. But be sure to have your Sea Doo dealer point out which hose to clamp before you get out on the water.
Best PWC Emergency Tools: 40' Tow Rope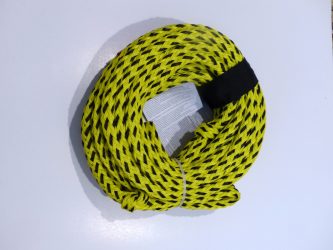 Forty feet may sound excessive. But through trial and error, I've confirmed that it takes that long a rope tow properly. A long one enables the towed PWC to get up on plane directly behind without tossing in the tower's wake. It's better to have one long piece than trying to jerry-rig a bunch of shorter ropes together. With the hose mentioned above installed and a strong 40' rope, you can tow as fast as you want. Just be very careful not to suck the rope up into your intake grate! Check out my tips on towing a PWC.
Best PWC Emergency Tools: Grate Tools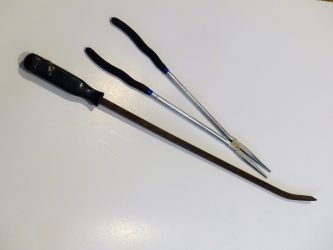 The most common problem on Sea Doo rides is sucking up debris or stones into the impeller. Sometimes, you'll hear something rattling around like a pebble in a coffee can. If so, shut off your engine immediately or you'll damage your impeller. Other times, like in the example that started this article, your PWC simply won't go anything but slow. In this case, you may either have weeds (or an improperly fastened mooring line) sucked into your grate. Or a piece of debris stuck in a fin of your impeller. If revving your engine a couple of times doesn't clear it out (and may pack it in even tighter), then you need to remove the obstruction. Find out more about jet propulsion problems here.
For weeds or rope stuck in the exterior of the grate, a strong sharp knife and a pair of pliers will probably do the trick. Sometimes this operation can be done under water (tie the tools around your wrist in case they slip out of your hand). But it's easier (and safer with the knife) to do it when the unit is beached and tipped on its side. For anything inside the grate, you will need needle nosed forceps and a long narrow pry bar. If none of this works, you'll need to carry a properly sized socket wrench to remove the grate to more easily access the problem. Both tools are available at local automotive supply stores.
Best PWC Emergency Tools: Other Handy PWC Riding Gear
What else should you add to your PWC riding gear? Someone should pack a swim mask for Sea Doo riding. This makes it easier to see if you do have to work under water. A flashlight can also help even on a sunny day if you have to peer inside the impeller trying to spot an obstacle. Extra fuses can be a lifesaver. And I always carry an extra (properly programmed) DESS cord (extra key) just in case mine goes wonky. Others have suggested spare spark plugs and plug wrench, a Phillips screwdriver, hose clamps and a hand operated bilge pump.
99% of the time, nothing goes wrong on a Sea Doo tour. But the more you ride and more Sea Doo riders you have, the greater the risk is that something will screw up. While you can't carry every tool in your PWC riding gear, the ones mentioned above will get you going again in most situations.
What other PWC riding gear should you take on a Sea Doo ride? Check out these articles…Top Secret Products for Sea Doo Tours   Best Waterproof Bags for Sea-Doo Tours  3 Handy Products for Sea Doo Tours
Check out more riding tips and advice!
The tips and advice in this article are the opinions of the author, may not work in every situation and are intended only for the convenience and interest of the reader, who has the personal responsibility to confirm the validity, accuracy and relevancy of this information prior to putting it to their own use.
Like This Post? Follow Me on Facebook!