Prevent Sunburned, Cold, Clammy Feet on Sea-Doo Tours…
---
---
What's my best PWC footwear while going on self-guided Sea Doo tour? Just like experienced jet ski riders and PWC beginners, I'm looking for comfort, quick drainage & drying. Plus, material that keeps my feet warm or cool as needed on PWC adventures.
I also want decent traction against slipping. Along with good protection from sun burning the tops of my feet. Plus, soles thick enough to protect my feet while walking. My PWC footwear must also be easy on/off and not stink the place out after drying. Sounds like a tall order, doesn't it? Finding proven PWC riding gear for Sea Doo riding can be a crapshoot. So read on and also check out my other product reviews…
PWC Footwear – Crocs for Sea Doo Tours…
I've seen a few jet ski riders wearing Crocs™ or some knock off as PWC footwear. These seem to work okay if you're someone who doesn't mind the look. But they tend to get slippery when wet and don't have much to hold them on. At least they're inexpensive and float!
PWC Footwear – Watersports Footwear…
I've also looked at various footwear made especially for watersports. Everything from Sea Doo riding to paddling. Most of these fit in to two broad categories. Those produced with a neoprene/rubber/plastic mix made to keep most water out or to warm it with body heat once in. And those made to drain water away for the get-go. If it's chilly, I have a pair of ankle high neoprene boots that zip up the side and keep my feet reasonably warm. But they're a pain to put on and take off. And the soles are thin enough that stepping on a sharp pebble can hurt. I've even tried neoprene paddling socks. But I wasn't impressed for jet ski riding.
PWC Footwear – Sandals Don't Protect Well…
My tendency is to avoid sandals for Sea Doo rides because they don't offer much warmth if needed. Plus, I could end up with some pretty intricate sunburn patterns on my feet. The straps may also take a while to dry. But they are easy on/off and have thick soles.
Best PWC Footwear is Columbia Drainmaker III Shoes…
Recently, footwear manufacturers have expanded their "water shoe" offerings. These now include sandals and shoes touted as being good for watersports. As I was thinking about what might make the perfect watercraft footwear, it occurred to me that I want one other feature. It's gotta look good when I dock my Sea-Doo watercraft and walk around for lunch, shopping or sightseeing. That's why I was happy to try Drainmaker III water shoes from Columbia. They look much like regular running shoes, but offer Sea Doo riders so much more…
Drainmaker III Shoes Features…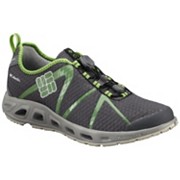 These shoes are so light I hardly know they're on my feet thanks to Techlite® lightweight cushioning and support. Their Omni-Grip® outsole is high traction rubber that provides good grip on most surfaces. Plus, it also protects my soles when stepping on hard objects.
When wet from Sea Doo riding, these Drainmakers live up to their name. Water pours fast from drainage ports in the forefoot and heel. Meanwhile, the 3D single layer sandwich mesh body dries very quickly too. Best of all, when my tootsies get hot, there's award winning Omni-Freeze® ZERO. It's sweat-activated lining actually cools my feet, and there's no smell either. But when the temperature is cooler on a jet ski ride, my feet stay cozy.
I was also tentative about having shoes with laces. But the quick lace toggle system eliminates constant tying or loose lace ends to trip on. What's more, these shoes are easy to put on and take off for Sea Doo riding, even when wet.
The Columbia Drainmanker III Shoe is classified for water and trail use. But I'm happy just to be sitting in the saddle of my Sea-Doo watercraft, knowing that my feet are finally comfortable and protected with high technology PWC footwear from Columbia! One more great addition to my PWC riding gear.
If you enjoyed this post, check out my other product reviews.
The tips and advice in this article are the opinions of the author, may not work in every situation and are intended only for the convenience and interest of the reader, who has the personal responsibility to confirm the validity, accuracy and relevancy of this information prior to putting it to their own use.
Like This Post? Follow Me on Facebook!