Unbeatable Bruce For Fab Jet Ski Riding…
---
---
This Bruce Peninsula Sea Doo tour really knocked my socks off! Without a doubt it was my best PWC adventure of that summer. That's because we'd been watching the wind forecast for a relatively calm day. This eastern coast of Ontario's Bruce Peninsula can be too rough to ride jet skis with wind-whipped waves.
In case you doubt me, the fact is that most cottagers don't have docks or keep their recreational boats in the water. Why? Because typically strong winds and waves throw them up on shore. So we waited to do our own Bruce Peninsula Sea Doo tour until air movement was minimal or coming from the west. And you know what? I'd recommend that every Sea Doo watercraft, jet ski, waverunner rider or recreational boater do the same.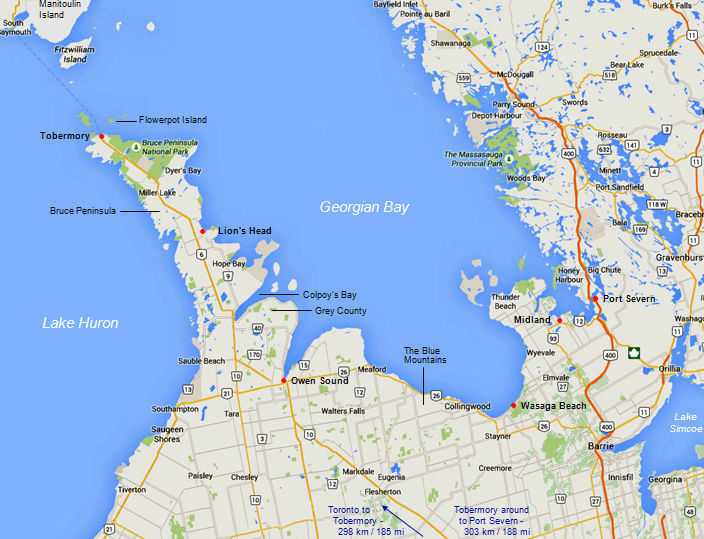 Perfect Day for Bruce Peninsula Sea Doo Tour
We lucked out. Our sunny and warm day was dead calm. No wind at all, like a massive millpond without a ripple. Being a weekday, there wasn't any wake from recreational boating traffic either. The water of Georgian Bay was so flat that it merged with the cloudless sky on the far horizon. It was impossible to tell where one ended and the other began. With no waves, we could also see for miles. Almost to Parry Sound and its 30,000 Islands. Heck, we were even able to spot flocks of birds floating on the surface way off in the distance!
Crystal Clear Bruce Peninsula Sea Doo Tour
Another piece of Bruce Peninsula magic caught us totally off guard. The water is crystal clear. Apparently, this is always the case. But the visibility can be obscured by the surface disturbance caused by waves and wakes. However, dead calm on this day made looking down into the water like seeing through a pane of freshly cleaned glass. It was both spectacular and scary. Spectacular because we could distinguish every nook and cranny of the mazing rock formations that make up the intriguing bottom of the bay. Scary because our depth perception was so skewed by the clarity that it always felt like we were going to scrape rocks. Fortunately, the water depth was generally more than 5 feet and usually much more.
Rocks Galore on Bruce Peninsula Sea Doo Tour
The rocks below competed with the towering old cliffs above for our attention. Water, wind and ice have battered these soft shale, sandstone and dolostone rock faces for countless centuries. Today's result is a series of breath-taking precipices full of holes, crags, caves, crevices, and over hangs. Meanwhile, the shoreline's also resplendent with fallen house-size chunks and freestanding columns, orphaned from the cliffs by the powers of erosion. It's truly an amazing site to see!
Our Bruce Peninsula Sea Doo Tour Ride
The Bruce Peninsula lies between Georgian Bay (on the east shore) and the main basin of Lake Huron (on the west shore). It's a northern part of the geological formation known as the Niagara Escarpment. We launched on its east coast from the public marina at Lion's Head. We followed the Bruce Peninsula coastline all the way. The water is deep enough that we could always ride 70 metres (80 yards) or closer to shore. Often, within touching distance of the rocky shore.
We cruised north about 66 kilometres (40 miles) to Tobermory in 3.5 hours. Cruise is the operative word. Such is the mystique and majesty of our Bruce Peninsula Sea Doo tour that we took it slowly on the way up to enjoy the show (including an old shipwreck). We came back at a brisker, but still moderate pace. With fewer stops, that took about 2 hours. Generally, the earlier you launch, the less likely you are to run into winds that may come up in the afternoon. If you want to do a longer ride, I'd suggest launching at Wiarton or even Owen Sound. Just be sure to leave lots of time for sightseeing!
Because of the calm conditions, we also jet skied around Flower Pot Island. It's located just north of Tobermory. From there, we could see flat water all the way across the 55 or so kilometres to Manitoulin Island. A very tempting addition to our ride, but for lack of time.
Speaking of Tobermory, I should also point out that the shore from Cabot Head to Tobermory at the end of the Bruce Peninsula is north facing. This means that it's exposed to any westerly winds off the big water of Lake Huron. That can get pretty rough. So a calm day remains the best bet for your Bruce Peninsula Sea Doo tour.
Bruce Peninsula Sea Doo Tour Fast Facts
Total Distance: 150 kilometres (86 miles), including Flower Pot Island (add distance by launching from Wiarton)
Launch Site: Lion's Head Marina ($12 for launch & parking; fuel on site)
Lunch & Fuel: only fuel is at Tobermory (various waterfront restaurants and public marina)
The tips and advice in this article are the opinions of the author, may not work in every situation and are intended only for the convenience and interest of the reader, who has the personal responsibility to confirm the validity, accuracy and relevancy of this information prior to putting it to their own use.
Like This Post? Follow Me on Facebook!