Why Extend Your Jet Ski Riding Into Autumn…
---
---
What's so great about fall Sea Doo riding? Many Sea Doo, jet ski and waverunner personal watercraft owners hang up their PFD's after Labour Day. While I can appreciate that the last long weekend psychologically marks the end of summer for many people, anyone who puts their PWC away is missing some great fall Sea Doo riding in Ontario, be they jet ski experts or beginners. That's why I usually keep my Sea Doo GTX 170 going into October for PWC adventures to revisit one of my best river rides or top 10 day tours.
Fall Sea Doo Riding: Getting Warmer
Whatever else may or may not be happening with climate change, one thing I've noticed recently is that summers are tending to start later and run on into early fall. This past summer was a prime example, with both May and June weather being far less than stellar. I'm betting that September will again deliver warm temperatures and many bright, sunny days – ideal conditions for Sea Doo tours. That said, nights can be colder so I usually don't plan to start riding as early as I do in the summer – and remember, daylight hours are shorter, so don't plan to ride as long.
Fall Sea Doo Riding: How To Dress
But as the nights get cooler, mornings can be brisk and the heat doesn't usually build throughout the day as it can in the heart of the summer. So one proviso about fall Sea Doo riding is to cover up and dress in layers, with long sleeves and pants…more layers to stay warm at the start of the ride and fewer to be more comfortable later in the afternoon. By October, I usually leave the layers on all day.
Fall Sea Doo Riding is Less Crowded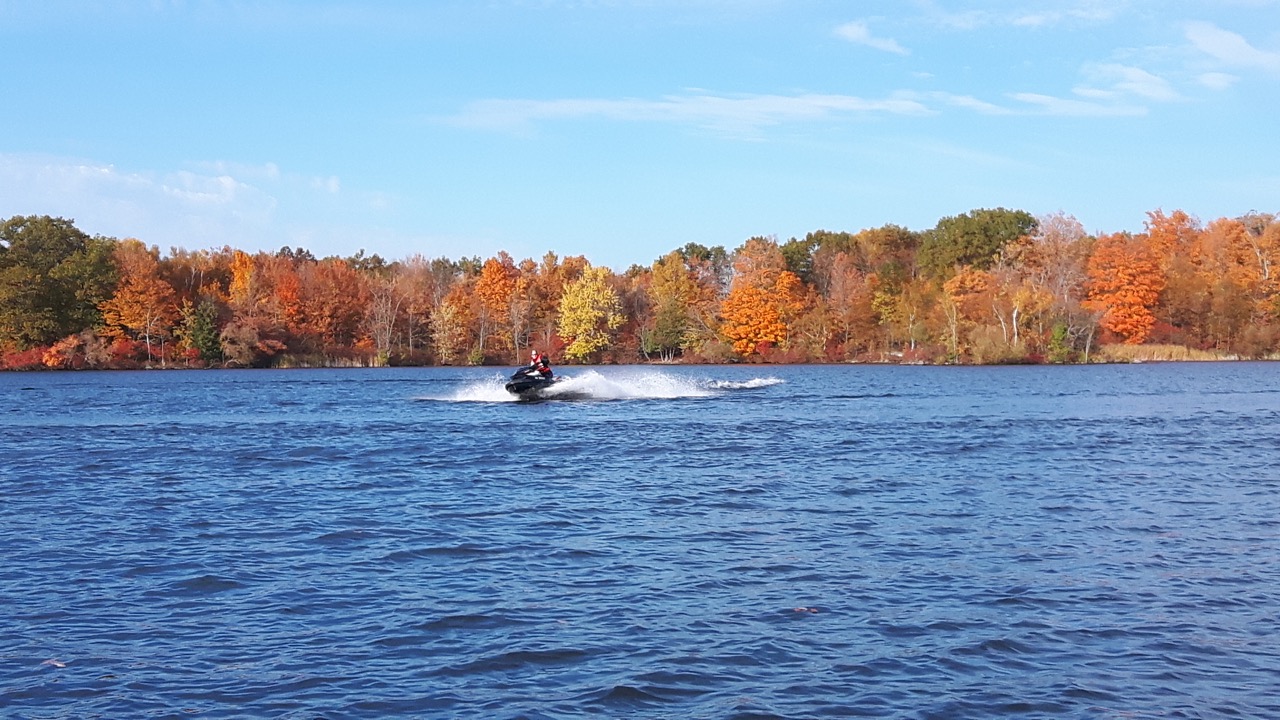 Aside from generally warm weather, early fall Sea Doo riding is also exceptional for its lack of boat traffic. Like their PWC brethren, many boaters shut off the ignition key for the season after Labour Day. Same goes for many waterfront property owner who only show up again after that to put the boat and cottage away for the winter. Fewer anglers too.
This means not only are the waterways less crowded, even on weekends, it also mean there's less wake and other boat turbulence for Sea Doo riders to contend with, fewer waits at locks and more available dock spaces at shoreline restaurants and facilities. Through autumn, most shoreline accommodations also have more room choice and lower rates. And while most locks, marinas and boat launches are open until Canadian Thanksgiving in mid-October, some operate on reduced hours or are only open weekends, so double check before you start your Sea Doo ride.
Fall Sea Doo Riding is More Colourful
But the main reason for fall Sea Doo riding is the change of season. Autumn simply has a different rhythm and ambience from summer, one that's well worth experiencing. Of course, the pièce de resistance is changing colours. Ontario's lush green shores explode in a riot of red, orange and yellow and the best seat in the house is on your jet ski. The colours typically peak in the first two weeks of October, but the gradual transition is evident throughout September. At the same time, lakes also undergo a major transformation as their layers turnover bottom to top thanks to cooler surface temperatures. This change can be pretty dramatic on weedier waters that almost overnight can turn bright green with disrupted plant life. Flocks of migrating birds and waterfowl can also be a sight to behold.
There's one more good reason to go fall Sea Doo riding – bragging rights. So before you take your personal watercraft back to your Sea Doo dealer for winterizing, I recommend really extending your season and getting your full money's worth from your PWC investment by taking at least one good autumn Sea Doo ride.
Check out more riding tips and advice!
The tips and advice in this article are the opinions of the author, may not work in every situation and are intended only for the convenience and interest of the reader, who has the personal responsibility to confirm the validity, accuracy and relevancy of this information prior to putting it to their own use.
Like This Post? Follow Me on Facebook!