Extend Your Jet Ski Season by Dressing Warm…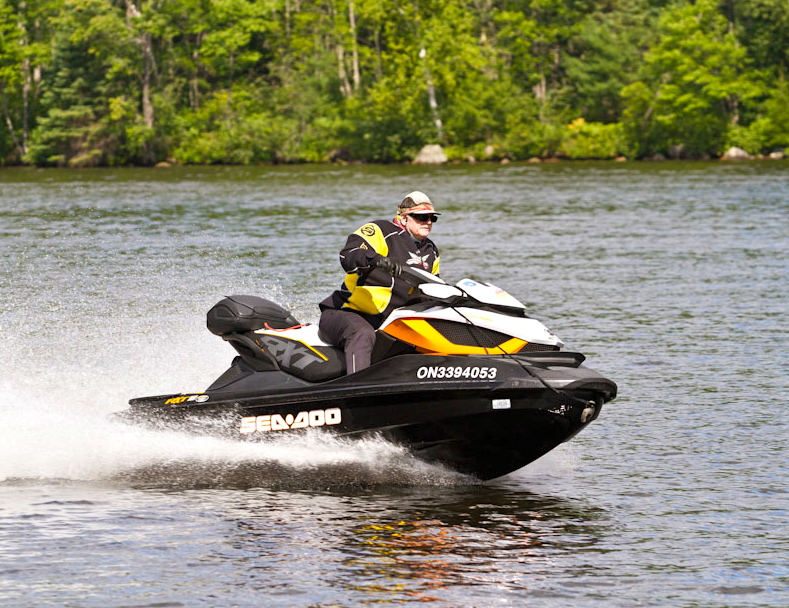 ---
---
How about dressing warm for Sea-Doo tours? Over years of PWC adventures, I've noticed that summer's hanging in longer, often well into autumn. This can extend your Sea Doo, jet ski or waverunner personal watercraft riding season in Ontario and throughout Canada considerably.
But experienced jet ski riders and PWC beginners need to prepare for cooler mornings, fewer hours of daylight and falling water temperature. Here are five tips for dressing warm for cooler days and for fall Sea Doo riding. Most of this PWC riding gear is not activity-specific, and is available at good sports or outdoor stores. Also check out my other riding tips.
Dressing Warm For Sea Doo Tours – Cover Up…
Cooler mornings and generally lower temperature will make bare skin uncomfortable during parts of (or all of) the day for Sea Doo riders. Exposed flesh on legs, ankles, feet, wrists or neck gets downright chilly. So cover up with long pants and long sleeves, full booties, full-finger gloves and neck dickeys or bandannas.
Dressing Warm For Sea Doo Tours – Layer Up…
Just as you would for a winter activity, layering is the key to fall comfort and warmth on a jet ski. The latest high tech materials are quick drying, moisture wicking and thermal retaining. Start with a light base layer next to your skin top and bottom. Then add a mid-layer (or two) as needed, preferably one with a higher neck. I bought one that is also made of windstopper material. These will help keep body heat inside and dry fast if wet. Also remember that your PFD will help warm your body core somewhat while Sea Doo riding.
Dressing Warm For Sea Doo Tours – Shell Out…
Your outer shell should help keep heat in. But as important, keep cold out. I have a bright yellow Icon motorcycle-riding jacket made from wind and waterproof material. It works very well, especially if I'm likely to get sprayed or rained on. I also wear a Sea-Doo neoprene riding jacket that is warmer. But not as good in the rain. Both have Velcro cuff seals at the wrist and are long enough to cover my butt while sitting. They are also sized large enough to fit comfortably over my jet skiing PFD.
Dressing Warm For Sea Doo Tours – Heads Up…
The body loses a huge amount of heat when a Sea Doo rider's head is bare. That's because, while jet ski riding, your head and face are also very exposed to the cold wind. So it's important to wear protection for your head, neck, face and ears. I have a ball cap and scarf for normal wear. But I switch to a thermal paddling cap or hood when the mercury drops. I also use my neoprene No Fog face mask from snowmobiling to keep my face and neck warm.
Dressing Warm For Sea Doo Tours – Feet First…
If your feet get cold, you'll soon be chilly all over on a jet ski ride. For fall Sea Doo riding, ditch the sandals and water shoes. Instead, wear neoprene, high ankle booties (or neoprene socks that you can wear inside full coverage Crocs). A good pair of water shoes is another warm option. To avoid discomfort all day, don't get your feet wet when launching.
Make sure your PWC riding gear is dry before you put it on for a PWC adventure. Also, verify that you have enough storage space available on board if you need to take off a layer or two as the day progresses. If you start to feel cold, add a layer promptly to avoid discomfort or even hypothermia. After all, that's what cool weather PWC riding gear is for!
If you enjoyed this post, check out my other riding tips.
The tips and advice in this article are the opinions of the author, may not work in every situation and are intended only for the convenience and interest of the reader, who has the personal responsibility to confirm the validity, accuracy and relevancy of this information prior to putting it to their own use.
Like This Post? Follow Me on Facebook!