Useful Accessory Ideas I Haven't Found In Store… 
---
---
What PWC adventure accessories do you wish for? I've identified my jet ski riding accessory wish list. It results from many years of going on self guided Sea Doo tours on my Sea Doo GTX in Ontario and throughout Canada. They are products or features that to my knowledge either don't exist or at least I haven't found them yet.
Have you seen anything like these for Sea Doo, jet ski or waverunner watercraft? Or maybe you have some you'd like to add to my Sea Doo riding wish list…
Jet Ski Riding Accessories for Sea Doo Tours: Personal Flotation Devices (PFD)…
There are three features some PFD manufacturer needs to build into a PFD to customize it more for Sea Doo riders. One is a built in high collar to protect my neck from sunburn during long days on the water. Mustang Survival used to make a high collar PFD for boating. But now it only available on their fishing model. Two is waterproof pockets on the inside of the PFD where I can seal in my smart phone and wallet to protect them from getting wet. But keep them with me in case I get separated from my craft. And three is a PFD with integrated and secure handles so that a passenger isn't always grasping for a handhold. Or tugging on PFD fastener straps not made for that purpose. Oh, and please build all three of these new features into the same PFD!
Jet Ski Riding Accessories for Sea Doo Tours: PWC Saddlebags…
Every PWC manufacturer makes saddlebags of some kind for its other powersports products. So how come they can't come up with PWC-specific luggage for Sea Doo riding? How hard can it be to create waterproof bags that custom fit a Sea-Doo watercraft? To my knowledge, no after market manufacturer offers anything either. So my choices as a Sea Doo rider are to adapt either paddling or ATV/motorcycle bags.
Jet Ski Riding Accessories for Sea Doo Tours: PWC Mooring Brackets…
With many marina docks built at a height to accommodate larger boats, the tie up cleats can often be a long reach from a PWC. So I carry 12' mooring lines for Sea Doo rides. The problem is where to keep them handy but secure while Sea Doo riding. So they don't fall under water and get sucked up into the impeller. Typically, I wrap them around my PWC hood and tie onto my mirrors on Sea Doo tours. But I would really appreciate having a couple of hooks or brackets to use instead.
Jet Ski Riding Accessories for Sea Doo Tours: PWC Dock Lock…
I often leave my Sea-Doo watercraft tied up at an away-from-home dock. Usually while I go for lunch or stay somewhere overnight while Sea Doo riding, I wish there was a simple, waterproof locking rig made especially for marine use. That way I could help ensure no one steals my PWC. Until then, I use the same cables and lock that secure my sled in winter. But they're awkward to use around the water and don't like to get wet.
Jet Ski Riding Accessories for Sea Doo Tours: Prescription Goggles …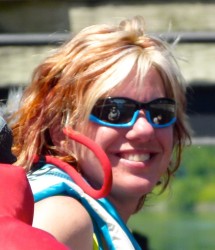 Goggles or wrap around sunglasses protect my eyes from sun, wind, water and rain while I'm Sea Doo riding. But I haven't yet found anywhere to get prescription lenses put into PWC goggles. Meanwhile, the necessary curvature of most wrap around sunglasses also prevents making them prescription. With so many active and outdoorsy people wearing corrective eyewear, I'm surprised that no one has overcome this challenge yet. Those Sea Doo riders who don't use contacts will be eternally grateful!
Jet Ski Riding Accessories for Sea Doo Tours: Trailer Winch Lock…
What about loading your PWC or boat back on to your trailer after a day of Sea Doo riding? You normally secure it with a metal hook through an eye on the vessel and ensure that the winch rope doesn't slip with a metal cog that stops the gear from turning when not in use. Why not go one step farther? Add the ability to lock the winch somehow to make it very difficult for anyone to remove your watercraft from the trailer while it's parked or stored?
What's on your jet ski riding riding accessories wish list?
If you enjoyed this post, check out my other product reviews.
The tips and advice in this article are the opinions of the author, may not work in every situation and are intended only for the convenience and interest of the reader, who has the personal responsibility to confirm the validity, accuracy and relevancy of this information prior to putting it to their own use.
Like This Post? Follow Me on Facebook!