Pembroke to New Liskeard Sea Doo Tour…
---
---
In 1613, Samuel de Champlain made his way up the Ottawa River in a birch bark canoe. To commemorate the 400th anniversary of this historic journey, 14 Sea Doo riders on 11 personal watercraft (PWC) made our own four-day voyage of discovery last summer. We travelled faster and likely had more fun than Champlain. But we shared the spirit of mystique, magic and wonder that the Ottawa River Waterway still invokes for all recreational boaters who adventure there.
Looking to expand France's fur trade, little did Champlain know that he was also opening a major gateway for logging, mining and other commerce. It would make the Ottawa River one of Canada's premier waterways, Also, a popular, unique playground for recreational boating, especially PWC adventures. So read on – we did our self guided Sea Doo tour on Sea Doo, jet ski or waverunner personal watercraft. But it's also a remarkable adventure for any recreational boater with a runabout or small cruiser.
Ottawa River Sea Doo Tour into God's Country…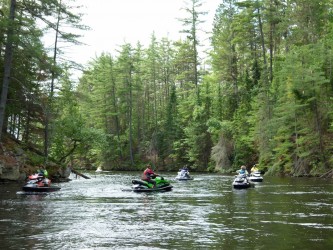 With Ontario on one side and Quebec on the other, the upper Ottawa River through to Lake Temiskaming can best be described as "God's Country". (Temiskaming appears to be the accepted English spelling; Témiscaming in Quebec). We were certainly in awe Sea Doo riding by its majestic shores. Largely, they are uninhabited and bounded by breathtaking hills, imposing rock faces and dense forests right down to the waterline. This navigable river is deep and wide. It sweeps in gentle curves through the same beautiful wilderness that Champlain experienced four centuries ago. I swear the ghosts of voyageurs were paddling along beside us!

View Pembroke to Mattawa in a larger map
Related Posts and Videos: Ottawa River Ride Overview, Pembroke to Mattawa leg of ride, Mattawa to Temiskaming Shores leg of ride.
Note: Some of the transfers on this ride may not be available as of July 2023. Find out more here.
Like this ride? Check out my other Sea-Doo Rides!
Riders should reconfirm the routes and services mentioned in this article as they may have changed since publication. Any map is for reference only and any marked lines or locations are not intended as an exact or accurate depiction of positions.
Like This Post? Follow Me on Facebook!