PWC Bumpers Are Convenient & Easy…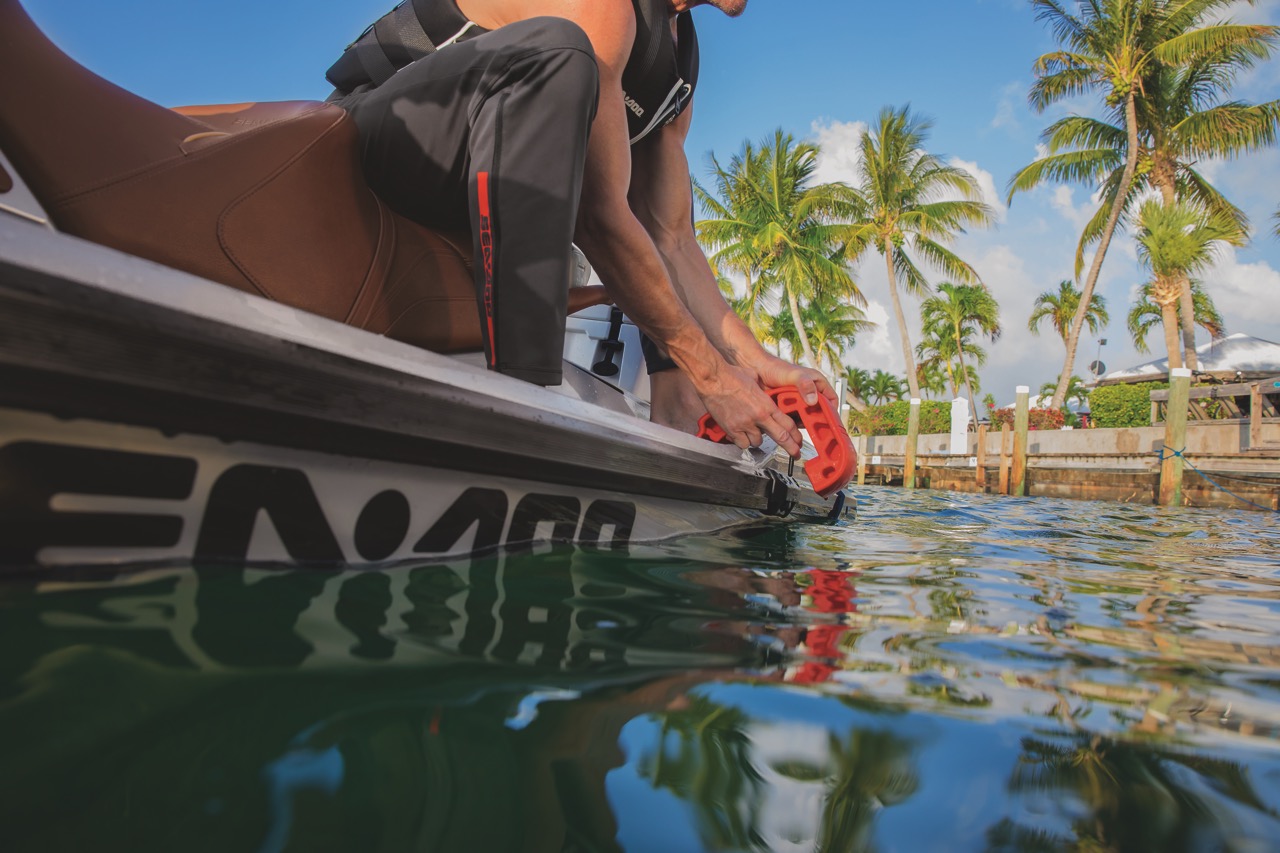 ---
---
Why do experienced jet ski riders or PWC beginners need Sea Doo Snap In Fenders? Because they work better than any other boat bumpers on Sea Doo tours. Almost every dock is made for bigger boats. So there's a strong likelihood that your Sea Doo watercraft could get scraped or dinged while moored. And I hate getting mine banged up!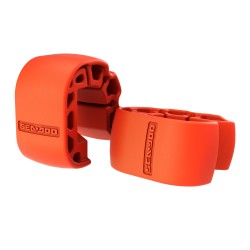 Often, the dock looks sheltered and its configuration seems PWC-friendly. But waves and wake can still push that shiny finish of your jet ski against unforgiving metal or hard wood. Unsightly craps, dings and even holes can result.
In search of protection for Sea Doo riding, I've tried everything from an old life jacket to boat bumpers. And from generic PWC fenders to Hull Huggers with varying degrees of dissatisfaction. Some didn't fit. Others were too easily displaced, too finicky, or simply fell off. None were quick enough to put into place. Each took up too much of my limited and valuable on board storage space for PWC riding gear.
Sea Doo Fenders Fit Most Sea Doo Models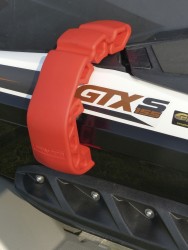 I first discovered Sea Doo Snap-In Fenders, when these bright orange bumpers were introduced with the new Sea Doo Spark watercraft. They looked like a good idea. But it wasn't until a spotted a set on another Sea Doo model that I realized the new, high visibility fenders are available as an accessory for all Sea Doo watercraft (2009 and later). So I ordered a set to try on my Sea Doo GTX 155.
At first glance, the Sea Doo Snap-In Fenders resemble those generic bumpers whose greatest attribute seems to be that one size fits none. But a closer look reveals that each Sea Doo Snap-In Fender has a built-in mount post that slots into the side of the watercraft. A Spark watercraft has factory installed, pre-moulded holes. Other Sea Doo models require an installation kit.
Sea Doo Fenders Installation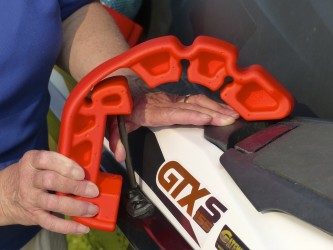 Each installation kit contains a pair of mount brackets for one side of your PWC. For many owners, doing one side may be sufficient. But I ordered a second pair of mount brackets for the other side, because I don't want to limit my docking options. Therefore, I need to be able to use and protect either side of my Sea Doo GTX 155.
However, you may decide to only install a pair of mount brackets on one side of your PWC. If so, think about which side you dock against most often. Hopefully, it coincides with which side your gas cap is on, because the fenders come in handy then.
Whatever your choice, installation is easy following the included instructions. Just be careful to drill through your Sea Doo's rub rail, not into the gel coat side of the watercraft. With the mounts installed, each Sea Doo Snap-In Fender slips over the rub rail much like a generic bumper does. Except the Sea Doo Snap-In Fenders actually fit. But as it slips on, the key to securing it is to slide its integrated mount post into the mount bracket hole to hold it in position. So far, I haven't had one come loose or fall off at a dock.
Sea Doo Fenders Storage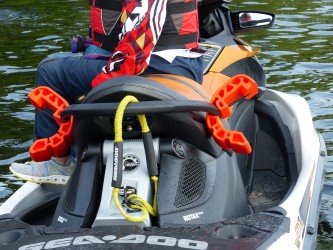 So now I've got fenders that work for Sea Doo riding. So where to store them on board when not in use? While they will fit in your on board storage compartment, my goal was not to take up any valuable dry storage space for PWC riding gear with fenders. And I succeeded. As the accompanying photo shows, I discovered that the fenders fit snuggly under the passenger side grab handles on my Sea Doo GTS 155. They stay put there during every ride until needed. This solution should work on many, but not all, Sea Doo models. But only when there is no passenger that needs to hold on using the same grab rail. My Sea Doo is festooned with a weird, bright orange thingies on each side, but that's a great conversation starter!
Sea Doo Fenders Use
Sea Doo fenders are easy to put in place and take off during a Sea Doo tour. When properly affixed through the holes, they snap into place and stay put. Even when the watercraft is underway – although I don't recommend this. Why? Because the rear fender is low enough that it drags in the water which splashes into the footwells. Besides, it only takes a moment to put them on. So why ride with them in place? By the way, Sea Doo Snap-In Fenders float. And being bright orange (the only colour available) are easy to spot. Full thumbs up for this great PWC riding gear product!
Check out more riding tips and advice!
The tips and advice in this article are the opinions of the author, may not work in every situation and are intended only for the convenience and interest of the reader, who has the personal responsibility to confirm the validity, accuracy and relevancy of this information prior to putting it to their own use.
Like This Post? Follow Me on Facebook!