How To Ride Ottawa River From Pembroke to Haileybury Ontario…
Our upper Ottawa River Sea Doo Tour Blast in Ontario, Canada came off without a hitch thanks to some great planning and cooperation from tourism folks at Ottawa Valley, Mattawa and Temiskaming Shores. Even Mother Nature lent a hand with good weather, so we were a weary but ecstatic crew after 4-days and 650 km of Sea-Doo touring (+50 more riding for the cameras!)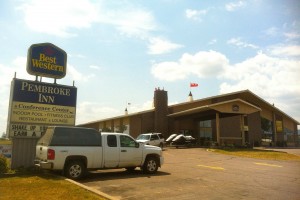 We launched our Sea Doo, Jet Ski and Waverunner PWC adventures from Pembroke Marina after staying overnight at the Best Western Pembroke. I really like this as a staging hotel because it's a full service with the Westwinds Restaurant on site and has lots of parking for trucks and trailers by the back door close to rooms. It's located only seven minutes from the marina and gas is right across the road. Thanks to Lorraine for the welcome dinner and great hospitality!
Upper Ottawa River Sea Doo Tour at Mattawa…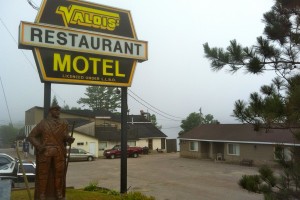 Our second night (and last overnight on the return trip) was at the Valois Motel & Restaurant, Mattawa. Since we arrived on the water, the riverside Valois is handy because it offers free docking, so we just tied up and walked a few yards to our rooms. Everyone raved about their home cooked meals and went ga-ga for their desserts like brownies and apple crisp! Bryan and his staff made us feel right at home!
Upper Ottawa River Sea Doo Tour at Haileybury…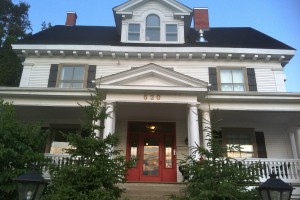 The northern-most point of our PWC journey was Temiskaming Shores, where we stayed at the charming President's Suites, just a few blocks from the Haileybury Marina where we docked overnight. Our friendly hosts, Jocelyn and Nicole, shuttled us to their fabulous place, a classic mansion with modern amenities and even a hot tub. Their cuisine was out of this world!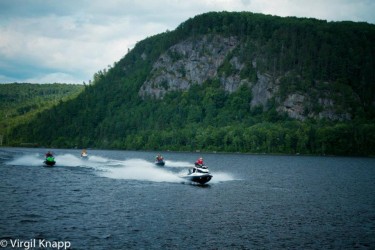 If our lodgings were second to none, the mighty Ottawa was the star of the show. This historic and spectacular route is the original gateway to Northern Ontario used by native peoples, fur traders, loggers and miners to open the North and bring new found prosperity. Now, this easily navigable and well-serviced waterway is also an incomparable attraction for Sea Doo, jet ski or waverunner personal watercraft riders and boaters looking for an exciting new wilderness adventure. So get your ass in gear and head to the Ottawa for the water experience of a lifetime!
Now that you know about it, no excuses, eh? All you have to do is use our itinerary as your template and check out my video of a previous trip, too – and keep an eye on this site because there's much more story, video and photos to come! #ontariowaterway
Like this ride? Check out my other Sea-Doo Rides!
Riders should reconfirm the routes and services mentioned in this article as they may have changed since publication. Any map is for reference only and any marked lines or locations are not intended as an exact or accurate depiction of positions.
Like This Post? Follow Me on Facebook!