Improve PWC Touring With Sea Doo Innovations…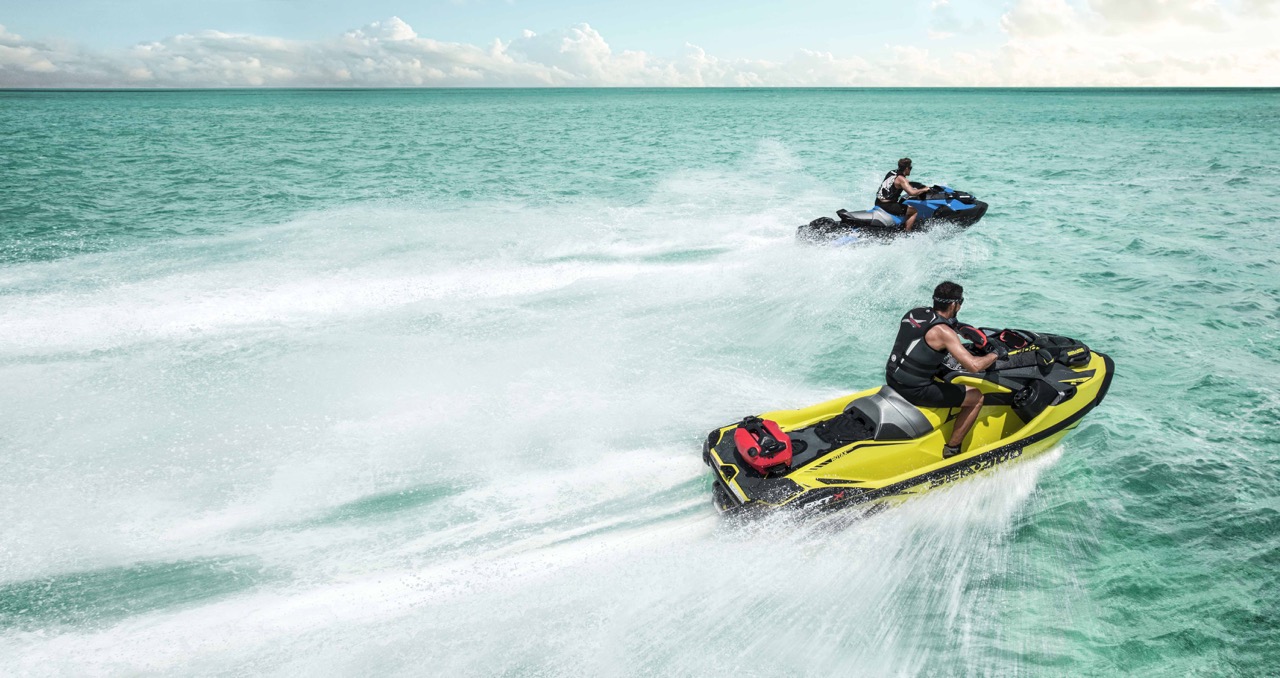 ---
---
BRP celebrated the 50th Anniversary of Sea Doo with a bang. The #1-selling watercraft brand upped its game again with multiple 2018 Sea Doo innovations that carried over to all models in recent years. This has created a new dimension of experience and enjoyment for PWC adventures. Their intention is to reinvent people's perception of what you can do and where you can go on a personal watercraft. And that's what's happened with this "revolutionary new platform".
This new platform has delivered new kinds of jet ski riding opportunities, especially for couples and families. For those who already enjoy Sea Doo tours like I do, the many welcome features and benefits of the 2018 Sea Doo innovations will enhance your PWC ride for years to come. I think the new possibilities will also attract many more people to Sea Doo touring and personal watercraft destination riding.
What follows is my overview of the 2018 Sea Doo innovations as an active touring rider. It's based on what I know so far. These comments follow phone meetings with Sea Doo team leaders, including a new product briefing and follow up Q&A design interview. I also did my own thorough review of available materials and photos about 2018 Sea Doo innovations.
Anyone who follows my website or Facebook page already knows my perspective as a Sea Doo rider. I typically log more than 100 hours and upwards of 3,000 kilometres (1,800 miles) each summer on a Sea Doo GTX 155. So I'm a practical and knowledgeable PWC user. But not a performance guy or technical expert. So I'm more interested in what works, not how.
Overview of 2018 Sea Doo Innovations
My big picture take is that the primary focus for the 2018 Sea Doo innovations on the 3-seaters models goes far beyond the ride itself. It is an evolution of lifestyle enhancements, functional improvements and comfort upgrades. Just in case you missed it elsewhere, the many 2018 Sea Doo innovations include:
ST

3

 hull for optimized stability & wave penetration.
Front storage accessed by lifting up the handlebars while seated.
Watertight & shockproof phone storage with USB charging.
Waterproof Bluetooth audio system.
Reconfigurable & removable rear seat.
Huge swim platform and
Integrated LinQ bracket for cargo bag, fuel caddy & cooler.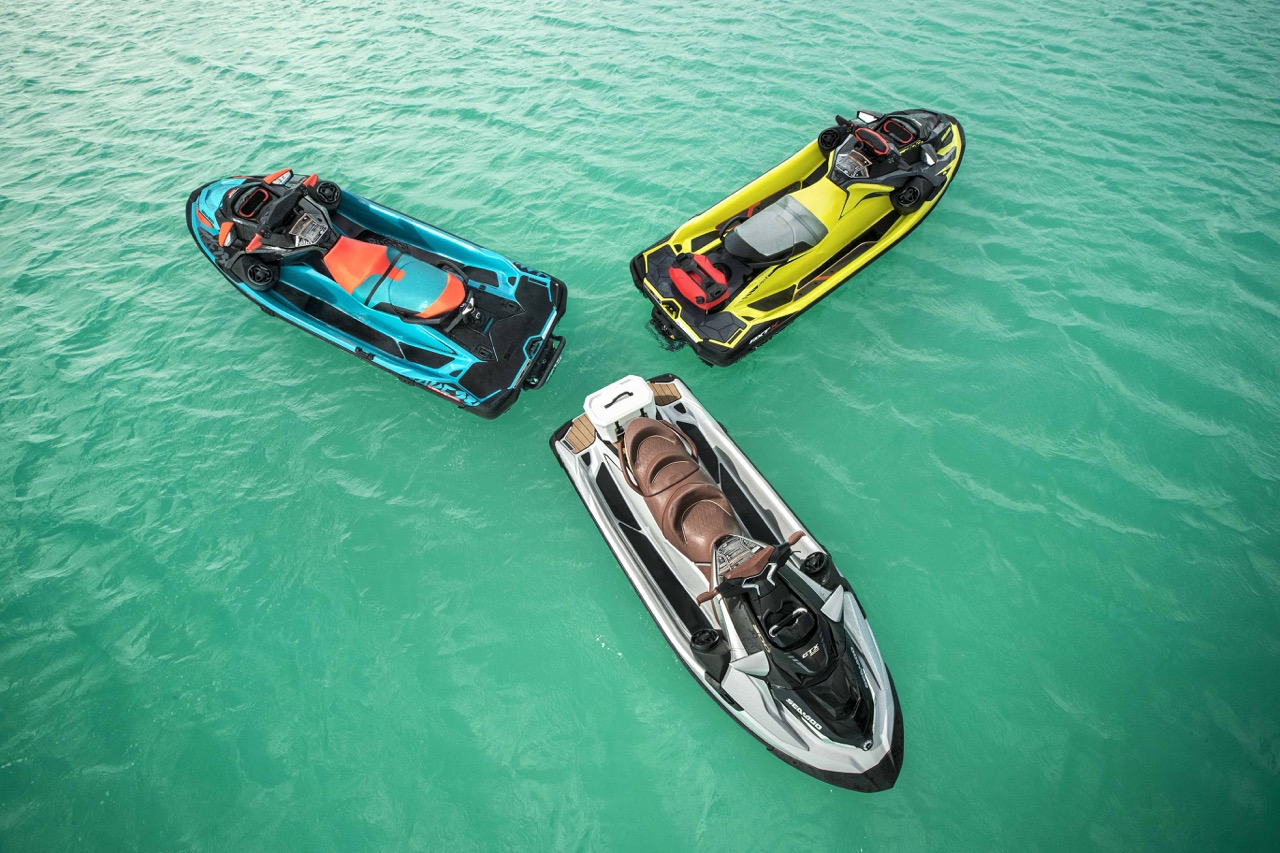 From a jet ski touring perspective, there's more to each story about these 2018 Sea Doo innovations. So watch for my more detailed comments in upcoming blogs. But while I'm talking general impressions, I want to point out some more good news for potential buyers – and some bad news for me.
The good news is that GTX, RXT and Wake Pro buyers not only get a ton of new innovations. But also the tried and true Sea-Doo operating mechanics. Rotax™ engine choices are well proven on the water. So are other exclusive BRP features like Intelligent Throttle Control (iTC), Intelligent Brake & Reverse (iBR), Closed Loop Cooling and High Performance Variable Trim System (VTS). That means the 'buyer beware fear' risk that some folks associate with purchasing something totally unknown doesn't apply to the new Sea Doo's.
Suspension is Gone
My bad news? Suspension is gone from the entire Sea Doo line up. Much as some of us loved it, not enough riders bought into dedicated watercraft suspension. So Sea Doo is reinventing ride comfort with new hull technology. It's touted to offer the impact reducing benefits of a suspension plus superior wave penetration, at a fraction of the cost. I'll let my body be the judge.
For the record, I'm also disappointed at the disappearance of adjustable mirrors. The new fixed mirrors really limit my view to the rear to keep other riders in sight.
However, I wouldn't bet against Sea Doo's proven track record of reading, predicting and creating consumer trends over the past 50 years. Together, it's very likely the 2018 Sea Doo innovations will encourage more Sea Doo sales, more Sea Doo riding and more overall fun with PWC adventures. And the new advances are most certainly destined to boost consumer interest in the 3-seater models best suited for Sea Doo touring. Now all I need is one of their new, specially designed Sea Doo covers!
To learn more, check out my detailed thoughts and comments about the various 2018 Sea Doo innovations on this remarkable new platform!
If you enjoyed this post, check out my other riding tips…
The tips and advice in this article are the opinions of the author, may not work in every situation and are intended only for the convenience and interest of the reader, who has the personal responsibility to confirm the validity, accuracy and relevancy of this information prior to putting it to their own use.

Like This Post? Follow Me on Facebook!