Sea Doo 3-Seaters Add PWC Riding Gear Space…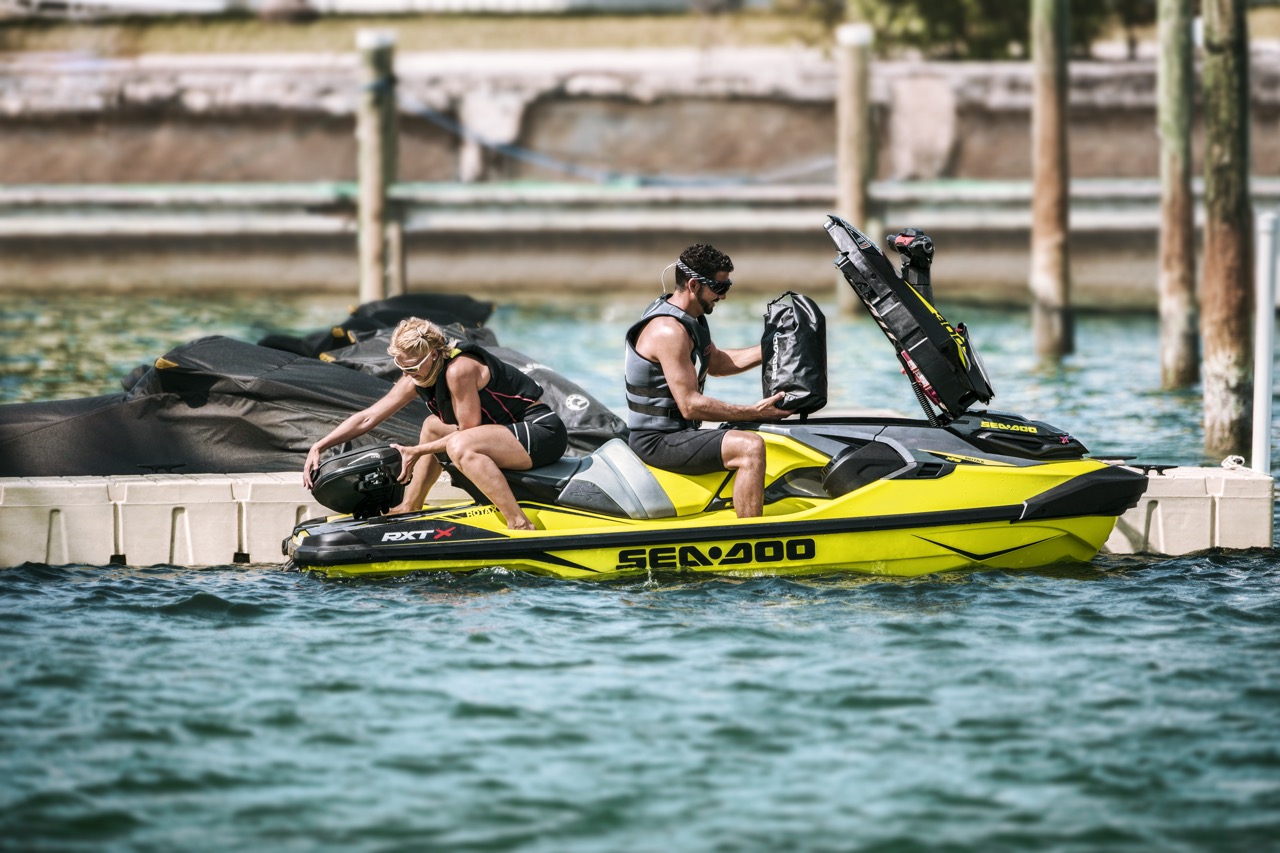 ---
---
Note: Post updated for 2020 models.
This is the 3rd article of my series about Sea Doo innovations starting in 2018 that continue on more recent models. In it, I'm going to explore the Sea Doo storage ideas for PWC riding gear. For those just tuning in now, check out my 1st article overview and my 2nd article about the new ST3 Hull.
As a touring rider on PWC adventures, I mostly do day trips for my Sea Doo tours. I've always got PWC riding gear to bring along. So will you, especially if you're riding 2 or 3-up and away from home base for any length of time. But where does it all go?
New Sea Doo Storage Under The Hood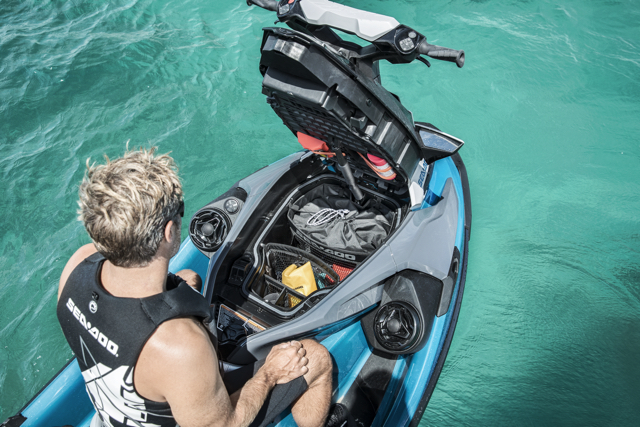 Until now, PWC riding gear stored awkwardly into a front space under the hood. Awkwardly, I say because you've practically got to be a contortionist to stretch over the handlebars to reach deep inside. And I challenge anyone to do this while staying seated. The good news is that one of the Sea Doo storage ideas debuted in 2018 made this much easier every model year since!
Now the seated operator simply lifts the adjustable handlebar, gauge & mirror assembly up and forward. This reveals a direct access storage compartment within easy reach. What you'll see first is a lidless container to hold your PWC riding gear. The container is not meant to be removed. Also, there's no secret storage space underneath or beside it. There are also accessory organizer bins available.
Next, you'll notice pre-moulded & dedicated holders on the underside of the hood. These securely hold the legally required safety kit and fire extinguisher. You'll also observe a hydraulic lifting arm that props the hood up. This way you can root around inside the bin amid your PWC riding gear with both hands.
What To Expect
Finally, you'll spot a newly positioned gas filler cap. On my previous Sea Doo GTX models, this has been located exteriorly on the left side of the hull. The new gas filler cap is well sealed & the rim area well drained. It's also physically separated from the storage compartment. Still, I anticipate being extra careful about filling up so close to that open compartment.
Best of all for touring riders, the new Sea Doo cover available for this platform has a front zippered panel. Thus, it opens so I can still fill my Sea Doo watercraft at cheaper land prices while it's on the trailer. For more about gas for your PWC, see my articles on fuelling tips and fuel economy.
The direct access front storage compartment is sealed to prevent water intrusion on your PWC riding gear. I've also heard this described as 'water resistant'. Essentially this means: don't expect your PWC riding gear to stay dry if you flip the watercraft upside down, submerge it or subject it to continual wave soaking. However, this level of protection works for me (and will for most jet ski riders).
Why? Because I rarely get very wet while Sea Doo touring (see How To Avoid Getting Wet). And as Sea Doo has always recommended, if you want totally waterproof, put your PWC riding gear in a good dry bag before placing in the front storage.
New Sea Doo Storage In The Glove Box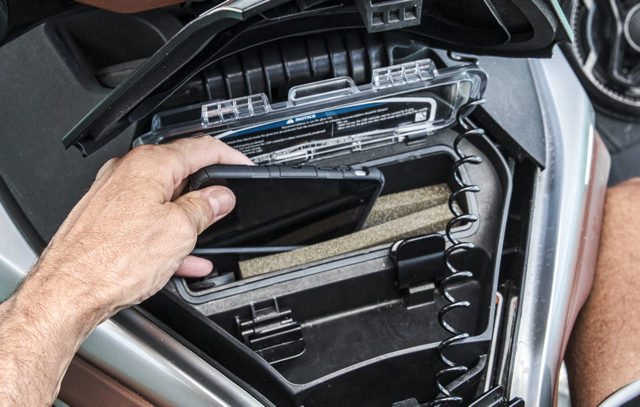 The next one of the Sea Doo storage ideas transformed the familiar glove box. As usual, it's located between the operator's legs and the handlebars. But it now brilliantly (and necessarily for most of us) includes a watertight and shockproof phone box. Your smartphone slips between two secure foam pads under a transparent lid that clips shut. This set up contains and cushions it during the ride.
Many GPS units might also fit in there, but not along with a phone. You can even add a USB port to keep your phone charged (standard only on GTX Limited). There's also a bit of additional storage in the glove box. It's not as watertight as the phone box section. But it's still handy for the small items you access most frequently.
New Sea Doo Storage On The Rear Deck
As best I can figure, all of these Sea Doo storage ideas total 102 litres (27 gal.) for PWC riding gear. But some of us carry more than that. So that brings me to last of the Sea Doo storage locations. It's the remarkable BRP LinQ attachment system. As an avid snowmobiler, I've been using a variety of LinQ accessories for years. They are hands down the easiest and most secure way to add extra PWC riding gear storage space. And in 2018, LinQ came to Sea Doo watercraft for all future models.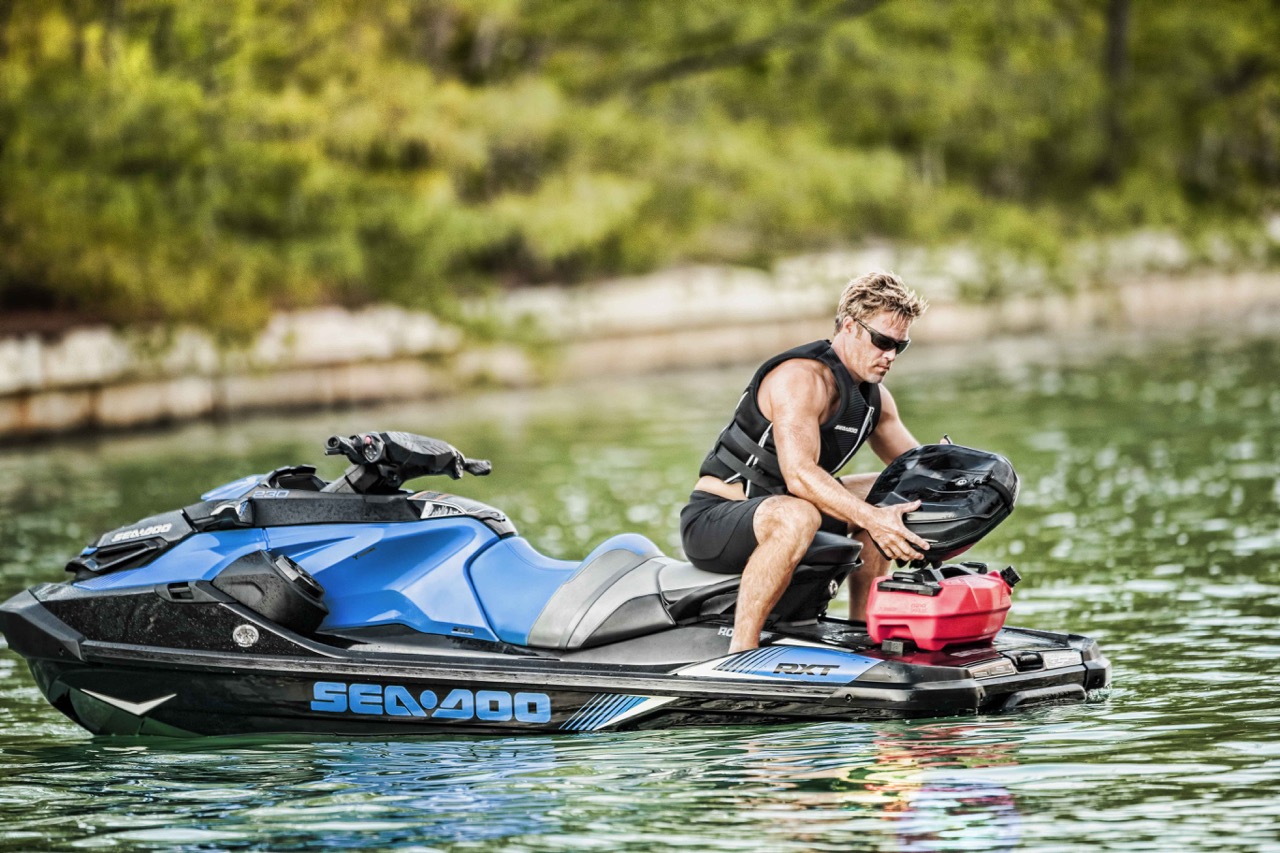 Check Out LinQ
The rear deck of the new platform models comes with integrated and recessed LinQ System brackets. These pop up to fasten an accessory fuel caddy with extra gas (15 L / 4 gal.). Or a 21 L (5.5 gal.) cargo bag, which can also be stacked on top of the fuel caddy. Or a separate cooler (16 L / 4.2 gal.) for picnic treats. For those wondering, it's likely that LinQ items will be available for pre-2018 models. What's more, the same LinQ products fit on both Sea Doo watercraft and Ski Doo snowmobiles!
But for Sea Doo tours on current 3-seater models, the ability to carry both extra gas and more PWC riding gear is a huge plus. Many riders will really appreciate the peace of mind of having a ¼ tank of additional fuel handy. Especially before the May long weekend or in the autumn when not as many marinas are open. Now all I need is a LinQ accessory commode for those long days when shore facilities are scarce!
These Sea Doo storage ideas are as important to Sea Doo touring as the new ST3 Hull described in a previous article. And so are the many features on the topside of the new platform!
If you enjoyed this post, check out my other riding tips…
The tips and advice in this article are the opinions of the author, may not work in every situation and are intended only for the convenience and interest of the reader, who has the personal responsibility to confirm the validity, accuracy and relevancy of this information prior to putting it to their own use.

Like This Post? Follow Me on Facebook!