Enhance Your Sea Doo Riding With These Basics…

 
---
---
So what are the best Sea Doo riding essentials for experienced riders and beginners on self guided jet ski adventures? Going on a Sea Doo tour in Ontario and throughout Canada is easier than ever thanks to the rider-friendly technology on Sea-Doo watercraft. Brake, reverse, neutral starting and cruise control are just a few of the innovations that making riding a Sea Doo like my GTX 155 a breeze.
In fact, going Sea Doo riding is so comfortable and hassle-free that it's easy to overlook non-tech essentials. But their absence can turn your ride from awesome to abysmal. There are many more on my list, but these are the basic essentials that Sea Doo riders should never to leave home without…
Riding Essentials – Sea Doo & Jet Ski Personal Flotation Device (PFD)…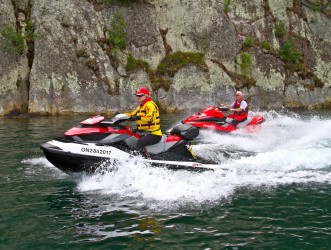 Along with your bathing suit, a PFD is the most essential item for both operators and passengers to wear while riding a Sea Doo watercraft. Your PFD keeps you afloat in the water. it also offers some protection for your torso from cold, waves and sun. Sea Doo offers a range of PFD's with comfortable styles and affordable prices to suit every need. So be sure to buy one that's properly sized for you. Keep it on and properly fastened whenever you're on board.
Riding Essentials – Sun Protection…
Don't be fooled by the cooling breeze and spray into thinking that your skin's not frying while riding a Sea Doo watercraft on a hot summer day. You don't want to be burned to a crisp by the direct and reflected sunrays. So always apply a generous coat of a high SPF sunscreen half an hour before heading out on the water and renew it regularly.
Riding Essentials – Eye Protection…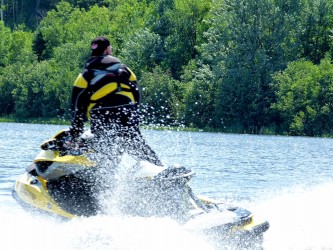 You won't get far on a bright sunny day on dazzling waters without a good pair of goggles or wrap around sunglasses. Make sure your sunglasses are rated to remove 99% of UVA and UVB rays or you might suffer eye damage. And that's the other good reason for eyewear: protection from the wind, water and things like flying insects. Use a floating eyewear retainer so your glasses don't sink. Especially if theyre prescription eyewear.
Riding Essentials – Hydration…
It may seem strange to be surrounded by water without anything to drink. You may not even be thirsty. But nothing sucks the moisture out of your body like a hot day in the sun. So carry several bottles of water with you. Sip them frequently throughout the day to avoid getting dehydrated.
Riding Essentials – Mooring Line…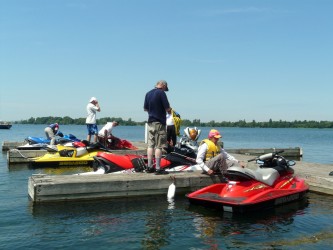 As much as you're out to ride, eventually you'll need to stop somewhere. And that's when a mooring line becomes essential to tie up to a dock, tree, buoy or other craft. It keeps your watercraft from floating away or getting damaged. Acquire a long, strong one that can also double as a towrope if needed. For best selection in person or online, check out The Rope Store.
Riding Essentials – Communications…
Typically, you'll never need them. But should you get into any difficulty, having a whistle, flare, cell phone or sat phone handy will get you out of trouble sooner. Use waterproof bags for anything that water will damage.
As you become a more experienced Sea Doo rider, you'll add many other "essentials" to your own personal riding list. These will cover the many different riding conditions you've encountered, and that's a good thing!
If you enjoyed this post, check out my other riding tips…
The tips and advice in this article are the opinions of the author, may not work in every situation and are intended only for the convenience and interest of the reader, who has the personal responsibility to confirm the validity, accuracy and relevancy of this information prior to putting it to their own use.
Like This Post? Follow Me on Facebook!