Huntsville Area Sea Doo Tour on Lakes Vernon, Fairy & Peninsula…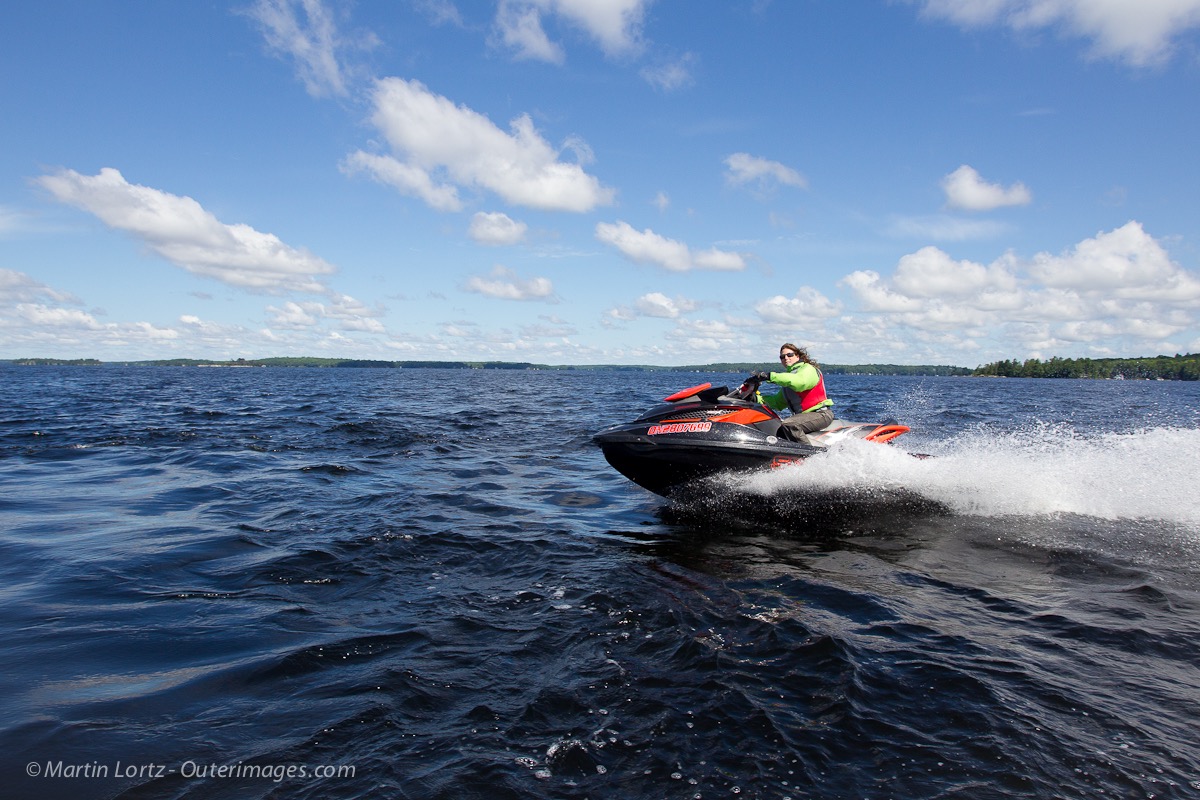 ---
---
Located in the Explorers' Edge Region, Muskoka may be Ontario's most well-known cottaging region. It also offers several outstanding, self-guided Sea Doo tour opportunities for Sea Doo, jet ski, waverunner personal watercraft riders and recreational boaters. 
One of them is a PWC adventure day ride in northern Muskoka, on the interconnected Lake Vernon, Fairy Lake and Peninsula Lake. Anchored by the Town of Huntsville, these three waterways are located about 30 minutes north of Bracebridge on Highway 11 – and rentals are available in the area.
Easy access to these lakes from Highway 11 is at the public launch at Avery Beach. It's located on the south shore of Hunters Bay at the foot of Yonge Street. The ramp, docks and parking are free and there's a portable toilet on site. If you're PWC trailering from farther east, the public launch to Peninsula Lake at the foot of Limberlost Road off of Highaway 60 may be handier (If you use this option, you can do the same Huntsville area Sea Doo tour described below, just reverse the information.)
Huntsville Area Sea Doo Tour – Lake Vernon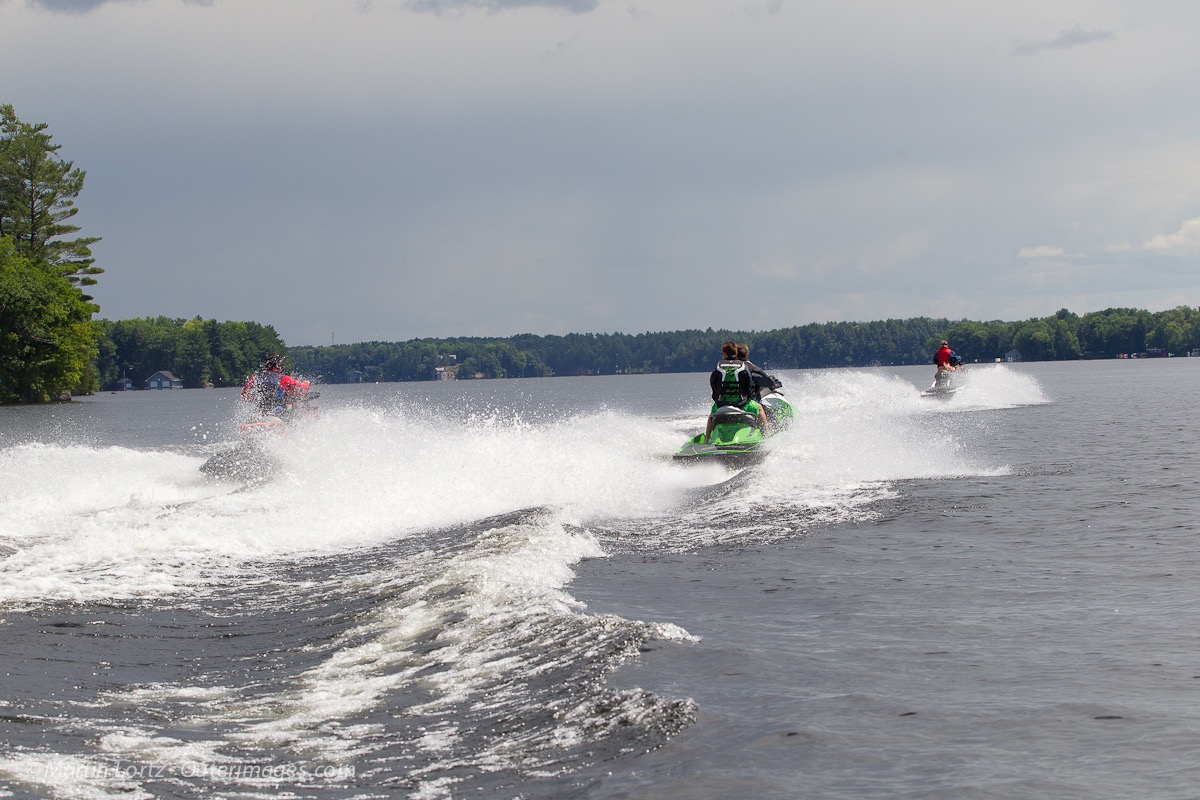 Usually, we ride west from the launch on our Huntsville area Sea Doo tour to explore Lake Vernon, the largest of the three water bodies. By the time we ride a loop of its shores and return to Hunters Bay, it's time for lunch. So we cruise to the east end of the bay and into the Huntsville Muskoka river. This slow zone winds through town before connecting to Fairy Lake. It flows past two popular, dockside restaurants, Boston Pizza and On The Docks Pub.
Huntsville Area Sea Doo Tour – Fairy Lake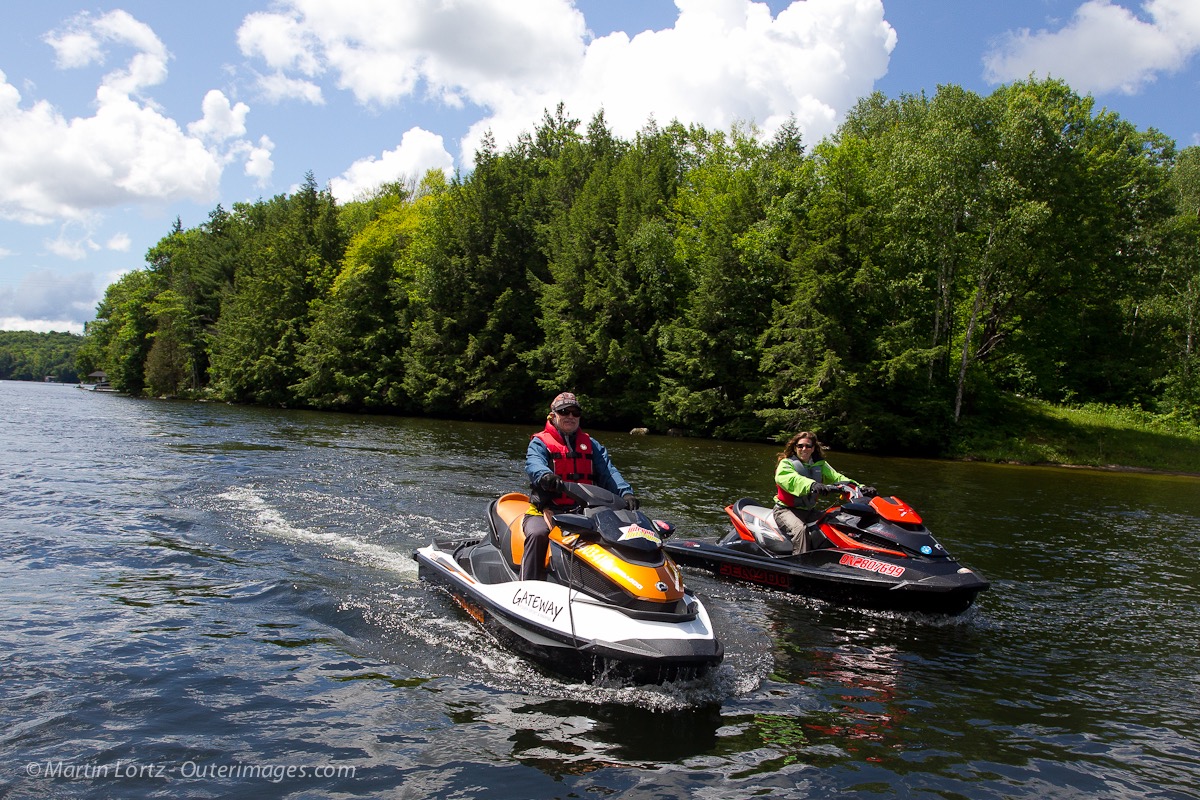 After eating, we continue east on our Huntsville area Sea Doo tour in the speed zone to Fairy Lake. There's gas available for recreational boaters on the north shore at Huntsville Marine. As far as I know, this is the only place to fuel up on this Sea Doo ride. Fairy Lake empties into the Muskoka River at its southwest corner. But the entire river all the way to Mary Lake is a speed zone. There's also a swing bridge and lift lock to negotiate through. This route is a slow go for Sea Doo riders and recreational boaters (and has to be repeated to get back to Fairy Lake), so we continue east instead to the northeast corner of Fairy Lake past the now defunct Grandview Resort.
Huntsville Area Sea Doo Tour – Peninsula Lake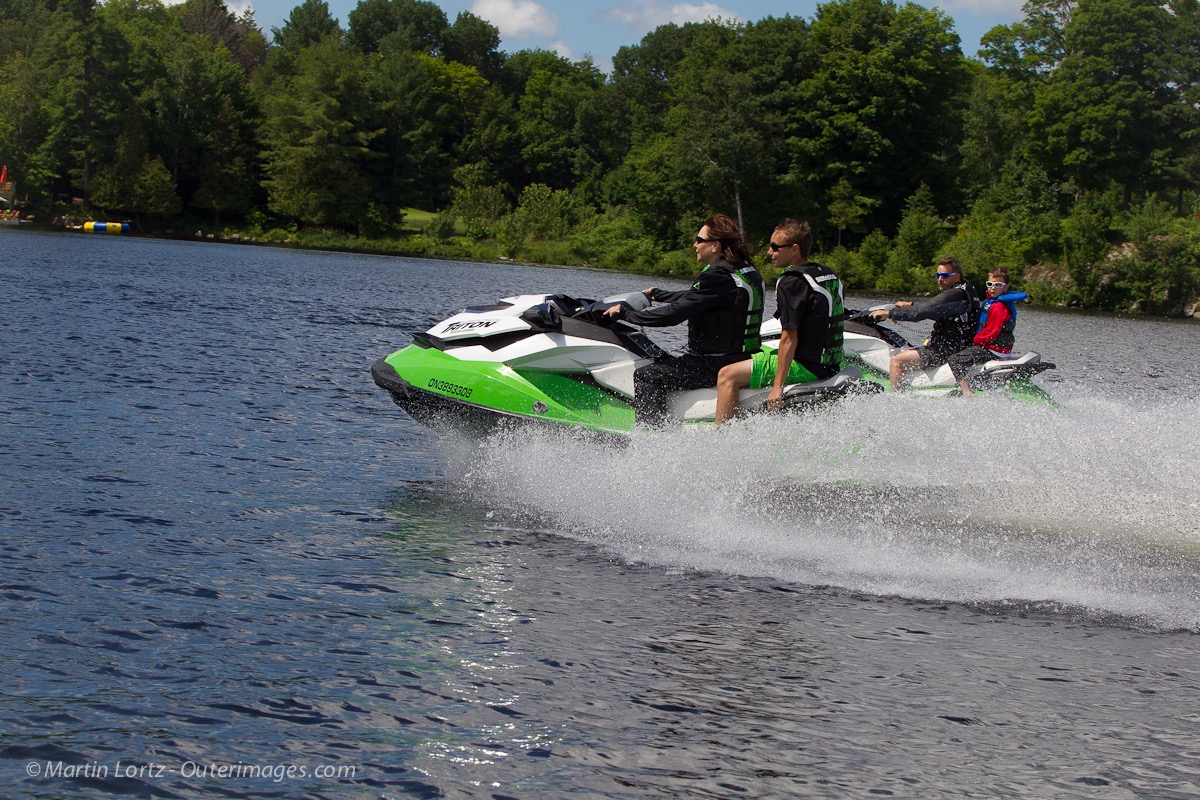 At the end of the lake is the historic Peninsula Canal. It opened in 1888, allowing recreational boating access to Peninsula Lake through its short, speed zone length. The first sight to see at the end of the canal is the massive Deerhurst Resort. It's located at its eastern mouth on the north shore of Peninsula Lake. The previously mentioned public launch is slightly northeast from Deerhurst. After circumnavigating Peninsula Lake on our Sea Doo tour, we return through the canal back to Huntsville and the launch at Hunters Bay.
You can make a weekend of your jet ski expedition on this Huntsville area Sea Doo tour. After loading your PWC's back on the trailer, check into the Huntsville Comfort Inn. The next day, you can trailer 30 minutes east for Sea Doo riding on Lake of Bays. Launch from the government public launch at Dorset on Highway 35. This lake rivals the other three main Muskoka Lakes – Muskoka, Joseph and Rosseau in size. So it's good for a full day of additional exploration for any PWC riders or recreational boaters.
And when you've completed this Sea Doo tour, why not trailer south and ride Lakes Muskoka, Rosseau and Joseph?
The tips and advice in this article are the opinions of the author, may not work in every situation and are intended only for the convenience and interest of the reader, who has the personal responsibility to confirm the validity, accuracy and relevancy of this information prior to putting it to their own use.
Like This Post? Follow Me on Facebook!