How To Buy A New Personal Watercraft…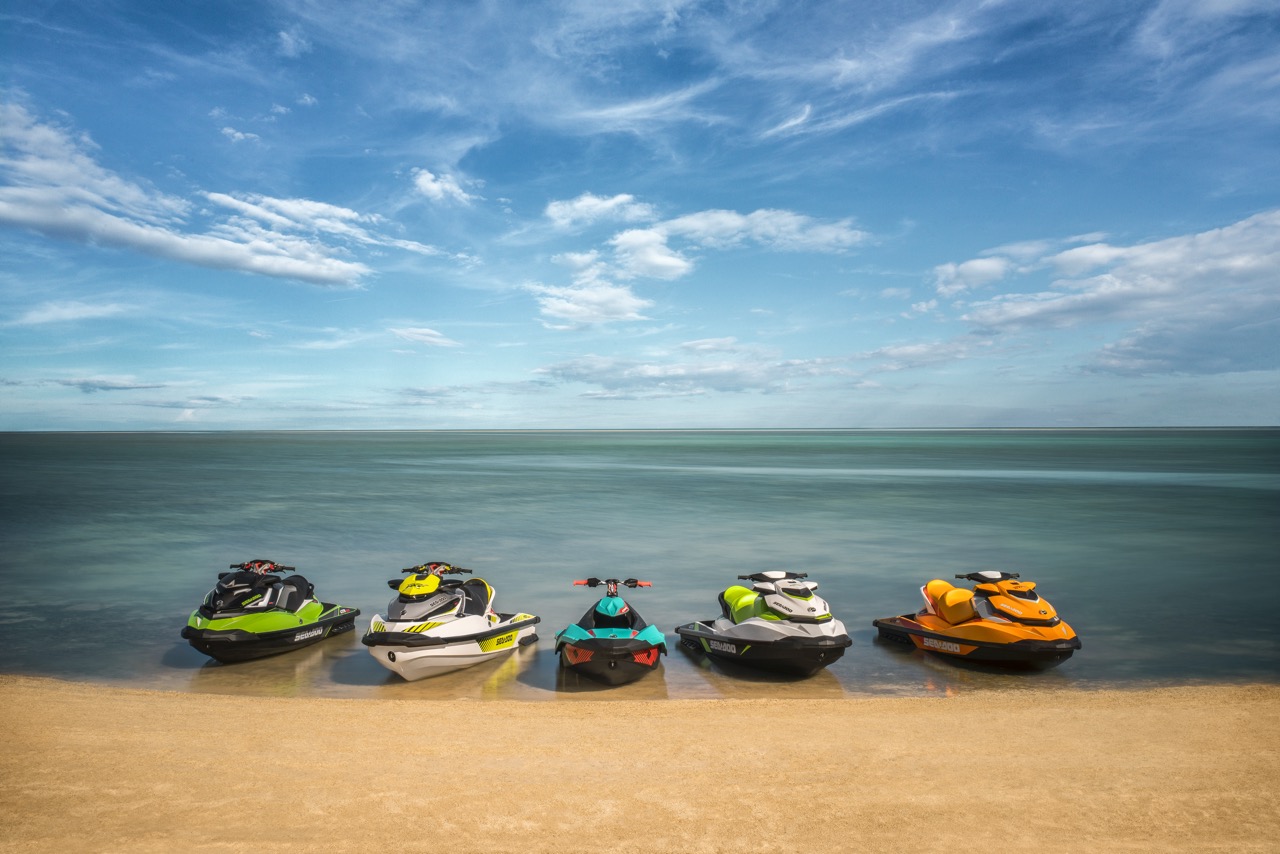 ---
---
Here are some watercraft for sale Sea Doo buying tips for jet ski beginners. Those who've never owned a personal watercraft. Or don't know much about them. Sea-Doo watercraft from BRP are jet-propelled boats that operate much like a motorcycle or snowmobile. They're great for going on Sea Doo tour and other PWC adventures in Ontario and throughout Canada.
They provide the same exhilarating sensation of skimming over a surface and being able to go almost anywhere. Virtually unsinkable, family-friendly and completely reliable, an advanced technology Sea Doo watercraft is easy to operate. It also delivers unmatched handling and turn-on-a-dime maneuverability. So read on about how to buy one of these jet skis…
Sea Doo Buying – Where To Shop…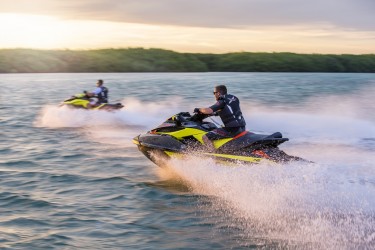 So it's time for you to go PWC shopping. Familiarize yourself with available models and technologies on the Sea-Doo website. Then it's time to hit the pavement. BRP sells Sea Doo watercraft through its own global dealer network. Much like automobile manufacturers do.
Sea Doo dealers are not only very knowledgeable about Sea Doo watercraft. They also offer parts, service, storage, trailers and accessories galore. Yes, your Sea Doo dealer can outfit you with everything in the Sea-Doo Parts Accessories and Riding Gear catalogue. From PFD's (Personal Flotation Devices) and wetsuits, to covers, dock ties, bumpers and anchors. Plus an array of colourful inflatables for towing the kids.
Sea Doo Buying  – Try It First…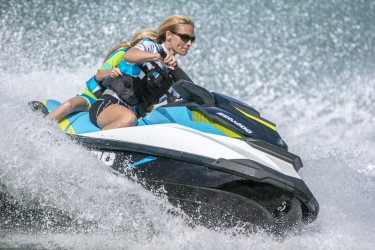 Want to try before you buy? Some dealers rent Sea Doo watercraft. Others have demo units you can arrange to sample. Tracking down a rental outfit may be a bit of a challenge. But start by asking your local dealer or googling "PWC rentals" in your province or state. You can also consult my Ontario PWC rental list. BRP often offers demo tours each summer. Once you climb aboard your first Sea Doo watercraft and go for a ride, I guarantee you'll want to try it again!
Sea Doo Buying – Questions to Ask…
When it comes to how to buy a personal watercraft, there are two major questions to ask yourself. "What brand should I buy?" & "What model should I buy?" Let's assume that you've already decided to buy a Sea Doo watercraft. After all, it's the only one with a brake, hands-on-the-handlebar reverse and many storage options. Plus numerous other industry-leading exclusive features. So what model do you choose? To help make this choice, ask yourself who, what, where and how much…
How To Buy – Who Will Be Riding Your New Sea Doo Watercraft?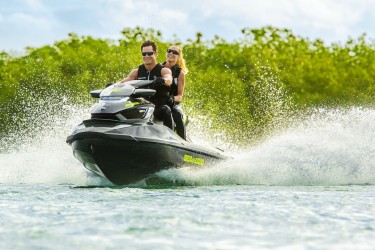 If it's intended primarily as a family-friendly watercraft, then the PWC needs to be versatile, flexible and easy to ride for all skill levels. Will it frequently or seldom be used by multiple riders (operator and passenger(s)? Do you have lots of friends and guests who might also be using it?
But if you think the primary use is for adults to go cruising and do some exploring, then that's another thing. Maybe the purpose of your new acquisition is to keep your tow sports happy teens entertained. Or could it be that you're a performance buff who's looking for new thrills on the water?
Of course, the reality is that it's often a combination of these various "who's". But try to nail down a hierarchy that snapshots your present situation. Be sure to include personal user factors like experience, gender, weight, age and availability.
How To Buy – What Will Your New Sea Doo Watercraft Be Used For?
The answers to this one fall naturally out of your "who" answer. But also think about the "what" separately. 1. What can a Sea Doo watercraft do? 2. What are the specialties of each specific model? 3. What uses are most beneficial to you? 4. What if you or members of your family are really into tow sports? 5. How might your "what's" change over the next couple of years? As user ages, interests and priorities change.
How To Buy – Where Will Your New Sea Doo Watercraft Be Used?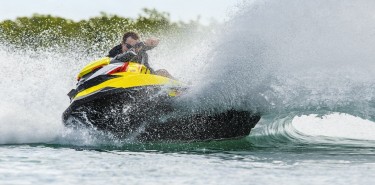 Fresh or salt water? Big water or sheltered back channel? River or lake? Always on your own lake or primarily on other waterways? Or a mix of the two? If your home waters are navigable and interconnected with adjacent waterways, will you want to go exploring? Your "where" will help you determine which model best suits you.
How To Buy – What Can You Afford to Invest in Sea Doo Buying?
For me, this question breaks down into: "What can I afford now?" & "What can I afford for tomorrow?" After years in powersports, I've found that it always pays to invest in the best technology available today. Why? Because I'll enjoy it longer and get more for it on resale. It's also interesting to remember that unlike other new boat transactions, Sea Doo watercraft are all-in-one priced. This means you're getting an integrated, turn-key package. This includes its purpose built and perfectly matched 4-stroke Rotax engine. Instead of boat and motor separate or from different manufacturers.
Entry Level vs. Premium Sea Doo Buying…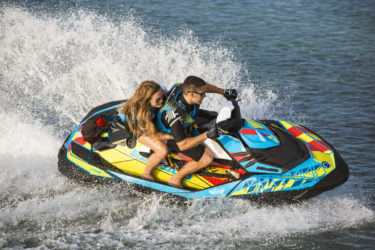 Introduced in 2014, the Sea-Doo Spark watercraft is a game changer for price and value. It's the most affordable entry level PWC available anywhere. It's an excellent choice if family fun on your cottage lake or playing on the water is your priority. And that's why it's often sold out early across North America.
On the other hand, what if your goal is doing day rides or saddlebag tours to explore other waterways? A bigger and more powerful Sea Doo with good storage capacity may be a better fit for you. Whatever your choice, Sea Doo has a model for you. And to help you choose, check out my blog Which Sea Doo is Right For You.
The logic of good answers to these "how to buy questions" should make your Sea Doo watercraft shopping easier and more cost-effective. Hopefully, it will also make those dazzling colours and appealing graphics less of a distraction from the reality of what you really need!
If you enjoyed this post, check out my other riding tips.
The tips and advice in this article are the opinions of the author, may not work in every situation and are intended only for the convenience and interest of the reader, who has the personal responsibility to confirm the validity, accuracy and relevancy of this information prior to putting it to their own use.
Like This Post? Follow Me on Facebook!