Tips for Getting Your Jet Ski PWC Safely To Water…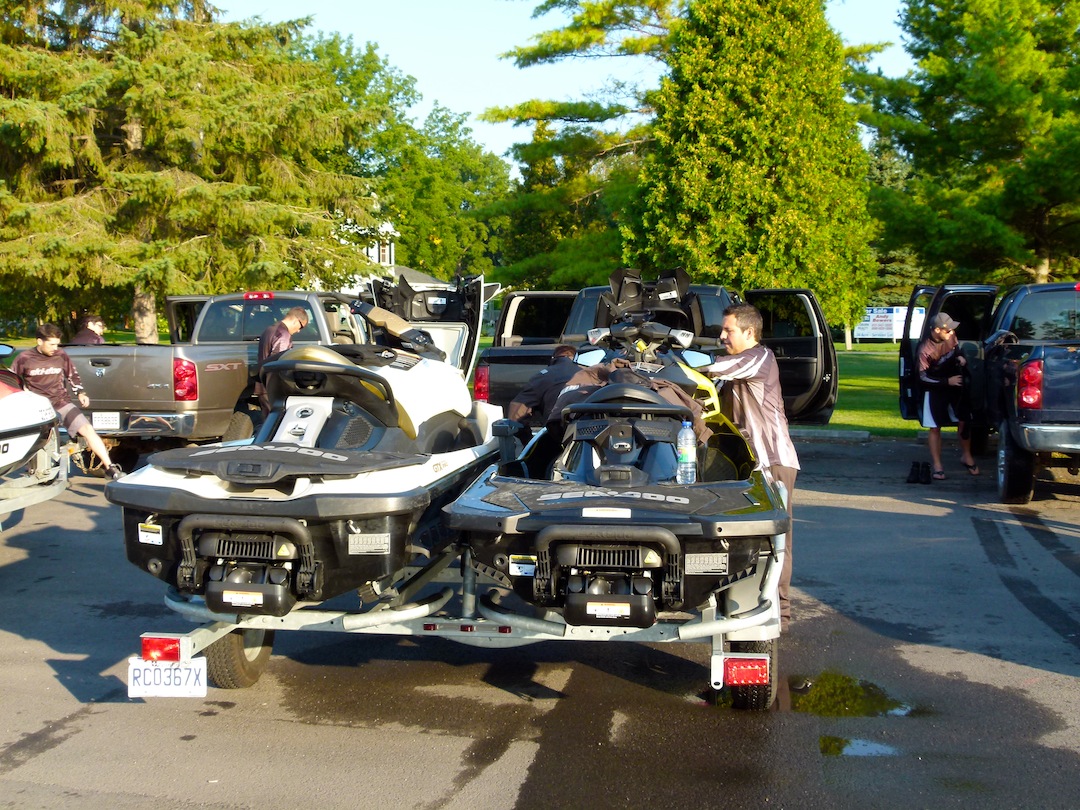 ---
---
Towing and launching Sea Doo watercraft is easy for either experienced riders or PWC beginners. In fact, it hardly feels like I'm towing a PWC Triton trailer, while going on Sea Doo tour or other PWC adventures on a Sea Doo, jet ski or waverunner personal watercraft in Ontario.
Towing two Sea Doo watercraft like my Sea Doo GTX 155's isn't much different. Neither one or two-bed PWC Triton trailers restrict rearward sight lines like towing a large boat or snowmobile trailer does. And I can keep an eye on the watercraft and covers with my rearview mirrors.
Securing the front of my Sea Doo watercraft is easy on a Triton Trailer, using the hook and winch. Just be sure to run the winch strap under the rubber stopper and between the metal side supports. Then hook the end of the strap through the bow eyelet on the front of your PWC. The bow should rest firmly against the rubber stopper above this eyelet. Then, before moving, check to make sure the winch locking lever is engaged.
At the back, I use high quality tie downs to fasten my Sea Doo watercraft to the trailer. Then I cover up with a perfectly fitted Sea Doo cover to protect my watercraft from dirt, bug splats, stone chips and prying eyes. I have many more Sea Doo riding tips, but this one's all about Towing and Launching Sea Doo Watercraft…
Towing and Launching: Sea Doo & Jet Ski Launching Prep…
Launching my Sea Doo watercraft for jet skiing is also easy. If I have it, I slip my tow vehicle into 4-wheel drive at the launch. Before launching, I unplug the trailer's electrical hook up and check that the watercraft drain plugs are tight. I always start my Sea Doo watercraft briefly on the trailer. I don't leave them running long to prevent engine damage. But this quick check helps ensure that I'm not launching a malfunctioning watercraft (making it much more difficult to re-load). It also serves to make sure I have the right DESS cord(s) before I launch.
Towing and Launching: Sea Doo & Jet Ski Launch Inspection…
Before backing in, I get out and do a quick visual inspection of the launch area. This includes under water, checking for bumps, cracks, obstacles or any other irregularities that might prevent with a smooth launch, or damage my Sea Doo watercraft or tow vehicle. Or interfere with re-loading onto my trailer later. I pay special attention to the steepness and surface of the launch, as an unexpectedly sharp decline or slippery surface can make getting in and out more difficult.
I also note the water depth to ensure my Sea Doo watercraft will float free without my having to back halfway across the lake. Or inadvertently flood the inside of my tow vehicle. At one too-shallow launch, I had quite a workout manhandling the Sea Doo watercraft off the trailer! Tip: I've bent several low hanging trailer licence plates while launching and even lost one. So now I remove the bolts holding the plate stiffly in place. Instead, I affix it with very heavy-duty zip ties so that it swings and moves out of the way when it hits bottom.
Towing and Launching: Launching Sea Doo or Jet Ski With 2 People…
For a two-person launch, I remove all the rear tie downs before backing up until the trailer is on the launch, but not in the water. Then I unfasten the front hook from one unit so that watercraft is no longer attached to the trailer. My companion then climbs on to the trailer and aboard the loose watercraft without getting wet. And then I back in far enough that the one Sea Doo floats free so the jet ski rider can start up, back out and dock it. If there's a second watercraft, I pull ahead and repeat the process.
Towing and Launching: Launching Sea Doo or Jet Ski by Yourself…
If I'm alone for the launch, the process is much the same. Except I use the front mooring line to tie the loose watercraft to the trailer so it doesn't float way before I can get back to it from behind the wheel. Then I either climb on and back it away. Or simply walk the watercraft free of the trailer from dry land using the mooring line (one reason why it's important to have a long one). As a precaution, it's also a good idea to set your vehicle's parking brake before you get out to launch your jetski.
Towing and Launching: Loading Up Sea Doo or Jet Ski…
To re-load my Sea Doo watercraft after jet skiing, I basically the reverse process. First, I ensure that the trailer bunks are in the proper position, not flipped out of place. Then I back in so that the ends of the bunks are covered by water. But the rest of their length is not. This helps ensure that even if my approach on to the trailer is a little crooked, the above-the-water bunks guide the watercraft on to make sure each is properly settled and centred. (If the bunks are all under water, the watercraft can float too much and not settle properly in place.) I re-fasten the front hook(s), then get back in my vehicle and release the parking brake before pulling out of the water to put the rear tie-downs tightly in place. It's also important for me to remember to re-connect the trailer electrical hook up and go back to 2-wheel drive before driving away.
Towing and Launching: Two More Sea Doo and Jet Ski Launch Tips…
Go slow and easy at every launch. Having burst a tire pulling out too fast and seen one guy drop his improperly secured watercraft on a concrete ramp (ouch!) when the trailer jerked ahead, I've learned that easing into and out of the water slowly is a much safer way to go. So learn from my trailering mistakes!
Finally, leave your trailer wheels (or tow vehicle wheels) sitting in the water for as short a time as possible. Because getting wet can soak the bearings, brakes, etc, possibly causing malfunction, and certainly rust, corrosion and earlier need for repairs. Happy towing and launching!
Check Out My Favourite Boat Launches!
If you enjoyed this post, check out my other riding tips.
The tips and advice in this article are the opinions of the author, may not work in every situation and are intended only for the convenience and interest of the reader, who has the personal responsibility to confirm the validity, accuracy and relevancy of this information prior to putting it to their own use.
Like This Post? Follow Me on Facebook!