Unique Jet Ski Transfers Past Waterway Obstacles…
---
---
What are my most memorable Ontario Waterway Bypass Systems on PWC adventures? Ontario's 100,000 kilometres (62,000 miles) of rivers provide plenty of diverse Sea Doo riding and recreational boating opportunities on #ontariowaterways.
Many make my top 10 list of Ontario day rides. Throughout, there are many long, unobstructed rides for Sea Doo, waverunner and jet ski PWCs. These include my five best river rides and Ontario's top PWC sightseeing attractions.
But it's also inevitable that elevation changes, rapids, waterfalls, shallows and hydro dams get in the way of Sea Doo riding on many waterways. Typically, the work-around for Sea Doo riders and recreational boaters is man made/operated by-pass systems. These include canals, swing bridges, locks (e.g. Trent Severn and Rideau Canal Waterways) or trailer portage services (e.g. Upper Ottawa River). Here are a few of my favourites (listed alphabetically) that are must-visit for Ontario PWC riders.
Six Best Ontario Waterway Bypass Systems: Bobcaygeon Lock & Swing Bridge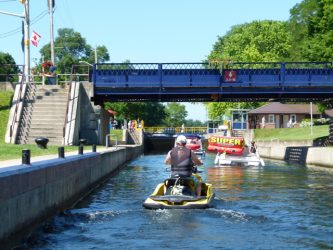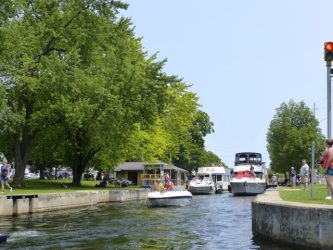 Built over 160 years ago at the narrows between Pigeon and Sturgeon Lakes in the Kawarthas, the Bobcaygeon Lock (Trent Severn Waterway, Lock #32) and Swing Bridge make my list. Not because the structures themselves are anything special. But because of their central location in Bobcaygeon, a town name well known to many Tragically Hip fans.
Not many locations in the Parks Canada system have as much activity around them. And that's what makes this location one the busiest on the Trent Severn Waterway and on the Kawartha Lakes ride. Bobcaygeon is a bustling summer community and either approach to the lock offers PWC riders a great opportunity. A chance to get off their craft and mingle with other boaters and spectators. Or do a little sightseeing and shopping. Or grab a bite to eat or an ice cream cone.
Nearby Services: Bobcaygeon Inn (dock & food); Gordon Yacht Harbour Marina (fuel).
Six Best Ontario Waterway Bypass Systems: Carillon Lock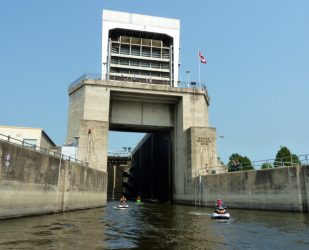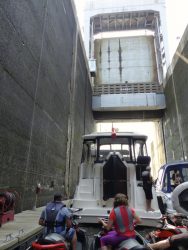 Located between Hawkesbury and Rigaud on the Lower Ottawa River ride, the massive Carillon Lock sits beside a huge hydro dam. It may not be the deepest lock operated by Parks Canada (compared to some in the St. Lawrence Seaway, for example). But when you're standing up top, its 20-metre (65') drop to the bottom is breath taking. And so is being inside!
Not for the claustrophobic, the Carillon's towering concrete sides seem to close in over you. And when its guillotine style southern gate clunks into place, you feel pretty insignificant. Especially surrounded by large cruisers. Another neat aspect is the floating dock inside the north wall that raises and lowers along with the recreational boats inside.
Nearby Services: Hawkesbury
Six Best Ontario Waterway Bypass Systems: Big Chute Marine Railway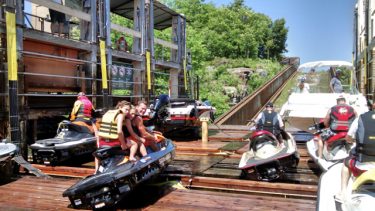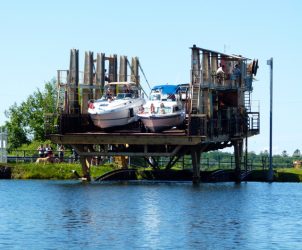 The only one of its kind still in use in North America, Big Chute (Trent Severn Waterway, Lock #44) is a marine railway. It transports recreational boats up and down an 18-metre (60') slope in what is essentially a massive hillside elevator on tracks. Boats hang in individual cradles for the journey, while PWC's sit on a wooden floor.
Originally opened in 1917 on the Severn River, the current structure dates from 1978. The whole marine railway process is worth experiencing. Plus the view westward toward Gloucester Pool is spectacular as you enjoy your Severn River ride.
Nearby Services: Big Chute Marina (fuel, food, docking).
Six Best Ontario Waterway Bypass Systems: Peterborough Lift Lock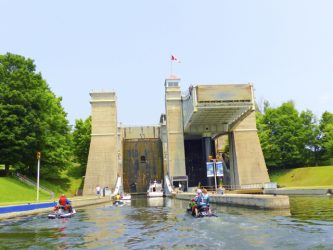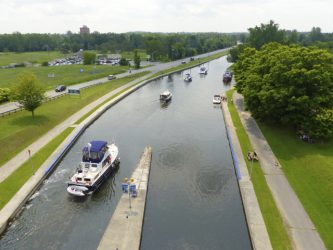 Located at Peterborough, this massive structure is renown as the world's highest lift lock since its debut in 1904. Trent Severn Waterway, Lock #21 is essentially two gigantic, side by side tubs of water. They alternate ascending and descending 19.8 metres (65') while full of recreational boats. Those who want to discover how it works can stop to visit the Visitor's Centre beside the lock while on a Peterborough & the Kawarthas ride.
At the top of their vertical lift, the view from the south end of each tub out over the Trent River and Peterborough is really something. And well worth going into the Lift Lock to see. If you approach from the south as part of your Otonabee River ride, wait to be last in. And if you're not locking through, simply stay in place when the other recreational boats exit to enjoy the full view going back down.
Nearby Services: Peterborough Marina (fuel, food, docking).
Six Best Ontario Waterway Bypass Systems: Port Carling Small Lock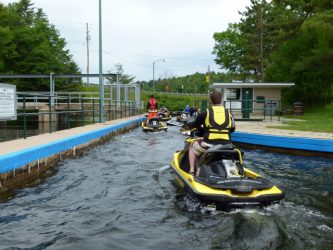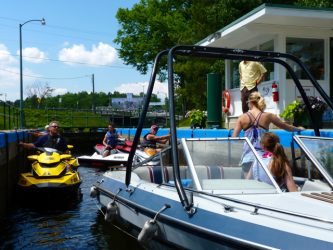 There are two adjacent locks on the Indian River at Port Carling. They provide recreational boat access between Lakes Muskoka and Rosseau on your Muskoka Lakes ride. On one side of James Bartleman Island Park, the larger one is a standard style lock, nothing out of the ordinary. But tucked away on the other side of the island park, PWC riders will discover a much smaller lock.
It's self-operated for much of the time (operator on duty during summer months from Friday to Sunday, noon to 6 PM). It's neat to moor outside the lock gate and have one of your group walk to the lock hut. Here, there's a round hole in the glass to access the control lever that automatically lets the water in or out and opens the gate. Once the PWC's are inside and the water is fully in (or out) the opposite gate opens automatically and you're on your way.
Nearby Services: Turtle Jack's Restaurant (docks); Boatworks Marina (fuel).
Six Best Ontario Waterway Bypass Systems: Rapides-des-Joachims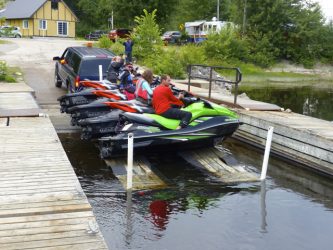 Located on the Quebec side of the Ottawa River opposite Stonecliffe, Ontario, Rapides-des-Joachims (also known as Swisha) is a tiny village. It's located near where passage along the river is blocked by a huge hydro dam. PWCs and recreational boats on an Upper Ottawa River ride can get around this obstacle via a trailer portage service run by the municipality.
It makes my list because there's nowhere else I've found to experience transporting up to five PWCs overland on a back road. All after fuelling up and sitting aboard my Sea-Doo GTX 155 and parading through town!
Nearby Services: Lance's Convenience Store (fuel & food).
The tips and advice in this article are the opinions of the author, may not work in every situation and are intended only for the convenience and interest of the reader, who has the personal responsibility to confirm the validity, accuracy and relevancy of this information prior to putting it to their own use.
Like This Post? Follow Me on Facebook!