Preparing For Your Jet Ski Summer…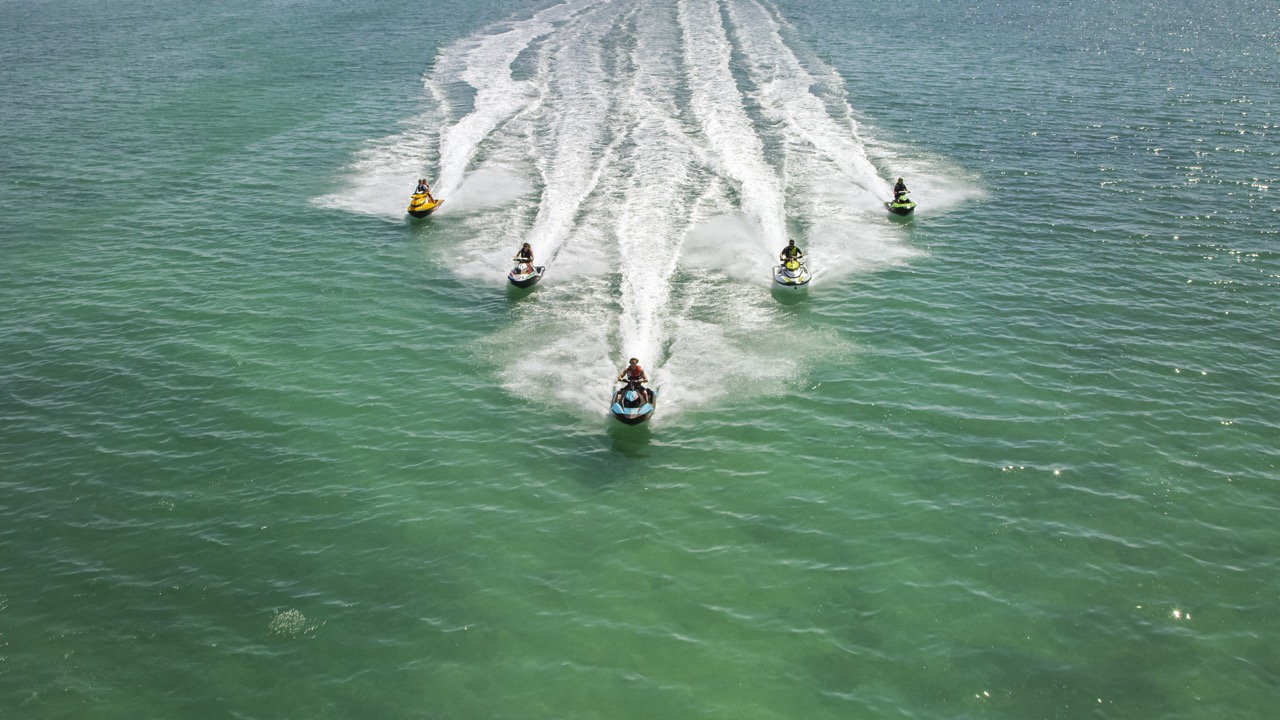 ---
---
How do experienced jet ski riders or PWC beginners start getting ready for a Sea Doo ride? Many of us don't live in climates warm enough to ride our personal watercraft year round. So for many of us, spring is when we start to look. We are looking for more Sea Doo tips as we get ready for going on Sea Doo tour on a PWC adventure in Ontario and throughout Canada. My "how to get ready" Sea Doo preparations fall into three broad categories. The machinery, the riding gear and the destinations. Let's take a look at each one…
Getting Your Sea-Doo Ride Ready…
My how to get ready machinery prep starts the previous fall. It includes the thorough inspection, cleaning, winterizing and indoor storage of my covered Sea Doo GTX 155. Done properly, this fall work makes spring prep a breeze. My jet ski is already clean and ready to go in to my Authorized Sea-Doo Dealer for its pre-season check up and service. This includes whatever repair or maintenance issues I may have identified during last fall's inspection and winterization. I always schedule this appointment at least a month before the May holiday weekend. This avoids the pre-season rush. It also ensures that my dealer has time to do the job thoroughly and properly before my PWC adventures begin.
Sea Doo Ride: Getting Your Triton Trailer Ready…
Each summer, I travel all over to explore different waterways on my PWC adventures. So my machinery prep also includes my Triton PWC trailer and SUV tow vehicle. On the PWC trailer, I re-pack or replace the wheel bearings. I also check all tires (including the spare) for cracks, leaks, uneven wear and correct pressure. At the same time, I perform a complete visual inspection of the axle, springs, bunks, wiring harness and plug. Also winch, tongue jack, plus coupler and safety chains. Then I check that my trailer licence plate is still well secured. I don't test the lights on my trailer until after I inspect and clean my SUV's electrical receptacle to ensure a good connection. Tip: if you've acquired a jet ski that's new to you since the previous season. Don't forget to make sure it fits on your existing trailer bunks. And that it's still within safe load bearing capacity – and re-familiarize yourself the best trailering advice.
Sea Doo Ride: Getting Your Tow Vehicle Ready…
Last but not least for how to get ready, I inspect my SUV. This starts with the hitch package to ensure it's still reliable and secure. I also check the selected ball mount and ball for wear and size (I own other trailers that take different ball mounts and sizes.) When my summer tires go back on the SUV, they are inspected for wear and tear as well as the spare. I also review my vehicle's service record to see if it's time to change any fluids (especially transmission, with all the towing and launching into water that I do). Or to see if I need to do any other service that would help make my summer's towing trouble free.
Sea Doo Ride: Getting Your PWC Riding Gear Ready…
This how to get ready section includes the various PWC riding gear and accessories. These include bumpers, mooring ropes & cleats, tie downs, cover and touring bags. Plus any other essentials I wear or use on my Sea-Doo watercraft, from sun lotion to my PFD. Once again, my habit is to inspect everything before it's put away the previous fall. That way, I have time to get repairs or replacements done in the off-season. I'm also often am able to find things at discount prices over the winter.
Sea Doo Ride: Getting Your Jet Ski Destinations Ready…
All this how to get ready preparation is essential for a safe, carefree summer of PWC adventures. But nothing fires my anticipation as much as discovering new places to ride. There are many great day ride or multi-day tour jet ski destinations with great sightseeing attractions. So I get ahead of the game by researching new summer cruising ideas during the winter months. I look for easy highway access, navigable waterways, and good boat launches. Plus shore side lodgings, services and amenities.
I categorize them by their proximity (how long it will take to trailer there). Also by the size of the waterway (how long a ride it will be). And whether it's primarily river or lake (how sheltered it will be). This way I can customize my Sea Doo ride on any given day according to the time I have available. And taking into account the forecast for wind and weather. You can find more tips and advice about how to get ready and riding your Sea-Doo watercraft elsewhere on this site. And also be sure to check out my planning advice for Sea Doo riders.
Sea Doo Ride: Getting Your PWC Riding Companions Ready…
No jet ski ride is as much fun without companions. So as soon as the mercury warms up I start contacting Sea Doo riding buddies and other Sea-Doo owners to talk about going together. If you are looking for people to ride with, I suggest talking to your Sea-Doo dealer about other customers who may be interested. The Sea-Doo Facebook page and Forum are also good places to connect. As are dealer demo rides and open houses.
Sea Doo Ride: Getting Weather Information Ready…
Once all your pre-season how to get ready prep is complete, the only other factor to consider is weather. So before each Sea Doo ride, visit these sites to prepare yourself for the vagaries of Mother Nature: Ontario forecast; marine forecast; National Date Buoy Centre; Sailflow; local Ontario weather radar;  U.S. weather radar.
They say that getting ready is half the fun. But for me, actually riding my Sea-Doo watercraft is way more than 50% of the fun. So I guess that means I'm having something like 125% fun from my PWC adventures. No wonder I can hardly wait for each summer to arrive!
Check out my favourite Sea-Doo riding destinations! 
If you enjoyed this post, check out my other riding tips.
The tips and advice in this article are the opinions of the author, may not work in every situation and are intended only for the convenience and interest of the reader, who has the personal responsibility to confirm the validity, accuracy and relevancy of this information prior to putting it to their own use.
Like This Post? Follow Me on Facebook!