Valuable Tips Enhance PWC Adventures…
---
---
I've had several people inquire about best Sea Doo tour advice for experienced jet ski riders like me. Or PWC beginners or renters. Whether single day or multi day like my best river rides or top 10 tours, PWC adventures involves longer times and greater distances on the water than many recreational boaters are used to.
Typically, my Sea Doo, jet ski or waverunner PWC adventures are five or six hours of actual riding. With a couple more hours thrown in for rest, gas and food stops. Plus, other trip interruptions like locks or speed zones. We usually zip along at 40 or 50 miles per hour where possible (except in speed zones, of course) on our Sea Doo watercraft and cover a lot of water in a day. There are several key factors to take into account if you're considering jet ski touring…
Sea Doo Tour Advice – Home Base Ain't Handy
For Sea Doo riding, you've probably had to trailer somewhere to launch in a different waterway. That means giving up the convenience of riding close to home base. So it isn't as simple to easily return to refresh, resupply, seek shelter, change with the weather or take a potty break. Sure, you can carry many of your jet ski riding necessities in your tow vehicle. But once you depart from your staging launch, you have to rely on whatever's on board to see you through your PWC adventure. That's why I pack a "ready bag" at the start of the season with all the essentials and always carry it in my tow vehicle. This way, I can decide right up to the last minute what to take for each day's Sea Doo ride.
Sea Doo Tour Advice – Watch the Weather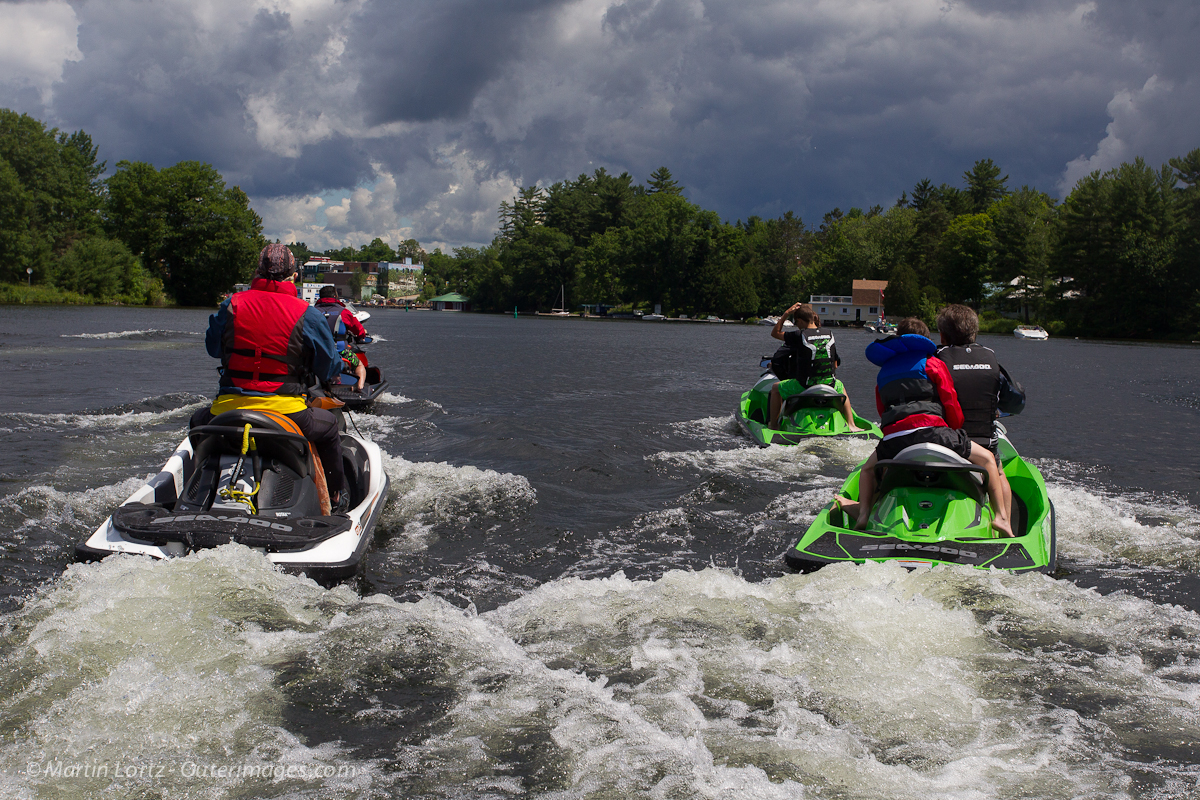 Jet ski riding may be the most weather dependent of the motorsports. If the forecast shows high percentage chance of rain or high winds throughout the intended Sea Doo ride day, it's likely better to postpone to another time if possible. Jet ski riding in rain or wind-whipped waves ain't fun. In my experience, most forecasts don't turn out as bad as predicted. But it's not worth taking the chance if you don 't have to go personal watercraft riding that day. I've missed a few of what turned out to be okay days by postponing. But I've also sat at the cottage looking out at a torrential downpour or whitecap waves. And celebrated not being out there on my jet ski. (For more info, see my blog "PWC Weather Advice")
Sea Doo Tour Advice – Conditions Change Constantly
Checking the latest weather reports before you leave for Sea Doo riding is important. But you'll likely pass through several microclimates from early morning to late afternoon where wind, rain and temperatures might not comply with the general forecast. This means that you have to be prepared and equipped to handle a variety of conditions on every PWC adventure. Because there's no home base handy. Variable conditions may also slow you down. So your jet ski ride might take longer than planned. You don't want to be Sea Doo riding after dark, either. So it's always better to start as early as possible when there's lots of daylight ahead.
Sea Doo Tour Advice – Rider Stamina
Most jet ski riders average 20 hours or less per season. But touring Sea Doo riders will do substantially more. I'm usually well over 100 hours, which translates to 2,500 to 3,000 kilometres (1500 to 1800 miles). Sea Doo touring isn't especially arduous unless you're deliberately riding big water like the largest lakes or the ocean. But being out in the fresh air and elements all day can be tiring. And if you happen to hit wavy conditions, your body will get an extra workout. Still, being in the saddle for hours on end is challenging. In part, because you've got to stay sharp all day on a PWC adventure to navigate unfamiliar waters. And possibly, deal with more recreational boat traffic than you're used to. So you need decent stamina and strength to see you through. Remember that you can't just quit arbitrarily somewhere along your Sea Doo ride route, unless you want to walk or swim home.
Sea Doo Tour Advice – Unrelenting Sun
On many summer days, the sun beats down relentlessly. You can't escape it on a jet ski. You're basically sitting in the same Sea Doo riding position all day. So the backs of your hands and neck can get fried if you're not very careful. So can the tops of your arms, shoulders, thighs and feet. Also, the sides of your ankles, head and ear tips. And remember, when you're zipping along the water in a cool and refreshing breeze, you won't feel the burn on a jet ski ride until it's far too late.
So, don't be fooled by the PWC marketing brochures showing happy people riding around in only bathing suits and shorts. They'd survive for about half an hour on a hot, sunny day ride, even wearing the best sunblock. So the solution is simple. Cover up with headgear, gloves, long (but quick-drying) shirt and pants, and ankle booties. And don't forget the sunglasses! (see my blog, Protection Accessories for Sea Doo Tours)
Sea Doo Tour Advice – Wardrobe
Thanks to changing conditions and unrelenting sun, you definitely need to dress differently for Sea Doo touring than you would for jet skiing around the cottage. Look for PWC gear that's light, fast drying, wind and waterproof, and avoid neoprene! For complete dressing details, check out my what to wear blogs.
Best Touring Jet Ski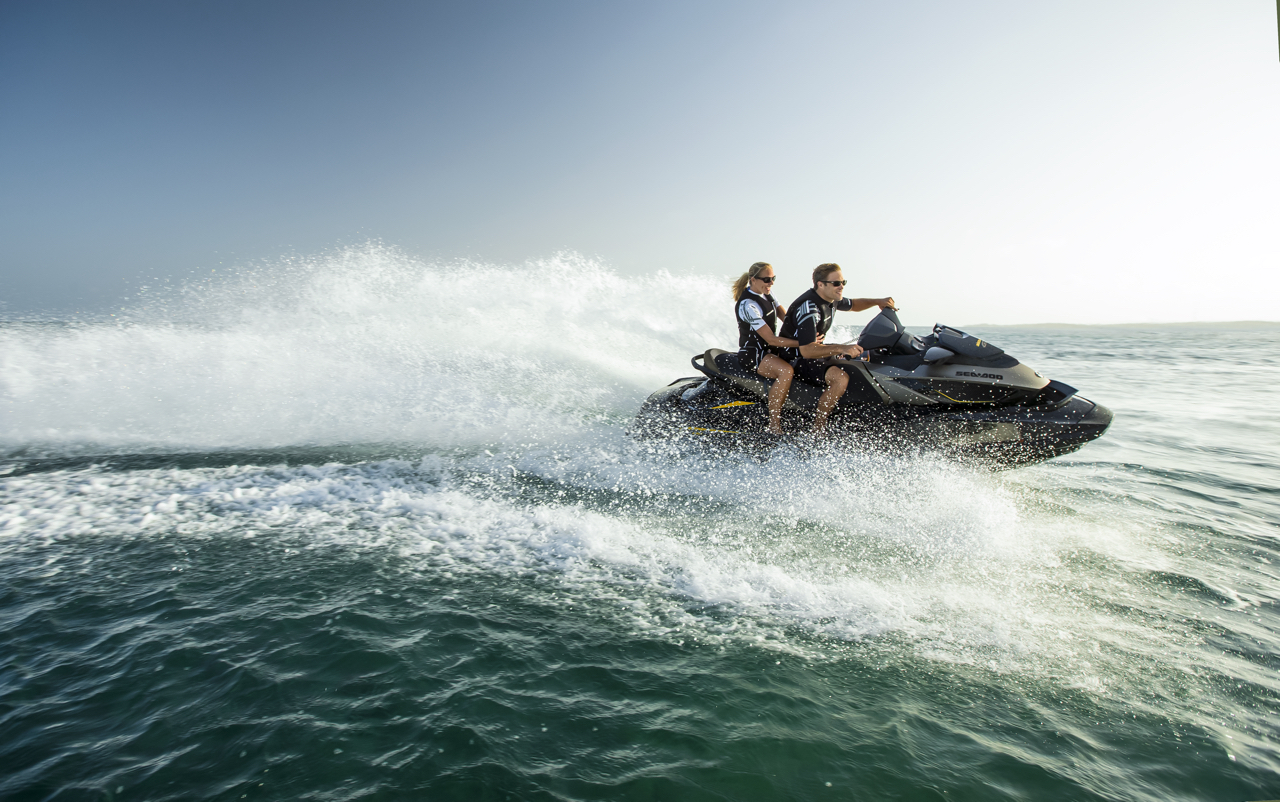 I cover this subject off in more detail in another blog about choosing the best touring PWC. But suffice it to say that given all of the above, the best models for touring Sea Doo rides are the larger and more feature-laden personal watercraft. They tend to be more comfortable, stable and roomy. And therefore, better suited to long PWC adventure days on the water. I'm riding a Sea-Doo GTX that I think's one of the best and most versatile touring jet skis available.
Don't let this dose of reality put you off Sea Doo touring. It's exciting and exhilarating fun if you know what to expect and are ready for it. So like any other power sport, take the time to prepare properly for your first long Sea Doo ride – and enjoy!
Need advice on a PWC trailer? Check out my Triton Trailer Review.
The tips and advice in this article are the opinions of the author, may not work in every situation and are intended only for the convenience and interest of the reader, who has the personal responsibility to confirm the validity, accuracy and relevancy of this information prior to putting it to their own use.
Like This Post? Follow Me on Facebook!