Check Out Sea Doo GTX for Comfort & Versatility…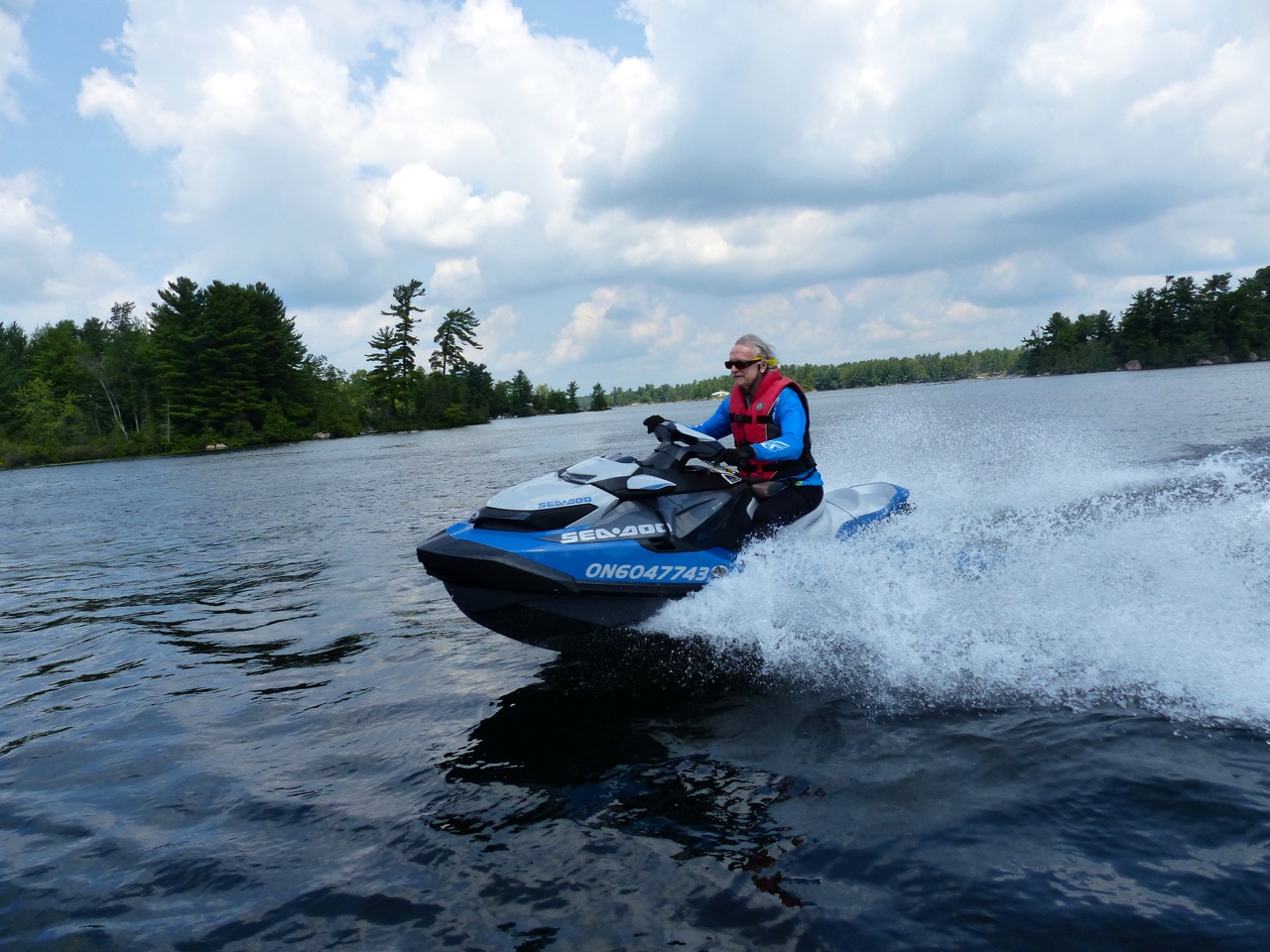 ---
---
With so many makes and models of personal watercraft to choose from, what's the best touring PWC for experienced jet ski riders or beginners? For many years, I've ridden Sea Doo GTX  models that have met all my touring needs and expectations. But you should make your own choice for PWC adventures.
A good place to start your decision-making is my blogs "Sea Doo Touring Advice". Plus, getting started personal watercraft riding. They highlight what to expect from and what's different about going on longer Sea Doo, jet ski or waverunner PWC rides. Armed with this information, here are some important factors for newbies to consider when selecting the best touring PWC for you. Once you've decided, check out my best river rides or top 10 day tours or sightseeing attractions!
Best Touring PWC – Model Choices
PWC manufacturers offer a variety of purpose-built models from inexpensive and up in price. If your objective is to pay as little as possible, odds are that you won't be purchasing a watercraft optimized for touring. Entry level and recreational models offer great value. They can deliver hours of fun for casual, shorter rides. But they don't offer the premium benefits and features to maximize enjoyment and comfort for Sea Doo touring.
Similarly, performance models do have many of the advanced benefits and features I think are necessary for touring. But these models are geared more for maximizing power, handling, acceleration and thrills. So you have to decide if you need or are comfortable with this level of performance capability. I rode a Sea-Doo RXT 260 for several seasons and really enjoyed it. But finally decided it was more power than I really needed for everyday Sea Doo touring.
Best Touring PWC – Touring Comfort
You're going to be Sea Doo riding long days and encountering a variety of water conditions, so you always want to be as comfortable as possible. Here's how…
Choose a Touring 3-Seater…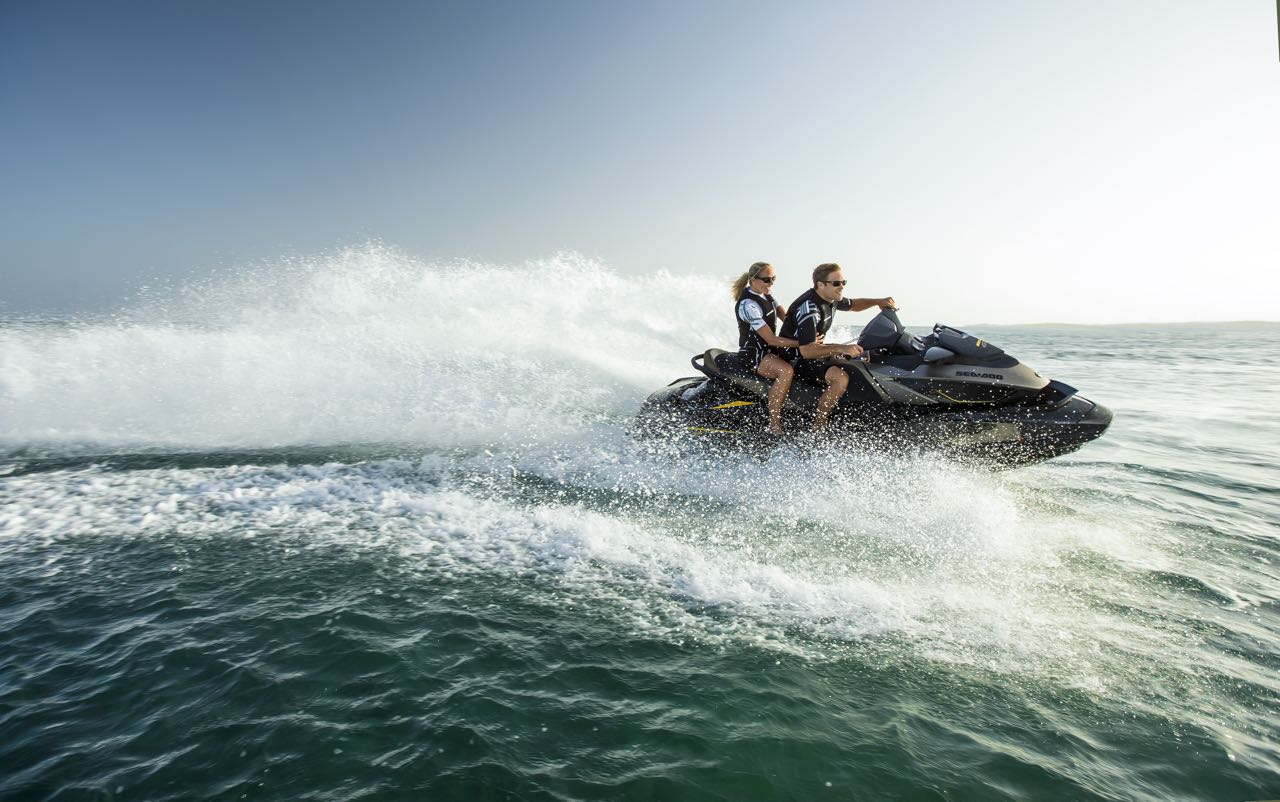 For me, comfort starts with a 3-seater watercraft. They are generally longer, more stable and weightier to better handle rough water. A touring 3-seater normally has a cushier, more comfortable seat. Pus more room than a 2-seater for stretching long legs. And for carrying overnight gear. Or in a pinch, for accommodating an extra passenger if another watercraft breaks down. Moreover, on a 3-seater I can ride all day without getting wet unless I want to or it starts to rain. I've found that smaller PWC's may handle more playfully (and wetfully). But  they also require more riding effort and attention throughout a long day. And can really get batted around in rougher Sea Doo riding conditions.
Choose a Touring Hull…
How a hull handles the water and carves through the waves is crucial to Sea Doo ride comfort. Some hulls are made for playing. Others for high performance. But I prefer a touring hull like my strong Sea Doo ST3 that provides good stability, more consistent handling and better fuel economy too. This hull cuts the waves and helps cushion my mature bones from the constant contact of machine and water while Sea Doo riding. It also smooths out the chop and enhances control in rougher conditions.
Best Touring PWC – Other Touring Considerations
Consider carefully the realities and practicalities of PWC touring. You're gone all day or multi days. You're covering longer distances in unfamiliar waters. And, as a Sea Doo rider, you need to carry all your essentials with you.
The Fuel Factor…
Finding gas isn't usually an issue. But it's always better to looking at it in your tank, than to be looking for it elsewhere. So start by purchasing a PWC with the largest fuel tank available that also has the best available fuel economy. Higher horsepower engines tend to burn more fuel and that's one reason I ride a watercraft with 155 hp instead of anything more powerful. Then I do whatever I can to conserve fuel.
The Power Factor…
I settled on 155 hp for touring because it delivers more than enough power to propel me along on any waterway. I can cruise between 40 and 50 mph (or more if needed) all day and as efficiently as possible. Any less speed might limit our Sea Doo riding distance, while any more isn't necessary for my kind of Sea Doo touring.
The Storage Factor…
While Sea Doo riding, you have many personal needs and must be prepared for a variety of conditions. Believe me, you'll soon be out of space on your PWC, even if you start with plenty of on board storage. So my next tip is to buy a PWC with max storage capacity. Or else you'll be leaving stuff behind and wish you had it later. And get a model with integrated LinQ System capability. Want to know what to bring as a Sea Doo rider? Check out my "Protection Accessories for Sea Doo Tours" blog.
The High Tech Factor…
The more control you have on the water the better. Especially when you're Sea Doo riding all day. In my opinion, Sea Doo delivers the best touring technology available with iBR (Intelligent Brake & Reverse). Sea Doo invented watercraft with a brake. And that brake delivers stopping ability that no other PWC can match. This feature provides great confidence and peace of mind when you're cruising unfamiliar waters and where there's lots of boat traffic. Sea Doo watercraft also come with iTC (Intelligent Throttle Control), which among many other benefits includes cruise control. I use cruise control on long rides because it's more consistent and relaxing than working the throttle all day.
So what's the best touring PWC for you? Hopefully, this article will suggest the right questions for you to ask and point you in the right direction to make your own choice. Me? I'm still happy with my Sea Doo GTX!
Need advice on a PWC trailer? Check out my Triton Trailer Review.
The tips and advice in this article are the opinions of the author, may not work in every situation and are intended only for the convenience and interest of the reader, who has the personal responsibility to confirm the validity, accuracy and relevancy of this information prior to putting it to their own use.
Like This Post? Follow Me on Facebook!