Safe & Easy Jet Ski Fuelling…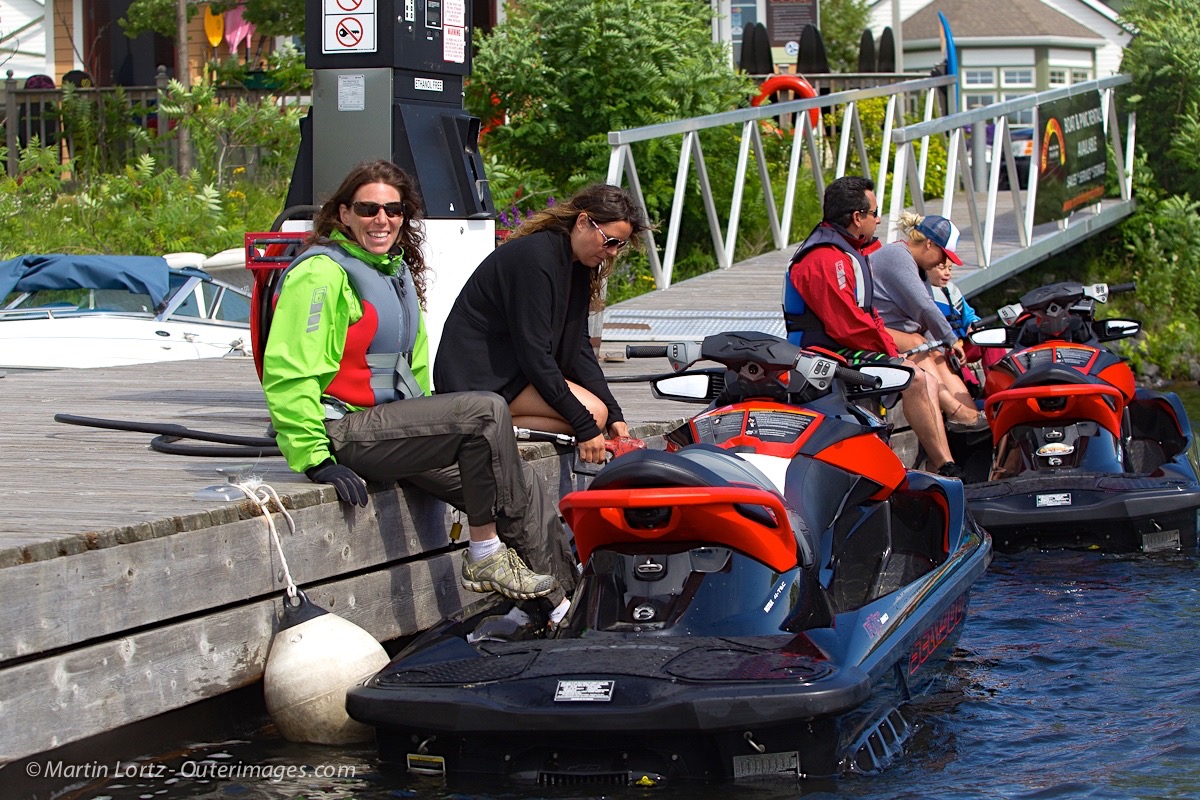 ---
---
Jet Ski fuelling is the part of jet ski, waverunner or Sea Doo PWC adventures where you pay to play. No matter how you may try to improve fuel economy or whether you're an experienced jet ski rider, PWC beginner or renter, a fill up is inevitable. Especially on Sea Doo tours where how far you can go on a tank of gas is crucial. Recreational boaters should also find these fuelling tips useful.
Basic Rules for Jet Ski Fuelling
So I follow three basic rules of thumb for jet ski fuelling. One, know the exact capacity for the gas tank of the PWC you're riding. Two, always start a ride with a full tank. And three, use the one-third guidelines. This means consuming the first 1/3 of the tank having fun. Then aim for a refill location during the next 1/3. And use the last 1/3 of the tank as a safety net. Note: it's also important to know the exact location of your PWC's gas cap.
But don't count on your PWC fuel gauge alone to know exactly how much gas is left in your tank. The gauge is best used as an approximate guide. You should take it into consideration along with your acquired personal observations. Such as what distance (or how many hours) your personal watercraft can go before needing a refill. Note of caution: these factors will vary with increased speed, rougher water conditions and increased PWC weight (passenger + extra gear).
Jet Ski Fuelling On Land
The simplest way of jet ski fuelling is to stop at a roadside gas station. Do this before your Sea Doo ride starts and while you are still towing personal watercraft on the trailer. Just be careful to pull in close enough to the pumps with the side of your PWC that the gas cap is on. This way, the gas hose will reach both units if you have more than one. Also, be sure not to catch a trailer tire on the pump island curb while pulling in and out.
Not only does jet ski fuelling on land avoid paying higher marina prices. But it's also easier to fill a stationary personal watercraft than one that's bobbing in the water. I use a Sea Doo cover for my Sea Doo watercraft because it fits better than generic options. It also includes a handy zip opening over the gas cap so I don't have to remove the cover to fill up.
Jet Ski Fuelling On Water – Jerry Cans
Your jet ski fuelling on the water will occur in three ways. They are from marina pumps, from a jerry can, or from another vessel (if you run out of gas while riding). First, let's look at jerry cans. It's difficult and inconvenient to fill up from jerry cans at a dock. Carrying extra fuel in a jerry can tied on the back of your personal watercraft is also chancy on a Sea Doo ride. Not only is a jerry can heavy and awkward to hold, lift and pour. It also includes the possible environmental no-no of accidentally spilling fuel into the water. This is why I recommend getting a Linq Fuel Caddy.
At the very least, equip the jerry can with a spill proof nozzle or use a suction siphon device. The best solution I've found for avoiding most of these concerns is using a Flo 'n Go Siphon. It closely replicates the actual hose and trigger nozzle of an actual gas pump. Obviously, the main advantages of refilling from jerry cans are that it can be done at your convenience. Plus, the gas can be purchased at a roadside station where it is cheaper (Check your local regulations for filling jerry cans from public pumps).
Jet Ski Fuelling On Water – Marinas
Next, jet ski fuelling at a marina. On Sea Doo tours, I always pre-plan my fuel stops.This includes checking out on-water fuel availability along my proposed Sea Doo ride route prior to leaving home. It's important to note that not every marina offers fuel service. While most used to, increased pressure for environmentally friendly fuel systems have driven many waterfront operators out of the gas business. So it's a good idea for Sea Doo riders to call ahead for availability and hours of operation (website info can be out of date).
Jet ski fuelling at a marina is a similar process to what occurs at a roadside station. Except, there's a designated gas dock and the vehicle being filled is on the water. And there's likely a hose as long as a fire truck's. Most fuelling safety regulations require all vessel engines to be turned off (except bilge blowers if so equipped). All occupants are also supposed to disembark during fill up, including personal watercraft. You usually have to get off to pay by credit card or use the facilities anyway. So disembarking's no big deal.
But sometimes, the gas dock height or configuration makes it difficult for Sea Doo riders. I've been at gas docks built so high for bigger boats (or when water level is abnormally low) that the attendant couldn't reach down to my PWC fuel cap. So I had to do the fill up. And it takes a rock climber to ascend from the PWC to the top of the dock!
Other Marina Considerations
Speaking of attendants, I've heard horror stories of fuel being pumped into the wrong place and half fill up mistakes. So make sure the gas goes in the right hole and the fill up is complete as requested. Once again, park your personal watercraft with the gas cap side closet to the pumps. After you fill up, move your PWC away from the gas dock so there's space for other Sea Doo riders to dock.
Other considerations with jet ski fuelling at a marina include long waits on busy weekends. Or if there's a big cruiser being filled ahead of you. Also consider the possibility that some marinas may only take cash or only offer regular grade fuel (know whether your PWC requires regular or premium fuel).
Jet Ski Fuelling On Water – Running On Empty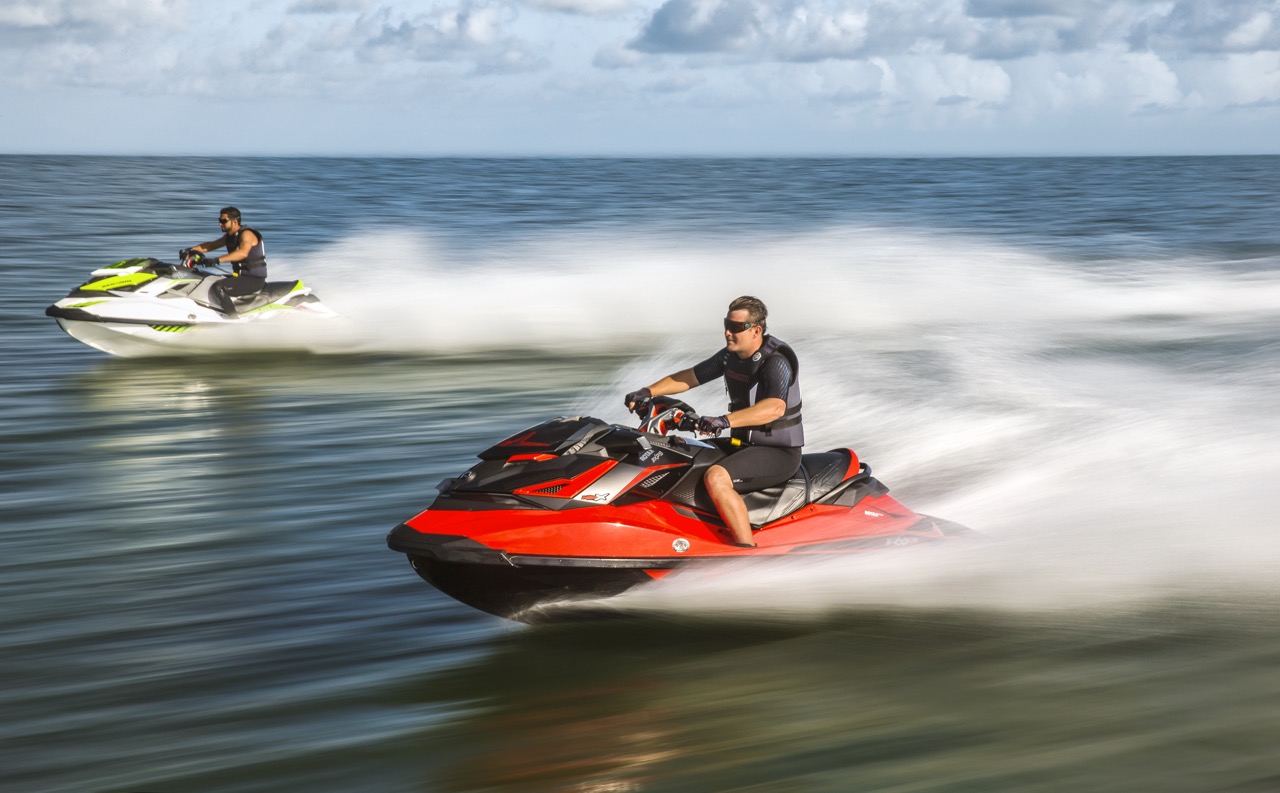 Finally, if you're Sea Doo riding with a group, remember that how far/long you can go between gas stops is determined by the watercraft with the worst fuel economy and plan accordingly. That's why someone should carry a fuel hose to transfer gas from one unit to another if it runs out before the next marina. Worst case, have a rope handy for towing a jetski!
If you plan ahead properly and remain aware of your fuel consumption, jet ski fuelling on a Sea Doo tour doesn't have to be any more of a concern than it is for driving your automobile. But if fuel economy is a major concern for you, then look at a personal watercraft powered by a Rotax™ 900 ACE 4-stroke engine such as a Sea Doo Spark. Also, for touring, get a LinQ System Fuel Caddy!
Check out my favourite Sea-Doo rides!
If you enjoyed this post, check out my other riding tips.
The tips and advice in this article are the opinions of the author, may not work in every situation and are intended only for the convenience and interest of the reader, who has the personal responsibility to confirm the validity, accuracy and relevancy of this information prior to putting it to their own use.
Like This Post? Follow Me on Facebook!