How the New Platform Works in the Real World…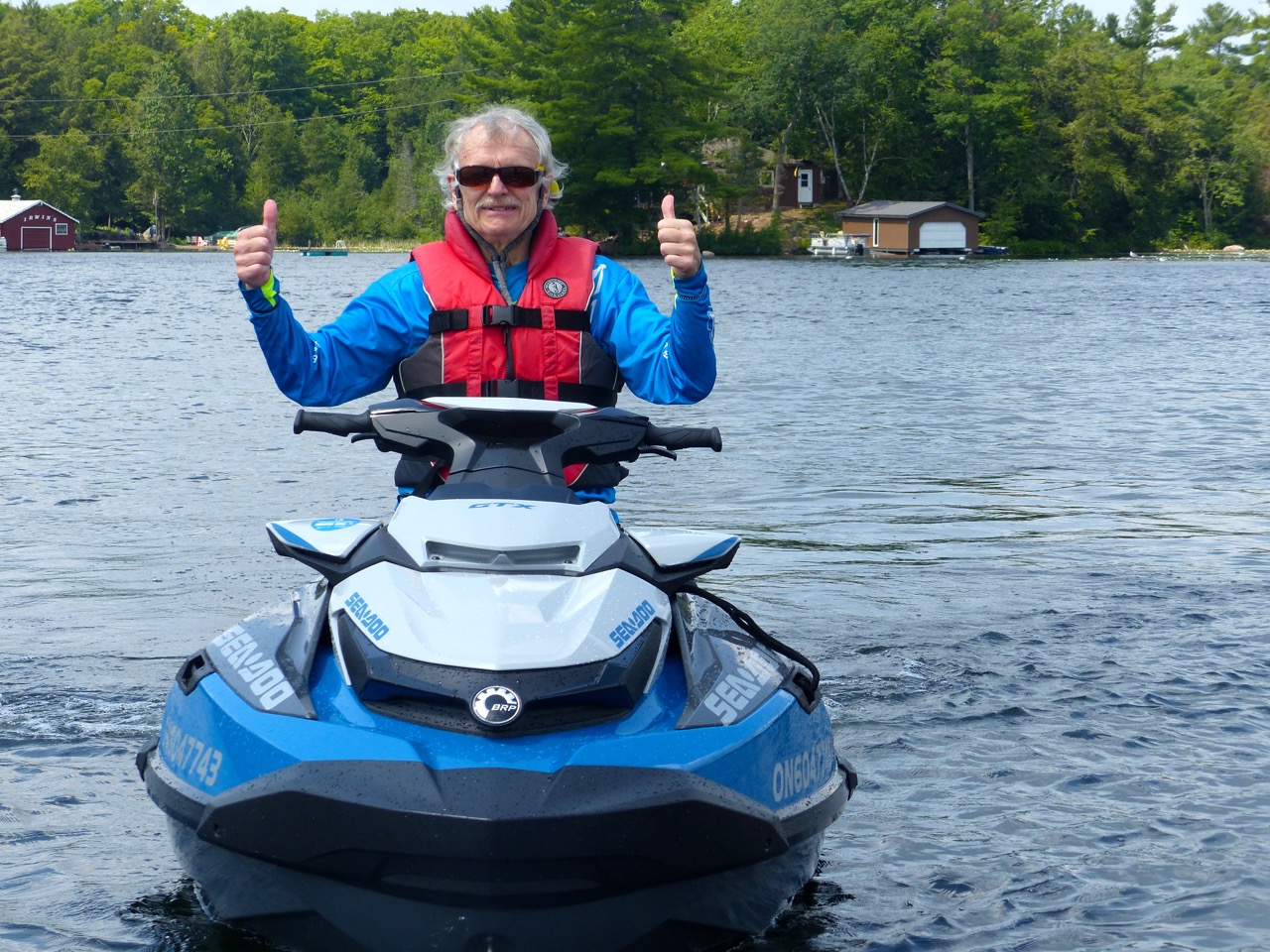 ---
---
Note: Post updated for 2019 models.
In 2018, BRP introduced a new Sea Doo platform for its RXT, GTX and Wake Pro models. Word has it that many dealers quickly sold out of these next generation watercraft, so now the question are: How did the new Sea Doo platform do in the real world? And what is it right for you on this years Sea Doo models? 
As a touring rider on PWC adventures, I can only speak to how it works for me and my kind of riding. On Sea Doo tours, I'm looking for ride comfort and easy handling. Reliable power for long distance cruising, decent fuel economy and lots of storage space also top my must-have list.
So you are fully aware of where I'm coming from for this review, note that I mostly ride solo, not 2-up. I don't do much wave jumping, trick riding or any tow sports. And I've been riding a Sea Doo GTX S 155 with suspension for almost a decade, so I'm not thrilled with losing that cushioned ride.
However, you may have different family needs or priorities for your riding style. Never the less, I hope my comments help if you're considering a new Sea Doo platform watercraft. All that having been said, here's my reaction so far to the new Sea Doo platform as compared to 2017 models…
New Sea Doo Platform Touchdowns
These are the features and benefits on the new Sea Doo platform that I've found most useful as a touring rider. I want to emphasize that several of these are major game-changers for touring riders like me. In my opinion, they make this new watercraft the best available on the market for Sea Doo touring in 2019.
Exceptional Ride Quality
There's no doubt the new ST3 hull on my 2018 GTX 155 did a noticeably better job than the S3 hull it replaces. It delivers greater stability at rest, a steadier ride in choppy water, and improved wave penetration thanks to its deep V design.
The new hull gets a lot of help from a lowered centre of gravity. That's because the entire new Sea Doo platform positions everything lower than on my 2017 GTX, even the engine and seat. Combined with a 250-lb (133 kg) overall weight reduction for the new GTX as compared to my suspended 2017 model, the new watercraft feels even lighter than it really is.
Deeper foot wells and the return of the narrower, well-cushioned Ergolock seat are also a plus. Together, they make it easier than ever to put my leg muscles into the mix when manoeuvring the new platform Sea Doo GTX. This certainly contributes to its improved ride quality, better control and a reduction of rider fatigue after a long day's ride.
Huge Storage Capacity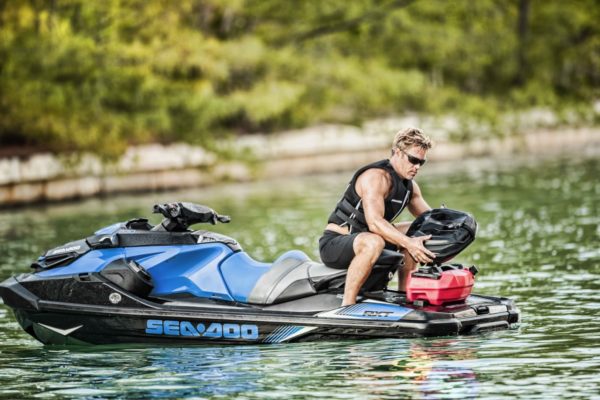 At 27 US gal (102.5 l), the new Sea Doo platform provides 10.4 US gal (39.5 l) more on board storage space than its 2017 counterpart. This space includes a new front storage compartment almost large enough to sleep in. No problem carrying all your gear on this ski!
For touring riders, this much space is a big deal. And given that I can add 5.5 US gal (21 l) more with a quick-attach rear cargo LinQ system bag, I'm pleased with this increased carrying capacity. And how easy the bag is to attach using the pop-up integrated brackets recessed into the rear deck.
This extra room also includes a repurposed glove box. Located in the same place as usual between your thighs, it's now a watertight, shockproof compartment reconfigured to provide a safe and secure place to carry smart phones with dimensions of up to 6.3" (160 mm) X 3.3" (85 mm). For touring riders who want their smart phones handy while riding in 2019, this is a the cat's meow!
Unbeatable Access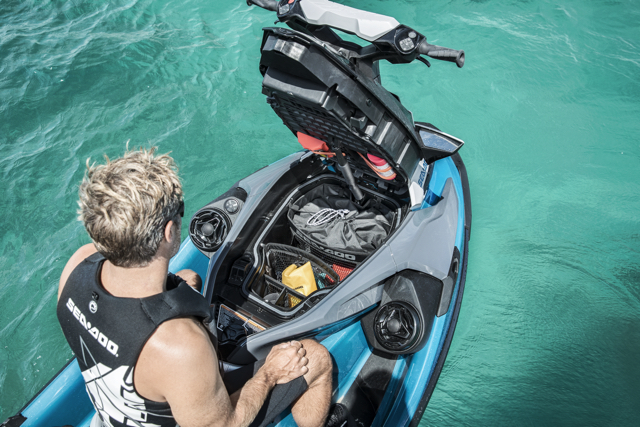 What really puts the icing on the cake for the front storage compartment is that it's directly accessible. No more awkward leaning forward over the handlebars to reach what's inside. Instead, I can lift the entire handlebar-gauge cluster-glove box assembly up out of the way to get what I need while remaining seated. Also worth noting, the repositioned fuel filler cap is now located closest to the operator's position under this new assembly configuration.
The only thing that took me some getting used to is having to remove the socket of the DESS tether from its receiver ball before lifting the handlebar assembly up and away from me. Doing so is necessary on the new Sea Doo platform because the DESS tether attached to my PFD won't stretch far enough with the handlebars up.
Disconnecting the DESS means shutting off the watercraft whenever I open the front compartment. But doing so is certainly safer. That's because with the watercraft off, the handlebars aren't in their functional position to do any steering. And besides, as long as the new front compartment assembly is raised, it blocks my view ahead. So it's better to have the power off while rummaging around my cargo.
Another plus for easy access is that the LinQ cargo bag lid lifts open toward the front of the PWC, providing easy access for a rider seated on the watercraft seat.
New 60-Minute Restart
Speaking of DESS, I noticed that the initializing start up procedure for my new Sea Doo platform GTX remains the same in its Owner's Manual as in previous ones: Push start. Wait for welcome notice on the gauge. Attach tether socket to ball. Press start again.
But there's one big change. Before, I had only 3 minutes after any shut off to restart my 2017 GTX by pressing the start button again. After that, I had to repeat the initializing start up procedure.
Not any more. From 2018 on, Sea Doo engineers have extended those 3 minutes to a full 60 minutes. Best of all, every time I restart by pushing the start button during those 60 minutes, I reset the 60-minute timer again. So effectively, I never have to go through initializing start up procedure for the rest of my ride if I can avoid leaving it shut off for more than 60 minutes!
Better Mooring Cleats Location
There's another change from the previous models necessitated by lifting the handlebar assembly forward to access front storage. Previously, the handlebar assembly included mooring cleats for securing the ropes to tie your watercraft to a dock. But this would be difficult if not impossible from 2018 on, when tied mooring ropes might interfere with my ability to lift the handlebars for front compartment access. Consequently, Sea Doo designers integrated the mooring cleats on each lower side of the watercraft. In addition, this position is easier for me to see and get at when securing mooring ropes to my new Sea Doo platform.
Easier Reboarding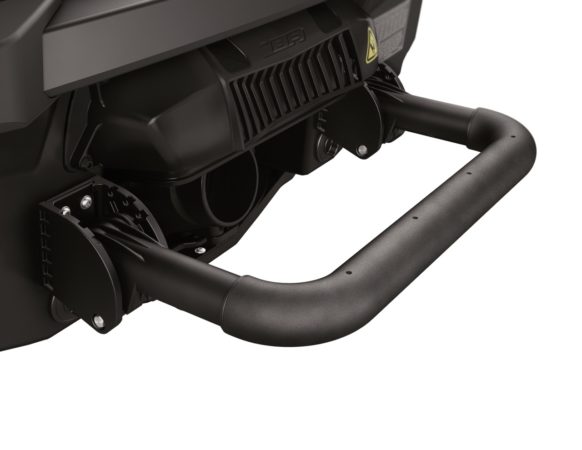 The new reboarding ladder certainly provides easier access. It folds down deeper into the water so that first step up isn't such a stretch. Plus, the step is wider with a flat surface to increase its stability as I heave myself out of the water.
Super Cover For Easy Refuelling
Easier access also applies to the newly designed cover for the new Sea Doo platform.
Although a cover is not strictly part of a watercraft, this one's huge front zipper makes it amazingly convenient to gas up while my Sea Doo GTX sits covered on the trailer. And for any riders looking to save a buck or two on fuel knows that buying on land is way cheaper than at a marina. By the way, did I mention that the new Sea Doo platform GTX 155 continues to call for 87 octane as it has previously? So no costly premium for this baby!
The cover also has a horizontal side zipper on either side that perfectly aligns with the newly positioned mooring cleats. These openings allow pass through of mooring ropes, so I can secure the ski to a dock with the cover on.
New Sea Doo Platform Fumbles
These are the features on the new Sea Doo platform that least impress me as a touring rider in year one. But I'm willing to bet that most riders will agree with me that the touchdowns far outweigh the fumbles. After all, there's always room for improvement, so we'll see what 2019 brings!
Suspension Gone
As much as the new Sea Doo platform GTX 155 improved ride quality is as noted above, it's not as good as having suspension. But I'm not most riders. So in fairness, I've got to say that anyone who's never experienced a Sea Doo watercraft with suspension is likely to discover that the new Sea Doo platform gives them the best ride they've ever had. Meanwhile, only time will tell if I can ever get used to riding without suspension!
Adjustable Mirrors Gone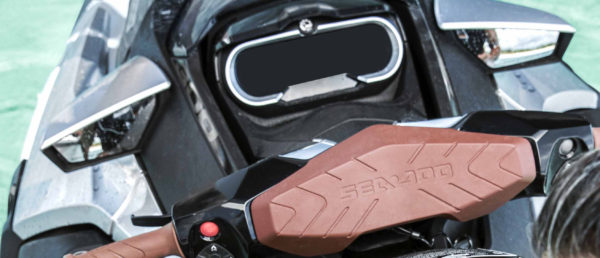 A major fumble for me is that the rear view mirrors on either side the new Sea Doo platform were no longer adjustable as they have been previously. Instead, they are now fixed in their enclosures. This prevents me from making adjustments to see behind better. Or any other operator being able to do so either, depending on rider height or seating position.
As a touring rider who is always trying to maintain 360˚ situational awareness and keep an eye on others following in my group, fixed mirrors is at best inconvenient and at worst dangerous. I simply can't see behind as well or as easily. Whereas I used to be able to do so with just a quick glance, now I have to spend too much time trying to position myself to see behind, time that should be spent focused on what's ahead.
Reboarding Issues
As easy as the new ladder design makes it to reboard on to the rear deck, there are three fumbles in the process for me. One, the redesigned passenger grab handles are only on each side of the seat. But there is no longer a handle across the back of the seat. For those with smaller bodies or shorter arms, this may be too long a reach to easily access a grab handle.
Two, the grab handles are part of the rear seat as they should be. But given that this part of the seat is removable, riding without it means no grab handles either. So what do I use to assist myself in climbing back on board?
And three, grab handles or not, I wish someone would show me exactly how I'm supposed to scramble back on board when the rear deck is mostly blocked with a stacked Linq system fuel caddy/cargo bag combo (see photo above). Or a Linq cooler/cargo bag combo. It's gonna have to be someone more supple and agile than I am!
Minimal Watertight Storage
Again, maybe this is just me being picky after years of riding with a watertight front compartment. But the new direct access front compartment is only water resistant, not water tight. When you lift the handlebar assembly up, there is no secondary lid underneath, so the compartment contents aren't as well protected from getting wet.
My first clue that this compartment isn't watertight came from the Sea Doo website. Here, there's a photo for Ingenious Storage (see below) that shows a rider placing a dry bag into the front compartment. You don't need a dry bag for a watertight compartment!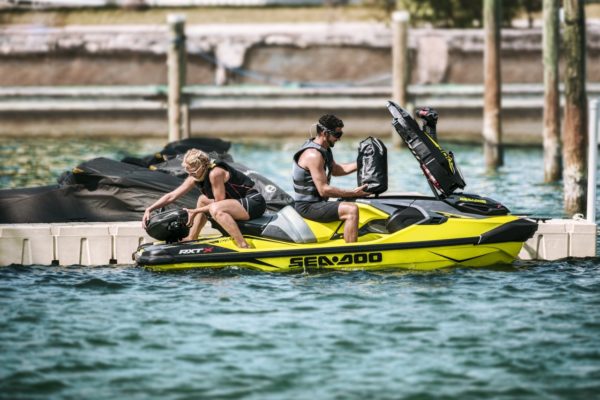 That being said, I tried very hard to see if I could get water into the closed front compartment on the new Sea Doo platform. It was very difficult to do without getting soaked myself. So most touring riders should have no problem keeping their contents dry on a typical ride in normal conditions. But the only way to absolutely ensure nothing gets wet is by using dry bags. Especially if I also store wet mooring ropes or Sea Doo fenders in that front compartment!
Reduced Glove Box Space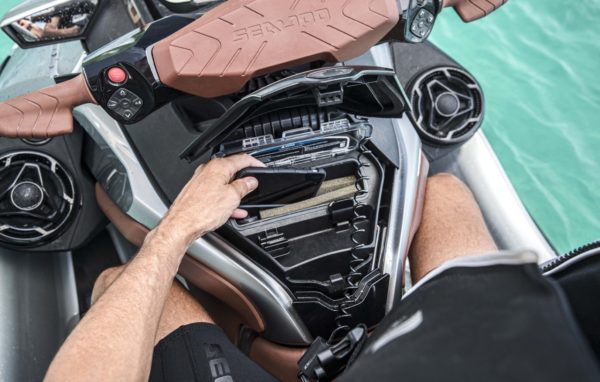 The new Sea Doo platform glove box is configured to keep smart phones safe and secure. It also works well for holding your phone while playing Bluetooth music through your on board audio system. However, maybe you don't carry your smart phone while riding. Perhaps you carry it someplace different (as I do, in a waterproof pouch around my neck). Or maybe you don't have on board speakers.
If so, you may not need or appreciate the new glove box configuration. And that means wasted space because the glove box is not good for much else, except maybe keeping your wallet dry. Ideally, a rider should have the option of removing the smart phone storage insert to create more room in the now empty glove box.
Special Care Required for New Finish Technology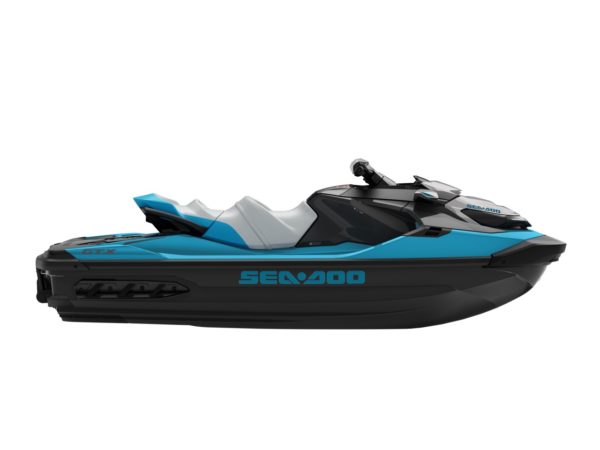 The new Sea Doo platform watercraft also boast a new exterior surface finish, called Advanced Thermoformed Acrylic Finish Technology (CM-TEC). It's supposed to have advantages over the previous Gel coat we're used to. But how many riders will take the special care required to maintain its beautiful finish? My bet is that many will not and that will lead to issues down the line.
This is obviously enough of a concern that Sea Doo sent a letter to new owners. It warns against the use of any cleaners containing alcohol, acetone, Toluene, chlorinated solvents, mineral spirits, paint thinners or petroleum-based products. Instead, it recommends using mild soap and lukewarm water applied with a soft cloth and light pressure, not scrubbing. Then finish off by rinsing with clean water and drying with a damp cloth or chamois. To avoid damaging your finish, please refer any questions to your dealer.
No Fender Slits In New Cover
As much as I like the new Sea Doo cover, it's missing one feature that I really liked previously. And that's slits on either side to accommodate Sea Doo fenders while the cover is on. So now I have the ability to use mooring ropes with the new cover, that I didn't have before. But I can't protect the sides of my ski with fenders while leaving it covered and tied to the dock.
My Verdict's Still Out On These Features
For me as a touring rider, my verdict's still out on the following features on the new Sea Doo platform. Only time will tell whether they'll ultimately be touchdown or fumbles. Until then, they're just factors to be aware of…
Questionable Fuel Filler Cap Location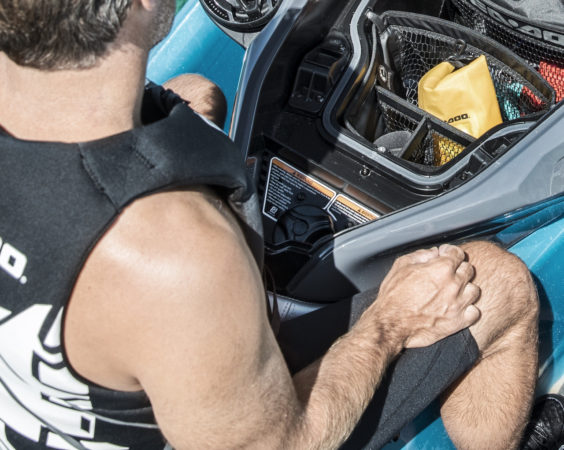 Personally, I'm nervous about the new location of the fuel filler cap on the new Sea Doo platform. But I'm not ready to call it a fumble yet. The cap's positioned under the handlebar assembly immediately adjacent to the open storage compartment. Although it has a decent protective ridge around it to contain any spills and a drain to remove them, I keep picturing in my mind's eye some inattentive kid at a marina slopping fuel into my exposed storage bin. It hasn't happened yet, and maybe never will. But I'd be happier with the fuel filler cap nowhere near my exposed gear. Meanwhile, I'll have a funnel handy to help avoid spills.
Less Trailer Space
The new Sea Doo platform is about an inch wider than my 2017 GTX S 155. This means that two new GTX 155 watercraft side by each on my double Triton Elite PWC trailer have a total of 2" less space between them. With my meaty legs, it's already a stretch to squeeze far enough between my trailered watercraft to fasten cover clips or bungee cords. I'll just have to see how it goes with this even narrower space. Maybe I'll have to use stilts.
Other New Features
Harkening back to my opening statements about me being a touring rider, there are some additions on the new Sea Doo platform that I won't really impact me much. So it wouldn't be fair for me to call them either a touchdown or a fumble. Because they are significant innovations in their own right that many will see as major touchdowns. So either one or both might top your must have list. And if so you'll probably love them!
Living Room On Board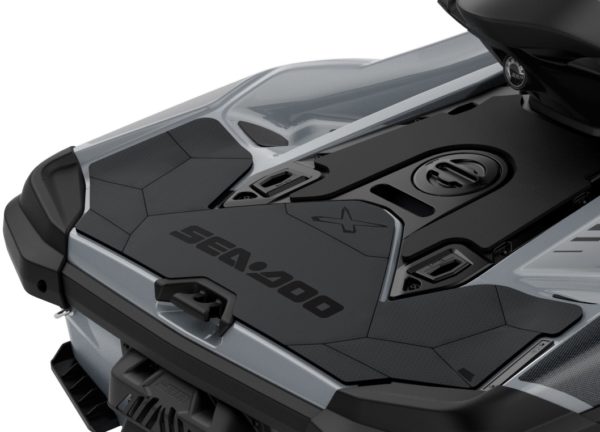 The rear deck on the new platform is very large swim platform that many riders will enjoy. You can make it almost big enough for a family party by moving the reconfigurable & removable rear seat. But all I need for my solo riding is enough rear room for my LinQ system bag, cooler or fuel caddy, so all that extra space doesn't really matter much to me.
Music On Board

If blasting the beat is your thing, you can order all the new Sea Doo platform models with the new BRP Audio Premium System. This is the industry's first manufacturer-installed, truly waterproof Bluetooth audio system. Simply link it to the smart phone in your watertight glove box. But playing music isn't my riding preference, so I'll take a pass on this one.
Conclusion
So there you have it. My take is that with the new Sea Doo platform, BRP has once again demonstrated why it's the industry leader. And the #1 seller of personal watercraft worldwide. While they haven't hit the bulls-eye for me with every innovation, most riders will be well pleased overall with all the exclusive new technologies and how they can make your riding more enjoyable. So contact your dealer early to get your 2019 Sea Doo watercraft order in before they sell out again this spring!
But in closing, I can't stress enough how important it is to do your homework before buying. This way you'll choose the new Sea Doo platform model that's best suited to your riding style and family needs. Then let your fun begin!
If you enjoyed this post, check out my other riding tips…
The tips and advice in this article are the opinions of the author, may not work in every situation and are intended only for the convenience and interest of the reader, who has the personal responsibility to confirm the validity, accuracy and relevancy of this information prior to putting it to their own use.

Like This Post? Follow Me on Facebook!